I was tagged by Gus Fosarolli in his 5 Things Meme, (Client Relations Manager at Marketwire).  Like Gus this is my first Meme.  So here it is:
5 things I was doing 10 years ago
Living in Sandton (Johannesburg) South Africa
Going on African Safaris atleast once a month
Driving an Opel Cadette at 230 km/h on left hand side of the road (Yes this was a bad idea, hoping we're at the statute of limitations on regards to this one)
Had a tequila with the Spring Boks Hooker and the All Blacks Prop in Cantina Tequila in Belville the night the Boks beat the All Blacks (Dankie!)
Experienced true reconciliation first hand "Simunye"
5 things on my To-Do-List Today
Finish writing the last 5 pages of "Selling Intangible and Complex Solutions"
Send an e-mail to Thailand about a speaking engagement there in January
Have dinner with my beautiful wife Wannapan
Find 5 bloggers to tag in this meme
Edit a podcast interview I did last week with Chip Terry GM of Enterprise Solutions of Zoominfo
5 Snacks I like
Green Mango with Shrimp Paste
Pumpkin Seeds
Irish Potato Nachos From Doolins
Avacodo (plain)
Cucumbers (With sea salt and apple cider vinegar)
5 Things I would do if I was a millionaire
Spend more time with my wife and my son
Use my talents to help more people
Build a retreat in Thailand (and invite my friends)
Donate a lot of money to "Room to Read"
Take a year off
5 Places I have lived
Sydney, Nova Scotia
Calgary, Alberta
Vancouver,  British Columbia
Victoria, British Columbia
Johannesburg, South Africa
5 People I've tagged:
Today's podcast is an interview with Barb Stegemann author of The 7 Virtues of the Philospher Queen.  Very timely and time tested principles to survive and prosper in turbulent economic times.
Podcast: Play in new window | Download | Embed
Click Below to Add to itunes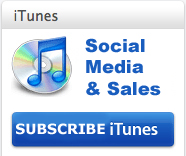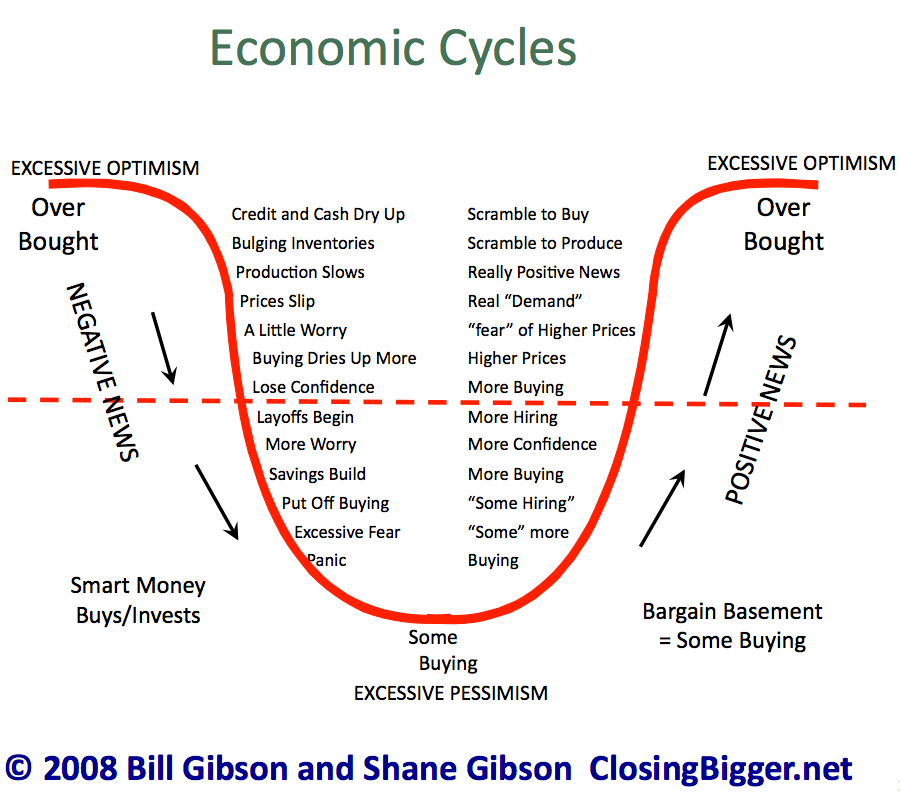 Looking at the diagram of economic cycles included in this article we notice one major thing; these peaks and valleys are driven by raw human emotion.  At the top of an economy people do not just spend the money they are making, they spend the money they think they are going to make.  Eventually, banks and lending institutions pull back finance due to the fact that en masse, the average person and average business is over- extended.
When this credit is pulled back, people reduce purchases; this creates negative news, bulging inventories, fear and panic.  In service businesses bulging inventory is people.  Lay-offs begin, purchases reduce, inventory is liquidated, and more bad news hits the marketplace and the fear multiplies.  The severity of this most recent downturn has been created by the evaporation of available credit due to the insolvency of so many major banks.  Eventually we hit a point of excessive pessimism in the marketplace. (I had to dig through the entire business section of the New York Times to find one positive article yesterday).
The question is: "What stops the economy from continuing its downward plunge?"  The answer is of course "Smart Money."  We all can recite the phrase "buy low and sell high" and a few smart individuals begin to do just that.  The "Smart Money" is bargain hunting for everything from stock to real estate, and corporate acquisition targets stabilize the market, it creates the floor.  From there the tide begins to turn as optimism builds.
You as a sales person or entrepreneur don't have to have Warren Buffet's billions to profit from this environment, but you do need his mindset.  Realize that your competitors, not unlike today's investors, do not see the real value of the market, and most are refusing to really play.  They are too busy hiding out by the water cooler and watching the stock ticker and the negative news on CNN.
So here are 7 tips on how to profit from today's economic downturn:
Build a fence around your key accounts.  Of those clients that you are presently doing on-going business with, how many do you have really strong relationships with?  Make a list of your top 20% and immediately call them, if possible go visit them.  Not to sell them stuff, but to find out how you can better service them.  If things are really slow, take advantage of it, engage them more, buy them the lunch you never had time to when the economy was hot.
Harness physical and web-based networks in order to connect with positive people.  Most of us have goals and dreams that require resources beyond those that we possess.  By engaging your online and offline communities, sharing resources, ideas, and inspiration, you can collectively achieve greater things.  Now is not the time to go to less Board of Trade meetings, it is the time to really connect.
Reach out beyond your existing community with social networking tools such as Linkedin, Twitter, and FaceBook.  Recently as a resident of Vancouver, BC Canada I secured a new client in Asia through my blogging and activity on Linkedin, while some of my existing markets are suppressed, I am finding new ones across the Pacific Ocean using technology (free technology!).
Have a pro-active game plan for every day.  You have fewer competitors now, and the ones that are still in business are probably not that motivated.  This trend will continue until we reach the bottom of the downturn.  This is the time to gain market share.  Get to work an hour early, and plan your day out the night before.  It may take more calls to land the same number of clients, but also realize that you will be able to gain more market share due to less competition, or at least a mentally weaker competition.
If you have some cash reserves start investing in your business.  If you use advertising as a tool to attract clients you can now negotiate a better rate with publishers, and because competitors have pulled back their ad spend your message will have less noise to compete with in the marketplace.  Fuel prices have dropped and people are traveling less, this also means better rates for business travel to far-away markets.
Take control of your own mental economy.  The most expensive thing we can do as sales professionals and business people is have a day of negative thinking.  When we are focusing on what we don't have, and we are wallowing in our own self-pity, we're not thinking about creating positive business outcomes.  My suggestion is to commit to reading at least 30 minutes of positive news, or personal development books per day, find some great motivational CD's or podcasts (iTunes has thousands that are free) and pro-actively seek out and associate with other people that are refusing to participate in the recession.
Be disciplined in your execution.  At the top of an economy when clients are abundant and optimistic, closing the deal is easy.  If you miss a deal because of bad follow-up, or a poorly written proposal there is always more opportunity out there.  Anyone can look like a rainmaker when things are hot.  When things slow down our bad habits become more evident.  When you do have a great prospect in your sights, have a sound sales process and follow the fundamentals of great selling obsessively.  There are no mundane steps in a sales process, treat every detail like it is the deal-maker, especially when prospects are fewer and more easily dissuaded to buy.
"Things may come to those who wait, but only the things left by those who hustle. " – Abraham Lincoln
Many sales professionals and entrepreneurs are  concerned about how they are going to weather today's global financial storm.  We are clearly in turbulent economic times, but not universally tough times.  The rules of the game have changed with the advent of a multitude of shifts including the introduction of disruptive technologies to almost every industry, along with true globalization and the meltdown in the banking sector.
As sales professionals we have to realize that it is not the events in our lives, but our interpretation and response to those events that will impact our level of success.  John Maxwell goes further than this to state: "A leader is defined by the size of the crisis."  The core message here is that almost anyone can captain a ship in fair weather, but during a storm or turbulent conditions it becomes obvious which people truly should be wearing the rank of Captain.
As the storm hits the shores of our industries and communities many people will begin to jump ship, looking for safe harbors or metaphorically tying themselves down and just waiting for the storm to pass.
It is impossible to write on this subject without reflecting on the millions of people whose lives have been affected by what is going on in these turbulent economic times. It is equally clear that this is also a time of immense opportunity to define ourselves in this crisis as leaders in our industries and respective professions.  You can succeed in this present state. In fact, in many industries this is a time of unparalleled opportunity.
What I do know is that in North America alone there have been major recessions or turbulent times approximately every 7 years since 1900.  In each of these instances there were people who panicked, froze, or opted out of society in general and some never recovered.  On the other side there were people who prospered; in fact there was more new wealth created coming out of the great depression than any other time in history.  If your in the profession of selling, turbulent times can be a gift. This represented a major shift in the world power base from an economic standpoint as well.
Just to illustrate this point here's a run down of the level of turbulence in the economy over the past 100 years, look at these trends and you decide when the best time to be selling or marketing.  I personally think it's not about the environment but our reaction to it that determines our destiny.
An overview of turbulent times in the past 80 years.
1930′s
1929 Wall Street Crash
1934 Depression
1935 Spanish civil war
1937 Recession
1938 War clouds gather
1939 War in Europe
1940′s
1940 France falls
1941 Pearl Harbour
1942 Wartime price controls
1944 Consumer goods shortages
1945 Post-war recession predicted
1946 Dow tops 200 – "too high"
1947 Cold war begins
1948 Berlin blockade
1949 Russia explodes A-bomb
1950′s
1950 Korean War
1951 Excess profits tax
1952 U.S. seizes steel mills
1953 Russian H-bomb
1954 Dow tops 300 – "too high"
1955 Eisenhower ill
1956 Suez crisis
1957 Russia launches Sputnik
1958 Recession
1959 Castro seizes power
1960′s
1960 Russia downs U-2 plane
1961 Berlin Wall erected
1962 Cuban missile crisis
1963 Kennedy assassinated
1965 Civil rights marches
1966 Vietnam War escalates
1967 Newark race riots
1968 USS Pueblo seized
1969 Markets fall
1970′s
1940 France falls
1941 Pearl Harbour
1942 Wartime price controls
1944 Consumer goods shortages
1945 Post-war recession predicted
1946 Dow tops 200 – "too high"
1947 Cold war begins
1948 Berlin blockade
1949 Russia explodes 70 Cambodia invaded
1972 Record US trade deficit
1973 Energy crisis
1974 Nixon resigns
1977 Market slumps
1978 Interest rates rise
1979 Oil prices skyrocket
1980′s
1980 Interest rates at all-time high
1981 Steep recession begins
1982 Worst recession in 40 years
1983 US Marine barracks bombed
1984 Record federal deficits
1985 Economic growth slows
1986 Dow nears 2000 –"too high"
1987 Record market fall
1988 Junk bond scandal
1989 October "Mini-Crash"
1990′s
1990 Persian Gulf crisis
1992 Riots sweep Los Angeles
1993 Bombing of World Trade Centre
1994 Rising U.S. interest rates
1995 Oklahoma City bombing
1997 Collapse of Thailand economy 1998 US impeachment proceedings
1999 Y2K
2000′s
2000 Internet stocks plummet
2001 September 11
2002 Corporate earnings scandal
2003 Iraq war
2004 Oil price rockets
2005 Oil price rockets further
2006 Emerging market sell-off
2007 Sub-prime crisis
2008 More of the same!
Even with all of the negative news that we have been bombarded by there are still positive things happening in the marketplace.  For instance, in Canada there has been a record drop in the currency value and the stock market, yet there were still over 100,000 new jobs created in the same month (September 2008).  This is the largest one-month gain since they started keeping records in 1976.  This was coupled with a 4.6 percent year-on-year increase in average wages (inflation was 3.5 percent).
We have so many dichotomies in the marketplace because this is not just about an economic downturn. The rules have changed, and technology and globalization have had real impact on how we do business.  We are no longer economic islands and those that realize that and embrace the new landscape can win, just like the legions of millionaires created during the great depression.
There are a few things we can count on at the bottom of an economic cycle:
You will have fewer competitors during turbulent times than you did during easier times.  Many will go out of business, or pull back any proactive efforts that cost money.
Those competitors that are left will be less motivated.  Most will make fewer calls, spend more time watching negative news, and lack the confidence they had when getting orders was easy.
Your competitors will spend less on advertising and training.  There will be less noise in the marketplace and they will also stall in the areas of personal and professional development.
Your competitors will pull back and isolate themselves, becoming self-focused, further spiraling their motivation level and reducing their networking, selling, and community connections.
Many people will resist trying new things and getting creative, sticking with what has always worked.  The problem is, of course, that what got them here, is not what is going to get them to where they want to go.  A new economy needs a new playbook.
Check back shortly for part 2 of this blog post
This is my second entry today focused on poverty awareness for Blog Action Day 2008. My friend Craig Young is presently working with an NGO in Mozambique and is also heavily involved in the education sector.  I asked him to share with us some of his experiences there dealing with poverty and some his thoughts on creating a solution.  He is in a remote area and sent me this as a text.  Much has been done to address poverty there, yet from the sounds of it, a lot more is still needed.  Here's Craig's text message:
October 15th 2008: Today i visited the children's hospital in Maputo …we took some bread and jam and milk and juice… just saw kids in one ward…many kids' moms were with them but didn't haveany real idea about care and attention for the kids………the floors were dirty and cockroaches crawling…the main desk nurse in the ward was sleeping at her desk it took me to yell at her after 10 min to wake her up… back to that later…We went into each room and talked to the moms and learned about the kids….they are avg 2 beds and some have 3 and one had even 5 beds in about 300 sq feet…this room had 5 kids and all kids' families were there as they are local kids…crammed in there … hard on the kids…. the other rooms are non local from the ruralareas..moms were there only..sitting beside the kids beds all day and night… no regular nursing support…dirty floors soiled sheets with urine, chipped paint on the metal beds…no air con in the rooms and some had ceiling fans not much relief though in +30 heat….a few kids were in sheer discomfort … You just look at them and they cry like 'for god'ssake somebody give me relief…' and a few were so quiet and easygoing…little souls are they all.  I managed to get one little girl to laugh with me who was actually the biggest 'complainer' and needed care but her mom didn't even touch her or pick her up…most of these kids just in need of big loving…to help them heal… There's a lot of ignorance about basic caregiving…let alone the proper environment for kids…at least its a place dedicated for them..that didn't exist 10 yrs ago.

No staff, no skills, lack of nutrition and low hygiene are biggest needs…the meals the kids have are void of nutrition..they don't get milk/protein or calcium or veggies etc. at all and they need this most….they get rice and little other nutrition other than when brought by family.  Also the aids kids on antiretrovirals don't get the extra nutrition they need to withstand the side effects of the arv drugs drugs which and harsh for the little bodies… if nothing else hygiene and nutrition are things we can do something about most easily…

The other thing i learned is tht there is no recourse or retribution if someone on staff is negligent in the hospitals…they simply don't care…no recourse, investigations or anything..many pregnant moms lose their kids upon or after birth and don't know why…but no one cares or questions…one of our drivers, benedito, and his wife lost their baby this way…frustration and lack of care and respect from the system…

Its amazing there is so much money in Mozambique but no where near enough is coming to the hospitals…especially the kids….
The key message here for me from Craig is that we (as in all of us) have a lot more work to do, and it starts with a willingness to be be deeply compassionate for, especially for those who are too young or weak to fend for themselves.  If you personally would like to do more for children in Mozambique you can visit the SOS Children's Villages site for more information.
Thanks for your great contribution Craig!

I registered for blog action day yesterday after being reminded of it while on twtter.  Today I will be blogging about poverty and how we can all take simple steps to help eliminate it locally and internationally.  To start off I must say that I am absolutely humbled to one of the 11,000 bloggers partaking in this today.  For many of them, they are well versed in what is really going on and steps we can take to help.  I myself as I sit back in my high back leather chair in my home office realise just how out of touch I probably am as a Canadian in this land of plenty.  Most of us are out of touch, something I didn't know for instance that one in 5 children in British Columbia live in poverty ( stats from B.C. Child and Youth Advocacy Coalition).  This is in my own community?  I must say before I blog another line that I'm right now, making a public commitment to do more locally.  So if one wonders if this blog action day really will have an impact, it already has on me.
Growing up on the West Side of Vancouver and attending Prince of Wales High School I often compared myself to the son's and daughters of some very wealthy people.  These kids drove to school in brand new BMW's and Lexus' (not all of them, but a lot).  I had a 53 Chevy Pickup that looked great but was truly held together with bailing wire and a prayer, I went through fuses like they were tic-tacs.  Funny I actually thought we were broke?  Then in 1993 in my first year of work in the family business we had some really tough times pretty soon we went from a new Lincoln, Turbo Volvo, and Whistler ski weekends to a new version of reality I wasn't accustomed to.  All the things I thought I needed no longer seemed to matter.  We struggled to pull together enough money from our ailing business to buy groceries, pay rent, and utilities (in fact we survived by the grace of friends like Bill and Donna Pearson, Del Hughes, Dave and Lynn Ferris and Jim and Sharon Janz). Somehow I thought we were suffering, but by global standards we were still very fortunate.  We had access to a network of great people, mentorship and help in solving our financial problems, free medical care, and we lived right in the middle of one of the most livable cities in the world.  With my limited life experience correct or not I thought that this was suffering.  I really never understood what dire poverty looks like until I left Canada and moved to Africa for 2 years in 1997-1999.
Flying into Johannesburg (3.3 million people) was a big eye opener.  This wasn't the Africa that Hollywood portrays (until recently).  In driving to the hotel in Sandton from the Airport my driver directed me to look out the window to my left.  There it was a somewhat unofficial settlement at that time. Alexandria or "Alex" as the locals called it.  A squatter camp that sprawled literally as far as the eye can see. Some paved some dirt roads, tin roofs and walls, much of it without electricity or running water.  I'm not sure of the figures now but at that time there was 60% unemployment, and many these unemployed people in the Joburg in Alex.  Some people claim there are over 1,000,000 people living there but there is no official census numbers for "squatters."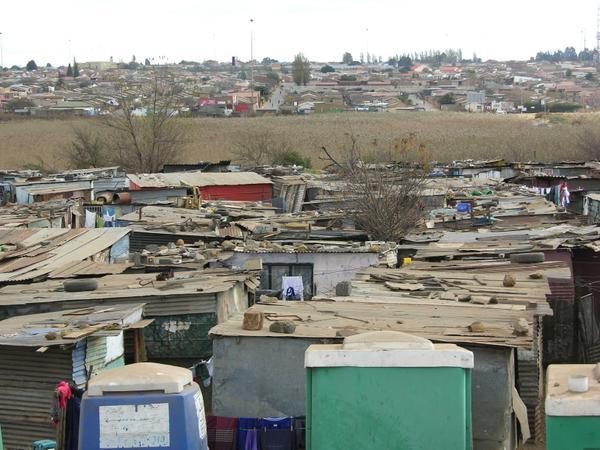 I did not have the opportunity to go right into Alex when I lived there (worlds worst homicide and carjacking rates per capita at that time), but I did flirt with the outskirts from time to time, and spent a considerable amount of time in smaller townships that were equally as destitute in other regions in South Africa.  I found most Africans to be proud and kind regardless of their economic plight.  Resourceful, eager to learn, and they seemed to be hardwired for entrepreneurism.  In most cases it wasn't just personal finances that were lacking, but access to a way out of their plight.  Education, mentorship, and the basics like clean water and electricity.  I don't want to be seen as painting a picture of helplessness, there are many people who have succeeded in that environment.  For me though, it was an eye opener as to how much we have as North Americans, and how little gratitude I had personally had for all of those things I thought were my God given right to possess.  It was then that I started to realize that many people are possessed by their possessions.  We can do so much more with our talents than collect and hoard things.
There in Africa I was first exposed to micro lending and what it can do as a force against poverty.  I would often walk past a kind man who sold oranges out of the back of a large wagon.  One day my brother stopped to talk to him.  We were mesmerized by his enthusiasm for his business.  He was unemployed for years before he started his orange stand.  A local South African Bank helped him get started, and when he started he didn't even have a fixed address.  They loaned him money daily, to buy inventory.  He would buy his oranges, mark them up, and turn a small profit daily.  The daily loan was less than $25 Canadian, which he would repay and then get another short term loan.  I know there are several popular micro lending formats but this one to me was interesting because it was not a hand-out, and it also helped him learn about cash-flow management and build his credit.  A $25 loan helped him eventually move into a real address, eat healthy food, and begin educating himself on running a business.
http://www.kiva.org/ is one tool that anyone in the world can use to begin to participate in micro lending.  A donation of $25 can make a real difference, and a $1000 can help an entire village.  Muhammad Yunus founder of Grameen Bank was awarded a Nobel Peace Prize for his ground breaking work in taking this concept and making it work on a large scale.
One final thought or story in regards to how to make a difference is that money is great, but sometimes it's not all that people need.  Mentorship, volunteering, and contributing by actually getting involved (in person or the way 11,000 bloggers are doing it today) is also needed.  Alfina worked for our family in South Africa, her son was unemployed and living Alex.  She asked me if I could help him get a job.  What he needed was help writing a resume.  He had no access to a computer, or printer and Alfina and her son had never written a resume.  He showed up 4 hours late, with no shoes on.  Someone had stolen them, and he had no money for public transportation, so he walked.  He walked from Alex to my place in Sandton, in bare feet, so someone could help him get a job.  I thought I was going to give him a lecture on being on time during the job hunt.  Instead he taught me a lesson on commitment and succeeding regardless of our resources.  NO EXCUSES.  We wrote his resume (his only job was "towel boy" for a soccer team) and it was pushing the barrier between non-fiction and fiction but we got it done.  He left with a pair of my shoes, some clothes, and big ambitions.  He canvassed every business in Johannesburg with no luck, so he hopped on a bus and with his very last resume in Port Elizabeth landed a job as a stock boy and eventually rose to cashier. Gainfully employed.
In giving we also receive, he taught me a big lesson on commitment. "Give to live for to withhold is to perish"  – Kahlil Gibran
Podcast: Play in new window | Download | Embed
Today's sales podcast is about Selling and Succeeding in Tough Economic Times.  It is the first in a series of podcasts designed to help sales professionals and entrepreneurs weather today's global financial storm.  In my opinion we are truly in turbulent economic times, not necessarily tough times.  The rules of the game have changed permanently with the advent of a multitude of shifts including the introduction of disruptive technologies to almost every industry along with true globalization and the meltdown in the banking sector.  I personally would like to have you post your success stories, challenges, and thoughts here so that I can respond to them in my next podcast on "Tools for Selling in Tough Economic Times".  The diagram below is for your reference and is talked about in the podcast.
Here's today's show: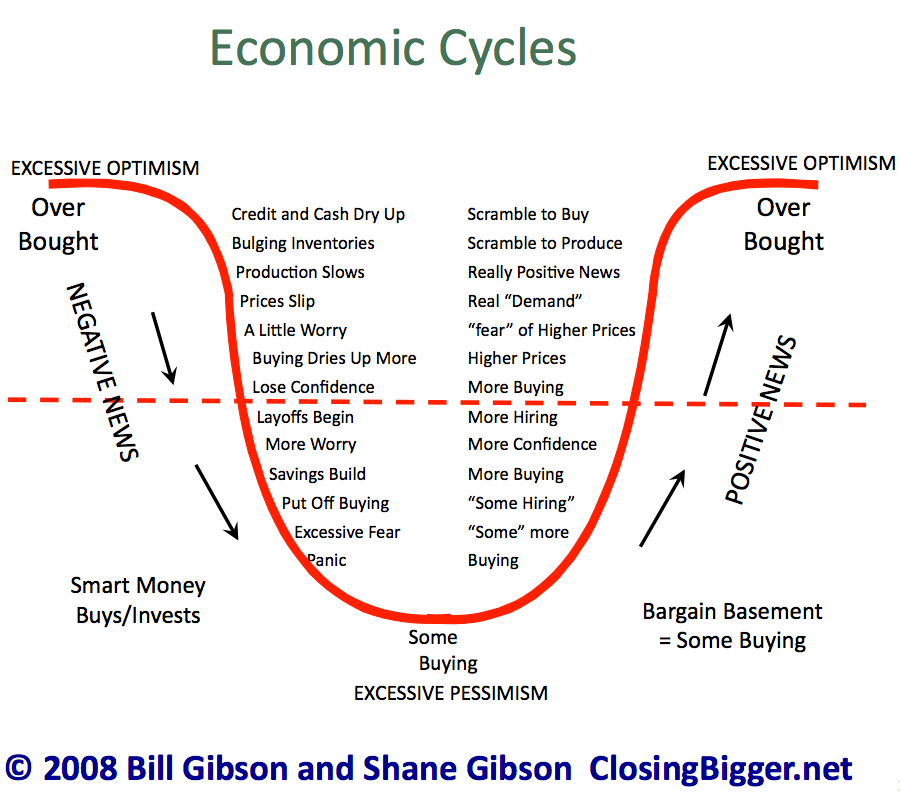 Click Below to Add to itunes