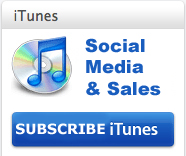 Today's podcast is about the risks associated with mentoring and coaching. I have personally seen too many people give their power away or get off track from their own personal values by selecting the wrong coach or mentor.
This podcast talks about the difference between certification and qualification. It also talks about how we may want to select and mentor or coach in the future. If you like what I have to say or you disagree please comment, I would like your feedback.
Podcast: Play in new window | Download | Embed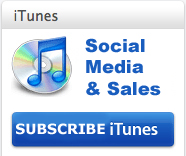 I've heard many people (including myself) talk about the fact that the rules of business have changed.  In sales and marketing this is true.
What's interesting is that the rules of leadership are universal. Offline and online networking and building social capital follow a very similar strategy. Today's podcast addresses this challenge and opportunity.
Podcast: Play in new window | Download | Embed
Here's another great networking tip for the week from Darcy Rezac:
No. 265- February 22, 2009

Dive Right In. Let's talk about the job market in a positive way. Yes, people are losing jobs, but they are also finding new ones, or getting promotions. Here is some excellent advice on one of the first things you should do when you get that new job. William C. Byham, chairman and CEO of Development Dimensions International, in Start Networking Right Away (Even If You Hate It) Harvard Business Review, January 2009 says, "Even if you have an aversion to networking – as many people do – it's imperative to start forging deliberate connections within the first 30 to 60 days after a promotion, the period when people in a new division or company are making up their minds about whether you're dependable – or a loser who should never have been hired." To read the entire article go to: Harvard Business Review

– Darcy, Gayle and Judy

Got a comment on this article? Visit Darcy Rezac's SHEPA Circle
Are you a Thought Leader? An Engaged Participant? Why not find out? This is my "beta" quiz on Social Media Profiles.  Fill it out to find out your profile. After you complete it would great if you could share your results by posting them in the comment box below. Please comment and let me know how it could be improved or expanded. Have fun!
[quiz=1]
-
Thank-you to Split Mango (Ubertor and WordPress Specialists) for editing the CSS and PHP for this quiz to make it legible and functioning!
-
Careers in High-Tech and Web-Based Industries
For every successful technology company there are dozens that fail and leave behind an array of lost promises, disappointed investors, and stressed former employees.  This sector offers a highly engaging, and potentially lucrative career in sales. With that in mind, we must be willing to ask some hard questions about the company we are going to potentially work with.
The following are examples of questions and topics we need to address when seeking out potential employers:
1.    What is the basis for their technology? Do they have something proprietary or innovative that will allow me to build up a client base? Will this technology give us a sustained competitive advantage?  Or are we just another "me too" technology that can eventually be built better and cheaper by some other company?
2.    Is this technology proven, scalable, and have a track record? Many organizations make grand claims about their latest invention but cannot back it up. Remember, when you are out prospecting, presenting, and visiting potential clients, you are going to get some hard questions. Make sure there is something of substance that you can sell.
3.    Does the company have a solid infrastructure, quality control, technical standards, and sufficient resources for customer support? Too many start-ups lack this infrastructure and back-office support. What occurs is as we land larger clients and sell multiple instances of our software or solution, and the production side of the company fails to keep up. This results in delayed projects, poor customer service, and loss of clients, market share, and opportunity.  Make sure the company you work for has those key systems in place.
4.    Does the company have a proven executive team? Leadership and the personal motivation and drive of key executives are very important, especially in the initial stages of business growth. Has the CEO surrounded themselves with intelligent, competent division heads, or have they surrounded themselves with an entourage of "yes" people?
5.    One of the most important questions is: "Is this solution a cure to a pain or a problem?" If it is, creating a business case for people to buy it will be achievable. If it is one of the many technologies with no real market demand (i.e. just another interesting technology tool) it is not going to be a priority purchase for anyone.
6.    Does the company and solution have a defined, accessible market? If the target market is difficult to reach or is ambiguous, much of our initial tenure at the company will not be spent selling, it will be spent trying to define the market and through trial and error, learning how to access it. This is not a formula for large commissions.
7.    Does the company equip the sales staff with the right marketing and collateral materials as well as tools necessary to sell the solution? In addition to this, do they have a well-defined and potentially lucrative compensation plan that will reward me for my efforts?
If you find it hard to answer positively about one or more of these questions the reality is you're probably not being offered a sales job of real substance in web or high tech based industries.
I know of several sales people who's resume's are full of 3 or 6 month stints at half a dozen of these companies. The time frame makes them look like flakey employees who can't commit or be loyal. The reality is they were great sales people who worked for companies of no substance.
- Shane Gibson
Operationalizing your sales process and approach is vital to your sales success both in the short term and the long-term.  Anyone can dream up a brilliant idea or strategy, in fact this world is full of great ideas that will never happen.  The genius is in the implementation.


Following are the five key elements of Operationalizing sales:
1.    Tools
In order to operationalize our sales process and achieve our goals we will need the right tools to get the job done.  These tools include everything from electronic devices, research tools, business cards, marketing materials, software, and accounting and billing tools to name a few.  It is important to be aware of the core tools needed to effectively execute the plan.
2.    Measurement
What gets measured gets improved.  Without measurement there is no feedback, positive or negative, regarding our progress.  A goal helps us push ourselves in positive ways and fuels improvement, motivation, self-esteem and team spirit.
What gets measured gets improved.  Without measurement there is no feedback, positive or negative, regarding our progress.  A goal helps us push ourselves in positive ways and fuels improvement, motivation, self-esteem and team spirit.
3.    Processes and Knowledge
Once you have a goal, a measurement process, and the right tools needed to identify the process to follow, you can identify any knowledge or skill gaps that may affect progress.  Being a master at sales is a process of constant improvement, self awareness and personal growth.
4.    Maximize Selling Time
Your end goal is to build solid client relationships that result in sizeable amounts of revenue.  Using this as a core goal, we can  maximize the time spent doing the things that move us toward that goal.  Many sales people have failed because they became experts at paperwork, staff meetings, research, and a myriad of other activities that have very little to do with closing the deal or building relationships with the right clients.
Sales professionals need to have a process that supports the core goal and the courage to fight for the time needed to do these things.  This process is about delegating, automating or deleting these activities from our life that are not harmonious with our goals.
5.    Support and Accountability Structure
"One is too few a number to achieve greatness" – John Maxwell.
John Maxwell, leadership expert says it well in this quote.  We need a team to help us reach our goals; many of us will do more for other people than we would do for ourselves.  Having a set of checks and balances and a manager, coach, mentor or peer that holds us accountable is a key ingredient in driving sales results.
- Shane Gibson
Last week I attended a great seminar by Peter Legge on Doing Business in Tough Times.  It was great to see a business leader like Peter echo what I have been blogging, podcasting and speaking about for the past 6 months. So many people have taken the easy route, stopped following their business plan and started following the news.  It's all about courage and personal responsibility. This video is Canada focused but I believe it has global applications.  It was produced for the event last week.
Enjoy:
Why Do People Buy Technology?
People and companies do not generally seek out technology; they seek out solutions to their pains or positive emotional states. Technology for the sake of technology is not a great marketing strategy. When our clients purchase from us, they are really buying outcomes, feelings, results, and solutions.
Too often those involved in the high-tech sector bury their prospects in endless streams of jargon, highly technical diagrams, and gratuitous numbers of acronyms. These terms and over-complicated descriptions often confuse the client, clouding the core benefits and failing to answer the basic questions: "What's in it for me?" and "What's unique about this solution?"
Some of the most effective sales professionals who sell these types of solutions are good at taking complex solutions and communicating their benefits in very powerful but non-technical terms.
The following example is a technically filled pitch for web development and marketing that contains a lot of unnecessary jargon:
Example #1: Technical Jargon
I would suggest that when we build your site that we use an open source CMS that has a WYSIWYJG editor built in. Drupal would suffice, in fact it is also very SEO friendly and can be formatted to have an RSS feed for each page. This will be important when we're trying build you back links, as back links are an important part of the Google page rank algorithm.
This description really misses any opportunity to talk about value. It simply rattles off multiple technical terms. In this example, the salesperson most likely thinks they sound like an authority when what they are really doing is potentially excluding the prospect in the process.
The following example is a benefit-oriented pitch for web development and marketing:
Example #2: Benefit-Oriented
You said that you would be frequently updating your website and that you wanted to save as much money on doing the updates as possible by reducing the need for a web developer in the future. My suggestion is that we us a CMS called Drupal with a WYSIWYG editor.  The site will be constructed in a way that search engines like Google will give it a higher ranking on search results than some of your competitor's sites. This will of course result in more traffic and business for you.

Drupal is free software that requires no on-going fees to be paid. A CMS is a Content Management System which basically allows you to make changes to the look and feel of your website, and even where information appears on your site without having to do a lot of expensive redesign.  A WYSIWG editor stands for "What You See Is What You Get" and what it allows you to do, without any additional software or understanding of programming, is to log into your site and access a page that looks much like a Microsoft Word document. From there you can create new pages and edit existing ones without the assistance of a technical guru.
This example takes and expands the technical terms, educating the client in an inclusive manner, and focusing on the core outcomes, results, and benefits of using the technology.  The bottom-line is when we talk over people's heads, use jargon and lack empathy we don't get the deal.  Keep it simple, include the client in the process, and position yourself as a resource and a coach.
Selling Technology
One sector that often comprises both intangible and complex sales is the high-tech sector. Many of the solutions are literally invisible—they run in the background and the majority of people are oblivious that they even exist.
Saying that someone is in the high-tech sector or industry is somewhat ambiguous in this era, as most organizations harness technology to make their businesses run. Everything from engineering solutions, to cars, cell phones, and legal services use technology as part of their offerings to the marketplace. So even if you do not consider yourself to be "in technology," you will most likely be selling solutions that involve technology now or in the future.
Communicating the Benefits of Technology to Different Types of Buyers
We have to realize that there are often many types of people that are involved in the procurement of high tech solutions. For instance, if you were selling Customer Relations Management software implementation to a client, the following buyers may be involved in the decision making and evaluation process:
•    The CEO
•    Finance/Accounting
•    The sales staff who will use the software
•    The VP of Sales
•    The training department that will insure use and implementation
•    The IT department or team who will have integrate and support it once it is installed
Each of the buyers or contributors will need to have the solution communicated differently:
•    The CEO will most likely want to know the big picture, the bottom-line and how the  return on investment will be measured. They will not want to get bogged down in details and specifics and should not be asked questions related to those specifics.
•    Finance and accounting will be concerned about capital costs, warrantees, process management, risk and on-going fees.
•    The sales staff will want to know how to use it, how it will impact their ability to do their job, and the amount of  control others will have over them.
•    The VP of Sales and the training department will want to know about measurement, implementation, tracking tools, and how it will impact their ability to support the sales team.
•    The IT department will want to know specifics on programming, quality assurance issues, debugging, scalability, programming language security, and a myriad of other technical issues.
Most people are comfortable communicating with one or two of these types of stakeholder groups. Great salespeople in this sector have a strategy to address the needs of each of these groups, and they communicate the benefits in a way that is unique and applicable to each buyer type.
In addition to this, there are several other important attributes relating to great high-tech sales professionals as follows:
Knowing the Market
Understanding our target market and niche is critical. We need to understand the unique circumstances, competitive environment, and business processes of our target market.  In doing this research and preparation, we are better equipped to address the needs of our target market and identify what core business challenges our technology can address.
Knowing the Client
We need to go beyond the market and spend time getting to understand each individual corporation's situation and circumstance. Each client will have unique business challenges and processes that need the support of technology in a customized way.
Factors that will affect the type of solution needed will vary depending on their stage of business growth, existing business processes, corporate goals, immediate and long term challenges, as well as management and operations philosophy.
Know All Applications and Limitations of Your Solution
In order to fully service the client and become a true resource and problem solver, we must understand all the applications of our products and services. In addition to this, it is imperative that we also understand our weaknesses and limitations.
At times clients have un-reasonable or un-defined expectations—by understanding our limitations and communicating them effectively we can dispel any misconceptions.
Why this is important is that a small misunderstanding early on could result in a largely off-target project or solution. On the positive side of course, by knowing all of the applications of our solution we make sure that we truly maximize revenues and client satisfaction.
Be a Problem Solver
This is an integral part of selling technology. Most new technologies evolve out of a client problem for which there is no solution.
Have Great Consulting Skills
Elevating ourselves from the status of order taker to trusted advisor can give us a real advantage in the marketplace. To be seen as a consultant, we need to have a thorough needs analysis approach, build our profile as a subject matter expert, have a high level of rapport with the potential clients, and look for ideal solutions—not just "our solution" to client problems.
Great Project Planning and Management Skills
Many large high-tech sales deals will require numerous people on our team to help us close the sale. There most likely will be a need to engage technical and support staff and then coordinate their interaction with key staff in our client company. Once we have the deal, there will be a need to continue to monitor these interactions to ensure that the promises we made to the client are in fact fulfilled.
A large complex sales opportunity can be very lucrative and offer great rewards for salespeople who pursue them.  With these rewards also come risks because a large investment of our resources over an extended period of time is required for success.  This large investment can be in vain if we have not addressed some of the risks associated with large complex deals.
Risks:
Not Targeting
If we do not have a clear idea of who our ideal clients are (referred to as A's or the 20 percent that bring us 80 percent of our revenues) then we can be spending a lot time prospecting the wrong companies and opportunities. It is often a large effort just to get in the door and if we are knocking on the wrong doors, it can be costly.
Not Managing Pipeline
Being organized with a clear game plan is imperative as there are so many details and variables in a complex sale the deal can easily get side-tracked. By being organized in our sales process and managing our pipeline, we can reduce the chance of losing the deal due to apathy or distraction.
Not Knowing the Buying Process
We need to really understand how the client assesses potential suppliers and what process they use to do so. Too often we push our own agenda at our own demise.  Spending time probing, asking questions, and researching is critical in helping us understand the likelihood of landing a deal. It also ensures that we do not miss critical pieces of information and steps that are important to the prospect.
Taking the Wrong Advice
We need to gather information from multiple sources to make sure that our approach is in line with the values of the key decision makers. If someone is blocking your access to the internal network of your client company, and all the information comes from that source, there is a good chance that your proposal will miss the mark.  Take advice and gather information from people without personal agendas.
Not Having a Bid Qualification Process
Just because a big company sends you a Request for Proposal (RFP) it does not mean you should apply. Many companies have failed because they won the wrong contract and went bankrupt trying to service a large client and/or one with unique and expensive specifications.
As big complex deal hunters, we need to know what a profitable deal looks like. More importantly, we need to know how we could lose money or burn up time on deals that are a misfit.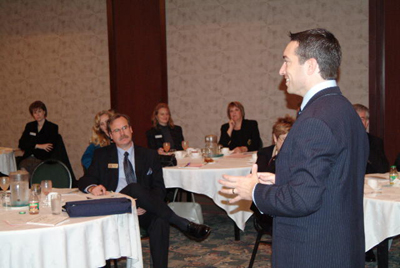 Guest Blog By Bill Gibson bill@kbitraining.com
Top level decision makers are results-orientated. Both tangible results and intangible results appeal to them.  When we talk about results we can talk about both tangible and intangible results.
Tangible Results
The kind of tangible results that appeal to them are:

Raising Revenues:
Show them how their overall volume can be increased; in other words, an increase in sales. They know that an increase in sales means more profit if the expenses are well managed.

Increase Efficiency:
They want a sizable return on their monetary investment. If they see that their employees, or their equipment, or other capital will be more efficient, then the chance of their buy-in is higher.

Keeping Shareholders Happy:
Top-level decision makers are the ones who have to answer to the Board of Directors and to the Shareholders in a large corporation. Keeping the Board or shareholders happy is their main priority. This means that you are showing them ways to improve the value of the company, in turn improving the value of the shares paid out, or returning a bigger profit so that larger dividends are declared and paid to the shareholders.

Lowering Cost of Production:
Again, more logical, linear, left brain appeal to the top level decision makers. Lower costs equal better margins and bigger profits.
Increasing Market Share:
They are interested in advertising, marketing and business development strategies, tactics and methods to increase market share. Taking market share from the competition is something that inspires them. Also, gaining a bigger share of the average client's   buying power  also means increasing market share to top level decision makers.
Higher Return On Investment:
Can you show them how they will get a bigger return on their investment for the money they invest with your services, products, ideas and concepts? If you can, they will want to know you and they will also open to investing time with you.

Dealing With Market Changes:
A sudden down swing in the economy, a new big competitor grabbing market share, a sudden market switch to a new technology, a new way of doing business, new government regulations that affect them adversely, a major change in consumer behavior are all examples of market changes that corporations have to adjust to and capitalize on. If you come with solutions for market changes that affect them, then they will  take the time to explore the possibilities with you.
Intangible Results:
The types of intangible results that appeal to top-level decision makers are:

Lower the Risk And Worry:
Anything that you can do to lower or eliminate the risk makes them feel better. Showing them how you will finish a project on time, protect their investment, handle unexpected situations, save them personal stress or personal hassle are all examples of what they consider to be valuable as an intangible. It makes them feel better and reduces their worries.

Personal and Corporate Pride:
Senior executives and top-level decision makers are at the top because they have personal pride and are proud of the business results that they achieve. Whatever you can do to make them feel even more proud of themselves and their company, will usually provide positive results.  One particular business journalist who works for the Globe and Mail uses this as her primary strategy to get senior executives to call her back for interviews.  She will leave a message or send an e-mail genuinely complementing them on their achievements and track record and citing why she thinks they are an industry authority.  Her callback rate is almost 100 percent.

Image – Personally And Corporately:
Yes the car they drive reflects their success level. The suits, the shoes they wear, the house they live in, the office address, and the image their marketing material portrays are all examples of personal and/or corporate image. Not all top level decision makers hold image as a top motive for buying, although most do, whether they admit it or not.

Retaining And Attracting Good Employees Who Work Beyond The Norm:
The top level decision maker knows that you win when you have exceptional people working with you. Show them how to attract and keep really good people who work beyond what normal people do, and they will be open to listen. When they see these types of people around them they are impressed and it gives them that intangible result of a sense of pride and comfort.