Many people ask me how I keep managing to grow my twitter following on my @shanegibson account.  I don't and have never used any type of auto-follow software or participated in any type of Twitter Ponzi scheme.  I avoid the get rich quick crowd like the plague, in fact some of my tweets have offended them on mass.  In our soon to be released book Sociable! Stephen Jagger (@sjagger) and I talk about 16 ways to organically build your Twitter following. Here's a condensed version of 5 of those strategies:
Follow retweeters
Often a good tweet or quote that you do will be passed on by several people.  Many of the resulting tweets will be done by people you don't know.  Follow those people, they have already proven they like what you have to say and there's a good chance they will follow you because of this.
Follow people who follow your competitors
If your competitors have a strong online engagement strategy then there's a good chance that they have a good concentration of quality connections on Twitter. If their interest revolves around a service you provide or blog content that you create then there's a good chance they will follow you back.  Be wary of following people who are connected to competitors that are not engaging or have a weak twitter strategy, there's a good chance their follower quality and relevancy for you will be low.
Follow people who talk about your competitors
Follow people who talk well or badly about your competitors, either way they're spending money on or have interest in your business or industry.  Follow these people and begin a dialogue with them, after a few interactions you will begin to develop rapport with them.


Use Twellow.com to target key people and groups
Twellow is to our knowledge the most comprehensive Twitter directory on the web.  It was developed by Webpronews a subsidiary of iEntry a leading online publisher.  It includes 5.4 million Twitter profiles organized by geography, industry and various industry sub-categories.  If you want to target CEO's working for IT companies in Texas it will provide you a list of people to follow.  Highly organized and easy to register and use we consider this tool a key tool for anyone serious about building a targeted Twitter following.
Contextualize your tweets when following to be followed
Often when you're networking the first few minutes of a conversation will help you determine if you will stick around and socialize. The same thing goes for Twitter, think about the people you are trying to attract and make sure your Twitter updates will reflect their interests, stature and culture.  This will increase the chance of them following you.
For example, if you used Twellow to find CEO's then you most likely would do several Twitter updates that interest them.  You would follow 40 or 50 CEO's, many of whom would check out your profile to see what you are about.  You could quote Warren Buffet, then link to an article on leadership and maybe retweet a couple well known CEO's as well.  In essence you are having a conversation that CEO's would follow.
The idea is to make sure that your dialogue matches the market you are targeting during a 5 to 7 day time frame.
If you liked these Twitter tips you can register for information on getting an advance order and bonus e-book of Sociable! here:
Tweets About this Post:



Daily I do Twitter updates on leadership, sales and social media. Last week I did a post on 20 Social Media Tips Under 140 Characters and so I thought this week I would do one on some of my leadership thoughts and principles. These tips have been inspired by John C. Maxwell, Dr. Terry Anderson, and great mentors such as my father Bill Gibson and great friend Fred Shadian.
Here's my 20 Leadership Tips Under 140 Characters:
Connect people's personal values to your mission and they will work with purpose and passion.
If you seek advice from a mentor, be prepared to act upon the directions.
The Ego has been bruised often long before our anger gets the better of us.
Invest in teachable people heavily. Treat them different, give them more opportunities.
Worry less about be recognized as a leader, worry more about recognizing others' greatness.
Keep growing personally, stay humble, and always know your next step, this will sustain growth.
The team that got you here, might night be the team that is going to get you there.
Teaching is 90% connection and 10% content.
Having your students exceed your abilities is a sign that you are a great leader.
Those that criticize you are not always against you , those that praise you may not really be on your side.
If you look exhausted and stressed don't be surprised when no one wants to follow your path.
Surround yourself with people that are brilliant in a different way than you are. Mitigate your weaknesses and gaps.
If you think you are leader and no one is following you, you're actually just going for a walk.
To change your organization you must see it through different eyes.
If you sound like everyone else you might not be a leader.
As a leader you will often feel like you're on the outside looking in at the world. This is normal, you're different.
Hire for values and attitude, train for efficiency and skills.
An organization is often a reflection of its leader's subconscious mind.
The more influence you have the more emotional impact even your smallest actions will have on people.
Leadership is a lifelong pursuit, invest in your personal growth everyday.
Daily I post social media tips on Twitter, I thought I would post the most recent 20 for you. Have any to share? Post them in comments below.
20 Social Media Tips Under 140 Characters:
Spend at least as much time listening as you do broadcasting.
It's called "social media" for a reason. Be prepared to interact consistently.
You can't win the game focusing on the scoreboard. Focus on the game of engagement and the traffic will come.
Losing followers is okay, measure the engagement level of who is still here to see how you are doing.
Have a goal, measure results, measurement provides feedback and improvement.
The internet has always been about helping people connect to people (@nickusborne)
Pay it forward. Help, teach. guide and be patient with people new to the scene. [Tweet This Tip]
Study people who are credible with the type of clients you want to attract. Model their strategy.
Marketers aren't always synonymous with community builders, traffic and followers isn't always equal to credibility.
If you're an old school e-mail marketer or pitch artist, there's some habits you will need to unlearn.
Before you start your campaign define your market and their pains.
Everyone and every company gets off message once in a while. Refocus and learn from it.
Leaders of large "Tribes" need to have thick skin and a tolerance for noise.
Continually tweak and update your Linkedin profile, your network will be notified.
Social media is changing so quickly that if you stop too long to smell the roses you'll be out of touch.
Try a new platform each month, video blogging, FaceBook, tumblr etc. Curiosity can lead to great discoveries.
You can't make a robot network for you at a party, why do you think they can do it for you on the web?
Some un-follows are strategic. People want to know if you're really listening.
You can't please everyone. But know who you are trying to connect with. Get in sync with your audience.
http://www.ping.fm updates FaceBook, Brightkite, Twitter, tumblr and Linkedin statuses all at once
This is part part 7 of the 19 Guerrilla Social Media Marketing Secrets inspired by Jay Levinson and adapted by Shane Gibson (me). Here's today's 2 Guerrilla Social Media Marketing Tips:
18.    Experiment – You will have little failures before you have one big success.  Constantly test and be curious about the psychology behind what motivates and engages your customers, prospects and the online communities you participate.  Remember that penicillin and gun powder were both invented by accident.  Have fun, be engaging and bold and most importantly observe everything.
19.     Implement – The world belongs to those who are willing to implement.  Put a solid marketing calendar together that includes core social media disciplines.  Blog at least 3 times per week, update your Twitter status five or more times per day, spend at least 30 minutes a day pro-actively listening to your audience. Constantly devour information on how to hone your skills as a Guerrilla Social Media Marketer.
Guerrilla Social Media Marketing Secrets Part 1
Guerrilla Social Media Marketing Secrets Part 2
Guerrilla Social Media Marketing Secrets Part 3
Guerrilla Social Media Marketing Secrets Part 4
Guerrilla Social Media Marketing Secrets Part 5
Guerrilla Social Media Marketing Secrets Part 6
Subscribe to this blog via e-mail:
Podcast: Play in new window | Download | Embed
Following are the five key elements of Operationalizing sales (Full explanation in text is here):
1.    Tools
2.    Measurement
3.    Processes and Knowledge
4.    Maximize Selling Time
5.    Support and Accountability Structure
After you listen to today's podcast your assignment is to:
List the 5 headings for operationalizing sales discussed
Fill in under each heading what actions or steps you are going to take
Once mapped out make sure you assign a specific time to implement the steps
Find someone you can be accountable to in the process.
Podcast: Play in new window | Download | Embed
Today for day 27 of the 28 Days to Better Selling we are covering 15 ways to close a sale. After you listen to the podcast identify how many of the closes listed below that you could apply to your sales process.
The Alternative Close
The Assumed Close
The Minor Decision Close
The Courtesy Close – "silent principle"
The Direct Close
The Urgency Close
The "Shut-up Principle" Close
The "Bonus" Close –
The Objection Close
The "Use of Terms" Close
The Third Party Close
The Summary Close
The Similar Situation Close
The Empathy Close
The Consultant Close
Podcast: Play in new window | Download | Embed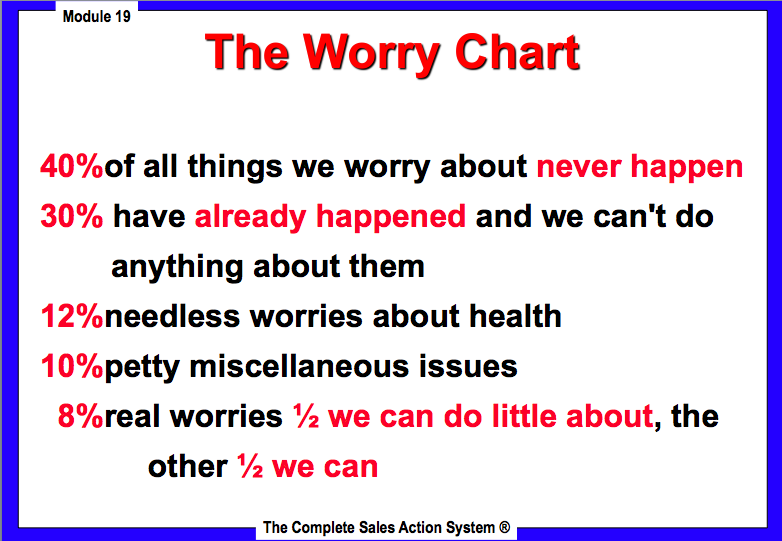 Energy management in sales is just as important as time management. Worry and anxiety can be big energy drainers.  Your assignment today is to implement as many of the strategies outlined in today's podcast as possible.
The following are some ideas, strategies, and tips to proactively help reduce your worry and anxiety:
Set a Specific Time for Worry
Move to Action
Try Exercise
Get Out of Bed Quickly
Post Good News
Surround Yourself with Positive People
Make Meetings Productive with the Worry Chart
Time Limit on Hard Work
Know the Value of the Present
Laugh at Yourself
Give Yourself Special Treatment
Podcast: Play in new window | Download | Embed
Yesterday we talked about the importance of proving or selling inangible results related to your products or services.  Today we are going to focus on some of the key attributes needed to do so.  The following provides a brief overview of some of the skills and strengths needed to be great at selling intangibles.
Personal Brand of You
When selling intangible solutions, it really is about credibility and the relationship.  Because the solution is intangible, the purchase is largely based upon the believability of the salesperson.
Having a strong personal brand helps people understand who we are, what we are about, and it removes uncertainty.
Differentiation
People who are good at this type of sales often communicate what they do in a unique way. This means specializing and unique positioning is often necessary.
Passionate Evangelist/Industry Authority or Both
As an extension of our personal brand and our ability to differentiate, our passion and knowledge are critical in selling intangibles. Because the client cannot often experience the service or solution in a tangible way, their experience of you has to be credible and inspiring.
Clarity
"In communicating, your greatest enemy isn't the noise around you – it's the noise you create, un-wittingly" – Harry Beckwith, author of What Clients Love and Selling the Invisible.
Brevity and focus are key. If we focus on one or two core things we are good at and communicate those proficiencies really well, we can own a large portion of client mindshare and wallet share.
Value Builders
Because what we are selling cannot be seen, touched, or measured, we need to be good at building value. Your ability to articulate the real value in terms of return on investment is very important. Solutions must be presented in a way that solves a core client pain or challenge.
-
This is part part 6 of the 19 Guerrilla Social Media Marketing Secrets inspired by Jay Levinson and adapted by Shane Gibson (me). Here's today's 3 Guerrilla Social Media Marketing Tips:
15.    Content – "Substance wins over style" Give real value, unique content and do it often with multiple social media weapons.  If you want to dominate your marketplace using social media give more, and give more often.   Your community and Google's robots will reward you!
16.    Augment – Augment your attack; audit yourself and your strategy constantly.  The world of social media is growing by the millions of members every month.  You have to stay up on the tools and on the demographics of each medium.   NHL Superstar Wayne Gretzky attributes his success on the ice to always knowing where the hockey puck was going to be versus where it was in the moment.  He was always ahead of the game.  You need to be the same way in the social media space. Ask: "What's next?"
17.     Congruent – Make sure that all of your tools and messages work together.  You should be layering each blog entry, twitter update, or FaceBook post like bricks in a building.  They all are valuable but contribute to a greater masterpiece, your brand and reputation.
Guerrilla Social Media Marketing Secrets Part 1
Guerrilla Social Media Marketing Secrets Part 2
Guerrilla Social Media Marketing Secrets Part 3
Guerrilla Social Media Marketing Secrets Part 4
Guerrilla Social Media Marketing Secrets Part 5
Podcast: Play in new window | Download | Embed
Top level decision makers are results-orientated. Both tangible results and intangible results appeal to them.  In order to be seen as a resource and potential supplier you must tap into their desire to produce results.
The kind of tangible results that appeal to them are:

Raising Revenues:
Show them how their overall volume can be increased; in other words, an increase in sales.

Increase Efficiency:
If they see that their employees, or their equipment, or other capital  will be more efficient, then the chance of their buy-in is higher.

Keeping Shareholders Happy:
Top level decision makers are the ones who have to answer to the Board of Directors and to the Shareholders in a large corporation. Keeping the Board or shareholders happy is their main priority.

Lowering Cost of Production:
Lower costs equal better margins and bigger profits.

Increasing Market Share:
They are interested in advertising, marketing and business development strategies, tactics and methods to increase market share.
Higher Return On Investment:
Can you show them how they will get a bigger return on their investment for the money they invest with your services, products, ideas and concepts?

Dealing With Market Changes:
If you come with solutions for  market changes that affect them, then they will  take the time to explore the possibilities with you.

Intangible Results:
The types of intangible results that appeal to top level decision makers are:

Lower the Risk And Worry:
Anything that you can do to lower or eliminate the risk makes them feel better.
Personal and Corporate Pride:
Senior executives and top level decision makers are at the top because they have personal pride and are proud of the business results that they achieve.

Image – Personally And Corporately:
Yes the car they drive reflects their success level. The suits, the shoes they wear, the house they live in, the office address, and the image their marketing material portrays are all examples of personal and/or corporate image.
Retaining And Attracting Good Employees Who Work Beyond The Norm:
The top level decision maker knows that you win when you have exceptional people working with you.
Your assignment today after listening to the podcast is to:
1) Look at how many of these results your products or services can achieve for your clients.
2) Develop a unique way to present these results you produce
3) Memorize and practice presenting those core results statements that you will use with senior decision makers.
-
Here we are 23 Days in. We are almost there. I've done programs with bloggers and marketers very similar to this. The difference is they collaborate, maybe it's geek DNA that make us want to share.
Reading through the list of participants and checking out through Twitter, Linkedin and FaceBook who is following along, I can calculate 300 people who are following this program. 240 of you are keeping your thoughts to yourself.  I'm also assuming you're keeping your sales challenges to yourself too.
I personally am referred to by other people as a Sales Guru, Social Media expert etc. I find those labels embarrassing, and sometimes I find it equally challenging to admit that in some circumstance in business that I'm like a duck out of water. Clueless basically.
Why I share this? I still succeed in spite of my limitations, but only because I network with great people and am willing to admit that I need mentoring, support and business.  Mentorship and great guidance is the key here.
There's several hundred people who are into improving sales and marketing efforts, and our combined wisdom is astonishing but we also need to not be proud and ask for help. Today's exercise is simple, reach out to me and other connections and tell us you need help. I'm waiting to hear what you need help with.
I