Jay Levinson and I put our heads together and came up with "The 10 Personality traits of a Guerrilla Social Media Marketer" they will be part of a program we're developing together.  I thought I would give you a sneak peek into these traits and the Guerrilla way:
Immune to hype:
There is a lot of hype around social media. The Guerrilla searches for truth, verifies information and executes with dependable tools and strategies.
Curiosity:
Penicillin was invented serendipitously.  Guerrillas aren't afraid to experiment, make mistakes or try new things to gain a competitive advantage.
The ability to sprint:
There will be small windows of opportunity and the Guerrilla is always ready to exploit them with all of their energy passion and resources.
The ability to run marathons:
Many battles are battles of attrition. Guerrillas know how to wear their competition down and build a presence through consistency.
Transparent:
A Guerrilla knows that truth, empathy and integrity are keys to social media marketing, and they build trust and loyalty through transparency.
Community focused
A Guerrilla builds, connects and helps the community.  Within that community are other Guerrilla Allies that will be their assets.
Profit driven
A Guerrilla measures success by profits, not clicks, visitors, or any "cool factor."
8. Tech hungry
Technology is the Guerrilla's Social Media Marketers core weapon and competency. They are always learning more about technology.
Self-developer
A Guerrilla knows that technology and business moves fast. They are constantly learning more to stay ahead of the competition.
Leadership mentality
A Guerrilla observes the community and gathers intelligence but they are always thinking about what is next. They create trends, unique solutions and are thought leaders.
Copyright 2008-2009 Jay Levinson and Shane Gibson
Guerrilla Marketing Official Page


Promote Your Page Too
Cada cierto tiempo, me dedico a hacer una colección de mis tweets mas populares de Social Media (Twitter updates via @shanegibsones) y los archivo en mi blog para que las personas que se los perdieron o para los que aun no se encuentran en Twitter. Aquí hay una colección de 25 Tips, pensamientos y modas de los 10 días pasados. Que los disfruten! (English version translation is here)
Pensamiento de SM: El no escuchar a tus clientes es un Homicidio a tu marca, ¿tu ya  cuentas con una estratégia para escuchar en Social Media?
Tip de SM: Una vez que encuentres una conversación acerca de tu marca, incita a que continúe creando y facilitado espacios para el diálogo.
Tip de SM: Una estrategia social para escuchar, viene antes de una estrategia de contenidos de social.
Tip de SM: La mayoría de los esfuerzos de social media son abandonados antes de que los resultados puedan ser mesurados.
Moda de Social Media: Mas gente se esta dando cuenta que el exito en Social Media tiene que ver más con liderazgo y no con tecnología.
Moda de Social Media: Traducción simultánea en sitios de micro-blogging y colaboración en plataformas.
Moda de Social Media: Aplicaciones Sociales móviles agregando redes múltiples y AV en un mismo lugar.
Tip de SM: Agrega a tus listas de clientes y prospectos y desarrolla nano-conversaciones para cada nano-segmento.
Tip de SM: Social Media puede ser usada para retener, desarrollar y prospectar clientes en todos los aspectos de el ciclo de ventas.
Tip de SM: Sal de lo ordinario de tu industria cuando desarrolles una estrategia. Observa usus de Social Media que puedan ser adaptados.
Tip de SM: Instruye a tus clientes acerca de Social Media, ayúdalos a tener una presencia online. Esto crea mas diálogo y oportunidades.
Tip de SM: Traslada todo a la realidad al menos dos veces por semana. Conocete offline y en persona con tus contactos.
Tip de SM: Investiga y prueba las últimas plataformas, pero no caigas en situaciones complicadas o bizarras.
Tip de SM: Enseña a la gente, los principios de liderazgo antes de mostrarles como usar Twitter o Blogs.
Tip de SM: Meetup.com es mejor cuando es usado para organizar eventos comunitarios. Usarlo para promover tu comañía o producto tendrá resultados mínimos.
Tip de SM: Tu gran idea para un blog post ya esta siendo escrita en 10 idiomas diferentes ahora mismo por otras personas.
Tip de SM: Cualquier sistema o compañía inclinada a ser exclusiva mas que inclusiva, esta destinada a fallar.
Tip de SM: En lugar de escribir encabezados, escribe algo que te vincule con tus lectores.
Tip de SM: Como líder, haz que la jornada sea entretenida y comparte tu goce. Las otras personas, querrán seguir tu camino.
Se dice en Social Media: "Nada pasa hasta que alguien hace un tweet de ello"
Tip de SM: Ser un líder de pensamiento es contribución desinteresada y diálogo único.
Tip de SM: No tienes que usar o te tienen que gustar todas las herramientas para ser exitoso.
@shanegibsones traducción de @tyamdm.
I have two seminars coming up in Vancouver in the next 60 days. If you're a manager, executive or entrepreneur these two sessions are designed with you in mind.  Today we need solid relationship development and leadership skills that are honed for today's hyper-connected stakeholders and team member.  These are not old strategies dusted off, they are up-to-date, current and very applicable leadership and communications tools. Here are the program outlines:
Partnering & Stakeholder Engagement Strategies (Nov 5) &
Leading in a Hyper Connected Marketplace (Dec 3)
Click here for registration information (PDF)
Presented by Shane Gibson
President of Knowledge Brokers International (http://www.closingbigger.net).
Hilton Vancouver Metrotown, Burnaby
November 5th & December 3rd, 2009
=======================================================
Partnering & Stakeholder Engagement Strategies: November 5th, 2009
In order to survive and prosper most major business, government or not-for-profit initiatives necessitate the support
of multiple stakeholders and stakeholder groups.  It is about identifying the core needs, goals, fears, and
motivations of every key party and managing that information for strategic and tactical success.
You will learn the key strategies on partnering and stakeholder engagement including:
• The stages of relationship and partnership development
• Key steps in systemizing your relationship and stakeholder development planning (includes sample
planning charts and templates)
• Tips on handling and avoiding roadblocks
• How to map the Power Players in any business or organization
• How to persuade each Power Player
=======================================================
Leadership 2.0 – Leading in a Hyper Connected Marketplace: December 3rd, 2009
With employees, customers and stakeholders equipped with technology that allows for mass collaboration and
rapid communication we as leaders need to understand how to harness this technology and the crowds we are
connected to.
Today's workplace is not a homogeneous one. As leaders we have to lead teams that are made up of Baby
Boomers, Generation X and Generation Y.  This coupled with diverse cultures and values in the workplace make
leading both exciting and challenging.
Key topics include:
• New rules for engagement in a digitally transparent era.
• Web 2.0 collaboration and learning tools.
• Creating an environment that is productive and engaging for the millennial / Gen Y.
• Tips and approaches for recruiting staff using tools like Facebook, Linkedin and Twitter.
• Using technology to break down silos and create collaboration within your organization.
• How to apply timeless leadership principles to this new work and business climate
Click here for registration information (PDF)
Podcast: Play in new window | Download | Embed
Today's podcast is more about questions than answers, this is somewhat of a roughly formed thought at this point. Tribes by Seth Godin really resonated with me when I first read it a year ago. Jay Conrad Levinson's concept of Nano-casting to small unique groups (often only parts of a tribe) has always intrigued me. On a recent trip to Florida Jay and I spent an evening talking about Nano-casting, nomadic tribalists and social media marketing.
Here's some of the core thoughts
We no longer can broadcast, or niche market, we need to nano-cast to small groups of people, often smaller than the entire tribe.
Nano-casting isn't enough, we need to employ Listening 2.0 strategies and have intimate conversations.
You must be adept at being a nomadic social media tribalist, your ability to move from tribe to tribe and adapt as you market is vital.
I really would like your feedback on this concept. Make a comment below, Tweet me, or find me on Google Wave (closingbigger@googlewave.com).
Every few weeks I take a collection of my most popular social media Tweets (Twitter updates) and archive them on my blog for people who missed them or are not yet on Twitter.  Here's a collection of 25 tips, thoughts, and trends from the past 10 days. Enjoy!
Social Media Thought: Not listening to your customer = Brandicide (Brand Homicide) do you have a social media listening strategy?
Social Media Tip: Once you find a conversation about your brand encourage it to spread by creating and hosting places for dialogue.
Social Media Tip: Social listening strategy comes before social media content strategy.
Social Media Tip: Most social media efforts are abandoned long before their results can be measured.
Social Media Tip: Integrate your tools in your marketing but also measure the effectiveness of each tool individually.
Social Media Trend: More people realizing that social media success is about leadership not technology.
Social Media Trend: simultaneous translation in mirco-blogging and collaboration platforms.
Social Media Trend: Mobile social apps aggregating multiple social networks and media into one place.
Social Media Tip: Aggregate your client and prospect list and develop nano-casts for each nano-segment.
Social Media Tip: Social media can be used for retaining, developing and prospecting clients, all aspects of the sales cycle.
Social Media Tip: Get out of your industry vacuum when building strategy. Look for SMM concepts that can be adapted.
Social Media Tip: Want to make good connections? Make value added, thoughtful comments on their blog.
Social Media Tip: teach your clients about social media, help them get online. It creates more dialogue opportunities.
Social Media Tip: Make it real at least twice a week. Meet offline in person with contacts.
Social Media Tip: Research and test the latest platforms but don't go down the rabbit hole.
Social Media Tip: Teach people the principles of leadership before teaching them how to use Twitter or blogs.
Social Media Tip: Meetup.com is best used for community events. Using it just to promote your product or company will have minimal results.
Social Media Tip: Your great idea or blog post, is being written in 10 different languages by other people right now.
Social Media Tip: Any system or company bent on being exclusive versus inclusive will fail.
Social Media Tip: Instead of writing headlines write engagement lines.
Social Media Tip: As a leader, make the journey look fun & share your joy. People will want to follow the path.
Social Media saying: "Nothing happens until someone tweets something."
Social Media Tip: Being a thought leader is just as much about selfless contribution as it is about unique dialogue.
Social Media Tip: You don't have to like or use every tool to be successful.
Social Media Trend: Brands now need to think global social etiquette when planning their social media strategy.
Podcast: Play in new window | Download | Embed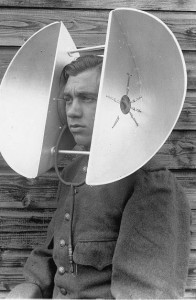 Listening is a core part of all strategy, military, personal relationships, sales and social media. Observing your competitors before forming strategy and taking action, or listening to your customer for the purpose of engagement, rapport and opportunity seeking.  It all starts with listening.  In marketing, as in battle it is often one bold stroke that wins, knowing when, where and how we hit our adversary.  Today's podcast is about Listening 2.0 and what it means to all of us.  Listening 2.0 is about making others feel listened to and understood, it's not just about nodding our virtual heads or tabulating comments in a social media sentiment report.
Photo Credit: Dr. X's Vintage Photo Blog