Enough. With the advent of Twitter there's the follow Friday or #followfriday or #ff. People post lists of people they endorse or want to thank for their impact on them via Twitter.  It may be the trend du jour but I feel for us hyper wired social media and web geeks People Friday is a much greater cause. We spend so much time behind our monitors or squinting at our iPhones and Blackberry's that we have forgotten the purpose; PEOPLE. Instead of posting on Twitter how much you like someone and why everyone else should follow them online — why not meet them in person or pick up the phone and let them know how much you appreciate their efforts. It's great to promote and connect with a broad base of people and expand our network. Intimacy and trust however is built by deepening key relationships. When you know each other better, and deep trust is built we can than truly and endorse someone as credible.
So I have my People Friday booked up. I'm visiting with my co-author Stephen Jagger, then meeting with a long time client, and then I will be meeting with George Moen of Blenz Coffee. Most of these conversations and interactions could be handled online via a wiki / chat collaboration BUT there's huge value to looking someone in the eye and taking the time to let them know how they have impacted you. If at all possible today… get offline in person with someone you have rapport with online and see if you can add depth to that relationship.
Have a great Friday,
Shane
The question is formed in many different ways. I get it all the time. What is the best social media or social network for me to use? Which ones will my clients respond best to? Should I use social media or invest in search engine optimization?
These are the wrong questions. Lets use a guerrilla analogy: What's the best weapon for combat? The answer is: You need more than one weapon, you need multiple weapons, multiple approaches and a lot of redundancy and back-up.
Lets step back from "social media marketing" and talk about marketing. We know that the best marketing campaigns use a variety of media and messages. BMW doesn't just use billboards, they use e-mail, micro-sites, online video, direct mail and also encourage user generated content on some of their more social sites. Starbucks is much the same.
The message here is this:
Stop falling in love with social media tools, start falling in love with your customer
Starbucks, BMW, Ford, Comcast and many other successful social media marketers are customer engagement focused. They surround their customers online with multiple opportunities from multiple media to learn, connect and engage. It takes time, frequency of contact and a lot value added interactions to become top of mind with your customer.
EngagementDB.com a project by Altimeter Group and WetPaint studied the web's top brands and looked at the impact of using multiple media and channels versus being a one-weapon marketer. Without exception the brands that used multiple media and channels had greater and faster engagement levels. These brands also happened to be more profitable than the others. This is probably not due to social media use but the fact that they are progressive and strategic at all levels in their businesses.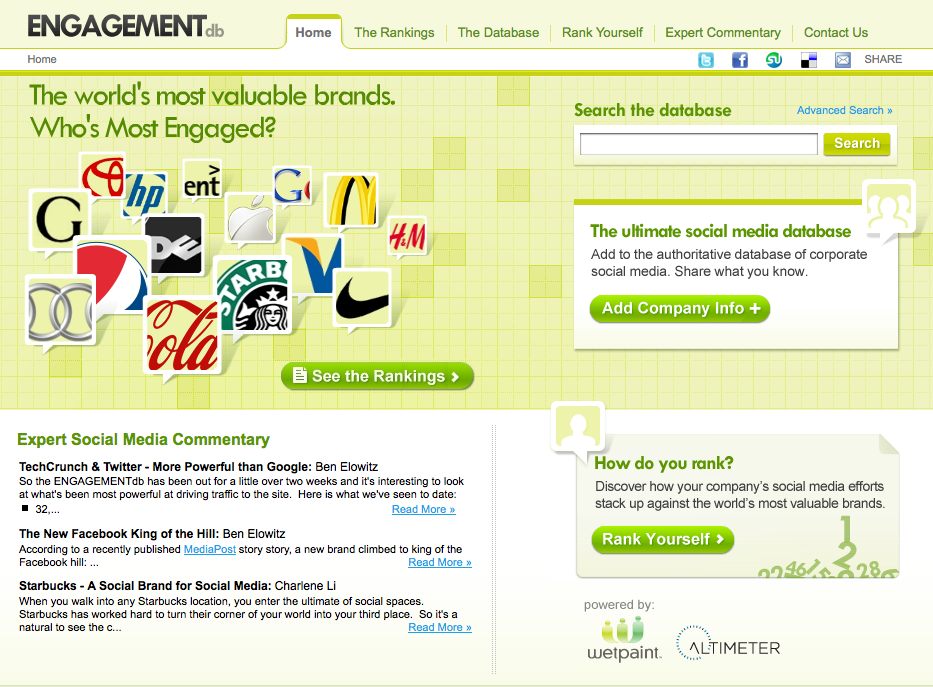 Here's your take-away:
Fall in love with your customer, interact with them in multiple channels and add value. Focus on them, not the tools.
Have an over reaching plan and goal that drives your content creation and interaction
Use all of your social media tools, search marketing and offline marketing in tandem and with the same focus.
Stay on message, stay consistent, and continually engage
What are your thoughts on this? Have you found that multiple media helps you engage faster and more effectively?
-
-
-
This is another (unedited) excerpt from Guerrilla Social Media Marketing a new book by Jay Conrad Levinson and Shane Gibson set for release in September 2010.
Engagement pages are designed to capture hearts and minds, not just e-mail addresses.

Traditional internet marketers rely heavily on controlling the behavior of their visitors. This means reducing options and choices. What is commonly referred to as a squeeze page is a good example of this. Squeeze pages usually are completely void of navigation buttons or links to other pages or websites, and give the visitor one of two choices: to read the marketing copy and then make a choice to either fill in their personal information and give consent or to leave. Although this will capture a percentage of visitors who are ready, willing or able to buy or give consent right now, it also repels visitors who could have become good clients if they had only been engaged in a credible manner.

Engagement pages have some similarities to a squeeze page, in that their purpose is also to gain consent and generate subscribers. The difference is: the engagement page offers the visitor multiple options, mediums and pathways to learn more about how the guerrilla's business can benefit and add value to the visitor's life or business. It also provides multiple subscription options.
As a reader what are your thoughts on this? Do you use landing pages or engagement pages? What is your impression or sentiment toward organizations that funnel you into squeeze pages?