Podcast: Play in new window | Download | Embed
Today's podcast is an interview with Rob Jones the Marketing and Social Media Coordinator for BuilDdirect.com. BuildDirect sells more building supplies online than any other company on the planet. Rob and I discuss how they have used social media to augment their online marketing efforts.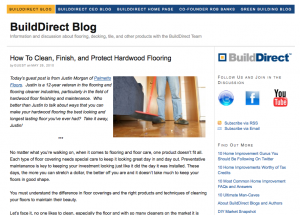 Podcast: Play in new window | Download | Embed
Why executives must invest in understanding and driving social media use in their organization.
Social media is not just another tool. It can be, but it's a lot more for those organizations that embrace it. The challenge is it's also not just about learning a new technology, it's about changing the way we communicate with customers, stakeholders and staff.
This is a corporate cultural change, it's also about embracing one of the most powerful word of mouth tools ever invented. There are huge inherent risks and opportunities presented by this. For that reason social media or online engagement initiatives in general have to be driven by the C-suite, the people who can hold others accountable and sponsor change in their organization.
In today's social media podcast I talk about the following:
Senior executives and their need for buy-in
What and who to invest in
The importance of a corporate social media policy
How soft steps lead to ROI
Why most social media marketing fails:
Lack of a goal
Poorly defined market
No listening
No real launch plan
Quitting too soon
The bottom-line is that social media is too important to compartmentalize or see as a pet project.What do you think?
Keep giving and contributing more than the competition. Pay back will be huge.
Every tweet, blog entry, comment and status update will be saved forever and is permanently part of your brand.
Before permission to market comes permission to connect. There's a lot of trust building in between.
Make it easy for people to find you. While you're out looking for business there is an entire market looking for you.
"It's not about B2B or B2C it's about person to person marketing in social media" – @jeffbooth.
Use the back links function in Google to see who is linking to your competitors. Reach out to those connectors.
Go wide with social media then build strong deep networks by going deep with the phone, Skype, webinars or in-person.
Twitter search and tools like Twellow.com can dampen the noise down from millions on voices to the exact ones you're targeting.
Picking a fight publicly stays on record long after the battle is done. Rarely is it worth it.
Not getting the results you want? Are you asking for help often enough? It's about community. Reach out.
Share and give more than you think is practical… then do it again. It will build positive momentum for your brand.
When partnering with other social media influencers start by making sure your values and principles are aligned.
Excerpt from Guerrilla Social Media Marketing by Shane Gibson and Jay Conrad Levinson:
.tel: This is a new domain name extension but it's more than just another domain. Yourname.tel, Yourproduct.tel and yourcompany.tel are vital guerrilla tools. A .tel domain is driven by a proprietary software that integrates a variety of SmartPhone and web based applications. Embedded in the .tel are your contact details and key information. With a click of a button your prospects can immediately download your contact information into their address book or cellular phone. George Moen CEO of Blenz Coffee has a business card with no phone numbers, addresses or e-mail on it. It simply says GeorgeMoen.tel.
What the .tel network is building is worlds biggest phone book that dynamically integrates into websites and applications. Anytime you update your contact details in your .tel dashboard it automatically updates all of the other sites and the Smartphone applications. How many times have you been somewhere and forgot your business cards? Now you can simply tell people to visit yourname.tel, yourproduct.tel or yourcompany.tel, and most people will find that easy to remember and easy to do.
Copyright 2010 Jay Conrad Levinson, Shane Gibson and Entrepreneur Press
Alltop.com: Is described by co-founder Guy Kawasaki as "the online version of the magazine rack in your bookstore except that it has 900 subjects and is free." It organizes news and blog entries by subject, and gives you the five most current pieces from top websites and blogs. You also get a preview of each story.
Guerrillas need to constantly feed their community and connections with value added content. They also need to keep up to date with specific industries and niche markets to remain competitive. Alltop's always current and up-to-date news and blog feeds are a great source of guerrilla intelligence and content.
In writing Guerrilla Social Media Marketing Jay Levinson and I developed a quick comparison between traditional websites and social sites. Guerrillas know that to build community and consent your website and homebase must be social.
Traditional Websites versus Social Sites
| | |
| --- | --- |
| Traditional Sites | Social Sites |
| Require technical knowledge to update and add content | Require very little knowledge to update and almost anyone can add content |
| Full of me-focused marketing and are written like a corporate brochure | Written for the customer about things that can help the customer |
| Are unidirectional in their mode of communication | Allow for bidirectional communication between guerrillas and their visitors and also allow visitors to share and communicate with one another |
| Is a marketing island | Are community hubs and push content out to guerrilla outposts and also pull in and aggregate content from those networks |
| Are difficult to keep on the top of search engine rankings because of their static nature | Are easy to keep on the top of search engine rankings because of constantly added content by guerrillas and their visitors |
| Lock up and protect their content, such as videos | Make all of their content easy to share and repurpose |
| Require visitors' contact details and consent before establishing a relationship or providing any real value-added content | Are full of value-added content, tools and information that benefit their market, and don't require you to give consent before adding value |
| Require expensive custom plugins or web-based applications and a significant financial investment when upgrading the look and feel | Due to their open source nature, are inexpensive or free to upgrade. This also allows for inexpensive redesigns |
| Typically corporate-supported | Typically community-supported |
| Provides limited channels and access to limited number of people within a company | Provides multiple methods for connecting with your company and provides access to multiple people within your organization |
Copyright 2010 Jay Conrad Levinson Shane Gibson and Entrepreneur Press