I have been asked by a number of people what the difference is between most brands and a brand that employs guerrilla social media strategies. Today I thought I would share an excerpt from my upcoming book that answers that question.
What is an authentic guerrilla brand?
It makes promises and statements that can be backed up today, tomorrow and indefinitely.
It is customer-focused and sells and markets to the customer what they need and want.
It is consistent, 24 hours a day, 365 days a year, in any geography or language.
It doesn't take shortcuts for short-term gain; the guerrilla brand builds customers for life.
It is, however, fallible; all brands have imperfections and weaknesses, and a guerrilla brand does not shovel these things under the rug. It takes feedback and improves the customer experience.
It is accessible. No executives are in an ivory tower; no labyrinths have been built to keep out the unhappy customer.
It is focused on a distinct area of true competency and expertise, and that is why people gravitate to the guerrilla brand.
Join our Facebook Page:
Guerrilla Social Media Marketing Official Page | Promote Your Page Too

A common question I get from business to business focused marketers and sales professionals is: "Does social media marketing and social networking really work in the B2B space?"
I posed this same question to Jeff Booth CEO of Builddirect.com and here was the answer he gave me:
"Social media is not really about B2C or B2B it's about P2P or person-to-person communications and adding value."  – Jeff Booth CEO Builddirect.com (the worlds largest online wholesaler of building supplies.)
The reality is that the majority of decision makers or their direct influencers use the web to find information on a vendor and the individual employees they are dealing with. I have compiled a short list of resources and blogs that you may find useful in deciding is social media marketing will work for your organization.
Here are some statistics and quotes regarding social media in the commercial space:
…69% of B2B buyers use social networks "primarily for business networking and development." (About.com)
…Stereotypes may have C-level executives delegating research to others, but the study reveals that 53% prefer to search the Web and locate information themselves. – Google and Forbes Insights Study (2009)
Social media is not a separate silo or discipline, in fact, companies in the Business-to-Business space like Builddirect.com, Oracle, SAP, Intel, Accenture, GE, and Siemens have found that is most effective when integrated with existing sales and marketing processes. They also have found it has given them a significant advantage over their less socially engaged competitors. (An entire engagement study can be found at http://engagementdb.com )
B2B Social Media Reading and Resources:
Podcast: Play in new window | Download | Embed
There are many aspects to success in social media. Having a solid goal, knowing your core target market and of course monitoring social media conversations and your brand. Producing great content and engaging community are also vital. All of this has to be grounded in a solid implementation plan in order to work over the long term. A goal, great content, and community engagement are not enough to succeed using social media as a marketer, sales person or entrepreneur. We also need to ensure that we are consistent in our approach, message and community involvement.
Today's podcast is about the importance of a social media calendar for individuals and organizations. I have also provides a social media calendar template that Jay Levinson and I developed for Guerrilla Social Media Marketing.
Have a listen, download the sample social media calendar and then let me know how it works for you.
Download the sample Social Media Calendar (WORD) and Social Media Calendar (PDF)
I saw this great example of how a customer owns your brand in social media. While some Realtors may blog and tweet the links, or others build Facebook page shrines in their likeness, Jack Bernard has been branded by his customers online. You obviously want both, but this creative list as to why he's the best Realtor in the world is a great example of how a raving fan can use their social influence to promote your business.
Jack recently helped Michael Tedham find and buy a new house. Mike is a successful marketing and promotions manager for the Granville Entertainment Group. Mike also has 1957 Facebook friends. So when Jack delivered great service, Mike didn't just tell a couple people… he told 2000.
From a note on Mike's Facebook page here's his tongue-in-cheek tribute to Jack Bernard:
Wednesday, July 21, 2010 at 6:46pm

Why Jack Bernard is the best realtor in the world.

1.) He is a ginger, but somehow has a sole intact.

2.) He doesn't drive a BMW convertible.

3.) He doesn't use spray tan.

4.) He stops at Starbucks before he picks you up.

5.) It's really fun to say 'JACK ATTACK!'

6.) He is EXTREMELY knowledgable.

7.) He is an EXTREMELY good teacher.

8.) He takes about a second to understand what you are looking for, and finds it.

9.) He doesn't care if you are hung over, and keeps the stereo down if you are.

10.) DId I mention he somehow retained his soul?

Thats 10 reasons, and I could name about a million other. Tina and my experience purchasing our first home has had several set backs, but NONE were by fault of Jack, and he helped us through every single one of them. Anybody out there looking to buy, be it your first place, or 50th, Jack is amazing, and I will never buy another place without him.

Kudos Jack…. Kudos
What do you think of the customers ability to brand you? Should Realtors who haven't retained their soul be concerned about the power of the crowd?
-
-
-
Here's a screen capture of the original post: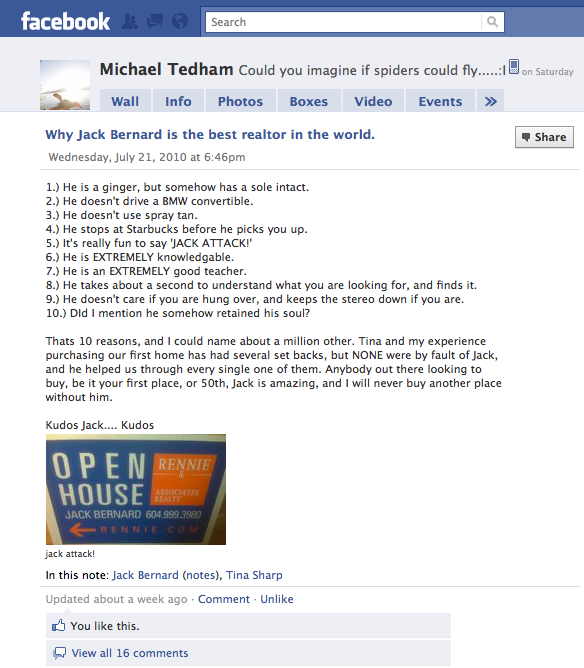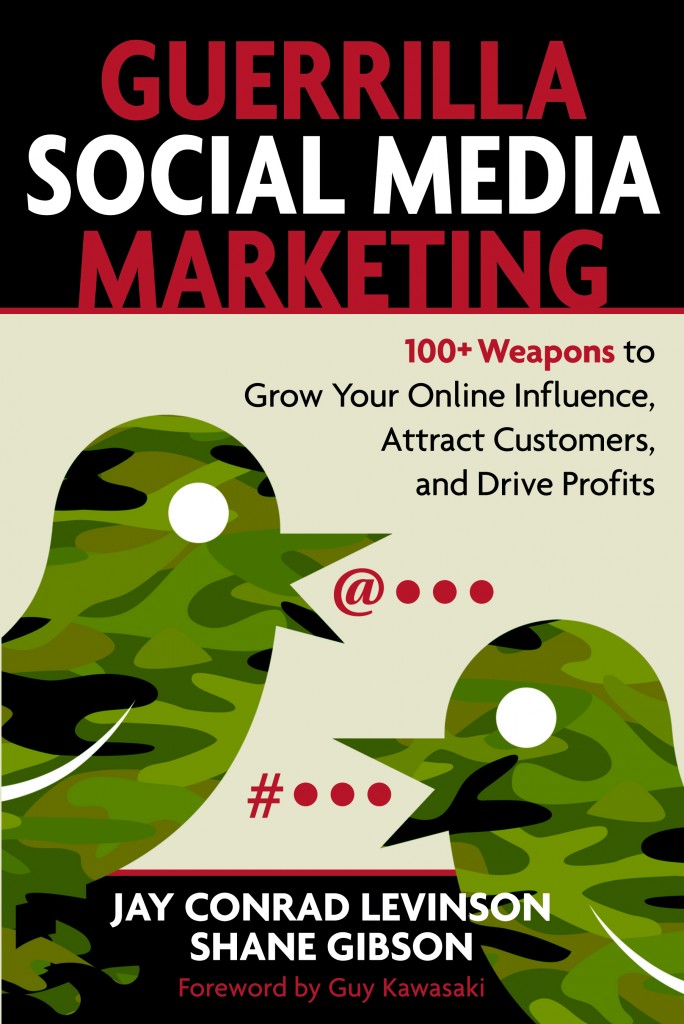 Since late 2009 Jay Conrad Levinson and I have been working on our new book Guerrilla Social Media Marketing. It's the latest in the Guerrilla Marketing series of books, the top selling marketing series of books of all time (20 million copies sold). I know Jay personally and when the opportunity came up to write the book I jumped at it. It wasn't until 1/2 way through the book did I realize the magnitude of the opportunity (and the work entailed in living up to the Guerrilla Marketing brand).
You can order it here or join the Facebook page here.
In the meantime I thought I would share the foreword written by Guy Kawasaki of Alltop.com:
How to Become a Social Media Guerrilla
I first met Jay Conrad Levinson, the father of guerrilla marketing, when I interviewed him in early 90s. I met Shane Gibson at an Olympic Hockey Tweetup in Vancouver, Canada. When Shane told me that he and Jay were working in this latest volume of the Guerrilla Marketing series about social media, he captivated my interest because the two are a match made in heaven.
Alltop owes its success to social-media guerrilla marketing. We used Twitter and Facebook to create Alltop evangelists, galvanize our supporters and critics, and generate page views and brand awareness. We also tapped community and built multiple nano-casts of content for the nano-markets that Jay and Shane talk about in this book.
The combination of the social media and guerrilla marketing enables entrepreneurs to level the playing field in their industry. Capitalizing on social media is not just about using them as tools but taking matters beyond this and making them guerrilla-marketing weapons.
Jay and Shane have crafted a comprehensive guide for the marketer, entrepreneur, or executive that is serious about profiting from social media. The challenges that people face in social media are:
• What tools to use and how to use them profitably.
• Finding and engaging profitable target markets.
• How to build community and then raving fans.
• What and how to measure ROI.
This book answers all these issues. It's not an easy path; it will take discipline, tenacity, and creativity. For those who are willing to pay this price, Jay and Shane have provided the ultimate roadmap needed to achieve your goal.
Guy Kawasaki
Guy Kawasaki is a founding partner and entrepreneur-in-residence at Garage Technology Ventures. He is also the co-founder of Alltop.com, an "online magazine rack" of popular topics on the web. Previously, he was an Apple Fellow at Apple Computer, Inc. Guy is the author of nine books including Reality Check, The Art of the Start, Rules for Revolutionaries, How to Drive Your Competition Crazy, Selling the Dream, and The Macintosh Way. He has a BA from Stanford University and an MBA from UCLA as well as an honorary doctorate from Babson College.