Podcast: Play in new window | Download | Embed
Today's podcast is on Outsourcing Automation and Building Virtual Teams. My guest today is Stephen Jagger (who is also my co-author for Sociable!) co-founder of Ubertor and Outsourcingthingsdone.com. They have a 150 seat office in Manila where they supply North American tech firms, Realtors and a variety of other industries with virtual team members.
I asked Stephen to come on the show to discuss best practices in the area of outsourcing and the technology needed to lead virtual teams.
Podcast: Play in new window | Download | Embed
Today's podcast is titled "Professional Speaking for Geeks." Yes they call it death by PowerPoint and many other things. It's the art of the bomb, crash and burn — or worse. We get a polite applause and the audience attendees forget about us half-way through the conference wrap-up party.
I have had a number of inquiries from my tech and social media brethren about how to present on stage. Some are gentle questions like "how many slides should I have for a one hour presentation?" to outright pleas for help such as "I'm terrified of audiences over 20 people, how do I present our new iPhone app at this conference?"
Geeks (science or tech savvy and knowledgeable folks who get turned on by pixels, pings, microchips, biology, chemistry, APIs etc.) tend to struggle with presentations, yet if they master the art they can have a massive impact on their business and career (think Steve Jobs or David Suzuki).
Too many people think content is king. Connection is king. Unless you can connect with your audience and engage them effectively your geek speak will mean very little to them. Today's podcast covers a few insights on better stage presentations.
[This is day one of my 30 day podcasting challenge, I will be posting a new podcast everyday for the next month, drop by, make a comment or share a link to the podcast you posted today).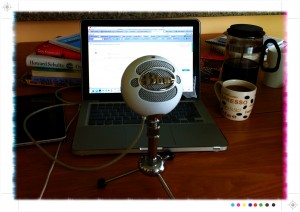 I have been podcasting since 2004. It has brought me great clients such as Ford, ACL, and a dozen other major corporations. It has also allowed me to meet and interview people like Guy Kawasaki and Bruce Philp (two marketing minds that I suggest you get to know well).
I then looked at my roster of podcasts and realized that I have much more to share. The podcasting seems to happen after the client work, proposals, research, books etc. BUT it has been a major driving force in my business and I have been less than generous with my listeners. I should be giving you way more in the form of interviews, strategy and just sharing the things I'm learning everyday.
I decided to publicy make myself accountable and also ask for your help. Starting today I will be doing 30 podcasts over 30 days.  I would also like to challenge you to contribute in a few ways:
If you're a podcaster – take the challenge with me. Start sharing more of your knowledge more often today.
If you are an author, subject matter expert or are having success using social media for business, community building or charity — reach out to me and lets get you on the show TODAY.
If you're a listener, Twitter connection, LinkedIn associate or Facebook friend take a moment to listen to the podcasts, submit your questions, share what you like and let me know what you think. Heckle me if you feel like it!
That's it. Thanks for coming along this journey with me. I hope you enjoy the show. (I am posting two podcasts today just to get a head start — come back in an hour!)
Shane Gibson
Chief Social Officer
Socialized! Ltd.
http://socialized.me
Blog: http://www.closingbigger.net
Got iTunes? Click here to subscribe our Podcast!: http://tinyurl.com/itunes-sales-podcast
Follow Shane on Twitter: http://twitter.com/shanegibson
Dear Big Brand,
You say you want to use social media to engage, grow your business and build community. You say you care… BUT WE DON'T BELIEVE YOU. Why you ask?
You say you care but you rarely follow anyone back on Twitter that follows you
You say you care on Twitter and Facebook but you send us back to the customer call center – you know… the one that started the problem in the first place.
You say you care but you rarely say thank you when we say good things about you on our blog
You say you care but your senior executives have never actually ever Tweeted or posted anything to Facebook, it's obvious they think it's below them
You say you care but your Facebook page is full of links to your marketing materials and events and isn't about how you can help me
You say you care but even when I comment on your Facebook updates or blog posts you never comment back – you just keep score.
You say you care but you got me interested in what you had to say on your blog and then you stopped posting
You say you care but you make me wait days before my blog comments are approved – I'm long gone by then
You say you care but even when I like your content it's hard to share, you make me cut, paste, shrink urls and even write the headlines to your content
You say you care but your onsite staff don't even know you have a Facebook contest, FourSquare mayor or a Twitter account. They think I'm speaking a foreign language.
You say you care that today's consumer uses social media to communicate, build community and make connections – but your actions say YOU DON'T.
Dear Big Brands – marketing is a conversation now. Social media has opened up the channels for communication, collaboration, and customer interaction. We are not waiting for you to get involved in the conversation. It is already happening.
Sincerely,
Shane Gibson
@ShaneGibson
(On behalf of all of us)