Podcast: Play in new window | Download | Embed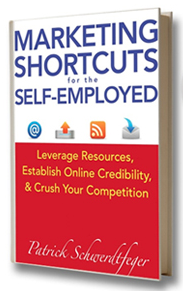 Today's podcast is an interview with Patrick Schwerdtfeger author of the new book "Marketing Shortcuts for the Self-Employed" (2011, Wiley) and a regular speaker for Bloomberg TV.
We talked about how you can take one blog post and repurpose it in at least seven different ways.  Patrick shared with us a few simple tips, that can build a MASSIVE online identity while working less than most of our competitors competitors.
We also covered some important social media how-to's:
1. Five places to get great content ideas.
2. Seven ways to repurpose your content online.
3. The reality behind blogs, content and getting found online.
4. The three-part "winning formula" for social media success.
For more information on Patrick's book and a free gift visit http://www.80shortcuts.com/gifts
I recently delivered the keynote speaker address to CDC Software's CRM conference in Las Vegas. This is one of the most recent social media for sales professionals talks I have done and it' not just a promo clip. Here's the full 41 minutes on "Going Social with CRM – How Social Media is Turning Sales Upside-down:
Here are the slides to go with the presentation:
Shane Gibson (@ShaneGibson) is a sales and social media speaker who has addressed over 100,000 people on stages on three continents over the past 15 years. He is also co-author of Guerrilla Social Media Marketing and Sociable! How Social Media is Turning Sales and Marketing Upside-down. When he's not speaking or Tweeting he is in the social media trenches working with his clients as Chief Social Officer for Socialized! Ltd. a social media agency and training organization.
Podcast: Play in new window | Download | Embed

Today's podcast is a little different than most. It outlines the upcoming Social Media Week in Vancouver that my team and I at Socialized! are putting together (with some massive help from our community, sponsors and our advisory board). I will posting a full text outline of this as well on the Social Media Week Vancouver blog shortly. In the meantime, have a listen and if you're anywhere near Vancouver we would really like to have you attend, sponsor or even speak.