Today as associations, non-profits and any other member based organizations we need harness the power of community to grow our member base. This infographic is a work in progress but I wanted to post it and get your feedback. What are your thoughts?

Social media use by hotels for their marketing, service and branding initiatives is growing rapidly. Today a tweet posted by a customer from a hotel front lobby can reach more people than an ad in Air Canada's in flight magazine. In addition to this we have all witnessed the havoc that a Twitter influencer can have on a brand after the broadcast their disdain for the bad service they have received to their 20,000 followers.
Social Media Tools and Networks are a significant force that is growing. We cannot afford to avoid using them. The truth is in the numbers:
•Facebook: 800 Million People
•Linkedin: 100 Million Professionals representing every company on the Fortune 500
•Twitter: 250 million status updates per day and Twitter search is now the second most used search engine on the planet
•Youtube: 2 Billion Views Per Day
A recent study released by AirPlus International Travel on business travelers has a also cited a significant spike in social media use and stated the following:
"83 percent of respondents indicated they participate in social media sites this year, as compared to 77 percent last year. When delving into specific platforms, LinkedIn users, which held virtually steady in 2009 (58 percent) and 2010 (59 percent), jumped to 74 percent this year. Facebook also grew from a low of 45 percent in 2009 to 55 percent in 2010 and to 62 percent this year." – Travelpulse.com
This all adds up to one important conclusion. It's not a question of whether or not your customer uses social media or social networks. The question is are you fully prepared to profit from it?
Progressive marketers such as the Palms Resort and Casino in Las Vegas have seen the rise of the social customer and have responded proactively. Using the industry leading social media influence ranking index Klout.com the Palms will upgrade and roll-out the red carpet for big influencers. They also provide some basic perks for those of us that are social regardless if we rank high – a thank-you for connecting with them socially. Palms calls it their "Klout Klub."
Before using social media we need to understand some core principles:
#1) Social Media messaging is not produced solely by a marketing team.
Expand marketing roles to everyone possible, taking the number of marketing messages and multiplying them significantly online. In addition to this realize that any customer facing staff need to be well versed in your Facebook, Twitter or Foursquare promotions. Nothing is worse than investing in a brilliant online marketing campaign that your front office doesn't deliver on.
#2) Provide social media training to all staff.
More important than training on the tools is training on the principles of using the tools. There is a specific etiquette to engaging people in each of the major networks.
#3) Have a social media policy and process that outlines how to engage customers online, and how to deal with influencers in-person.
This should include guidance on how to deal with negativity, social events, and clients. Important note: If your guidelines are too stringent and you take the fun out of Twitter or blogging don't be surprised if your efforts fall flat.
#4) Listen and Engage in Real-time
Social media is about listening, community, adding value and entertaining people. It's about a dialogue. It is a two-way communications medium. "Talking at" people or "blasting updates" is not true engagement and it's not good for your brand either. The biggest opportunity in social media in in the "now." It's about instantly engaging the influencer who has announced to Twitter that they are in your lobby, or thanking the person who took the time to check-in on Foursquare while attending a conference at your hotel. That instant feedback and dialogue is what builds brands and lets the customer you care on a very personal level.
#5) Get Local
Every hotel group should have a Twitter and Facebook account but I don't believe that you should stop at a nationally operated profiles. Go the next step and empower your front line marketing and sales teams to engage with customers on a local level using Twitter, Facebook and any other platforms your customers use. This will give you an advantage over marketing generalists that have not gone hyper-local with their social media efforts.
This blog post was adapted from an article written for the Cdn Hotels Marketing & Sales Executives.
Shane Gibson (@ShaneGibson) is a sales and social media speaker who has addressed over 100,000 people on stages on three continents over the past 15 years. He is also co-author of Guerrilla Social Media Marketing and Sociable! How Social Media is Turning Sales and Marketing Upside-down. When he's not speaking or Tweeting he is in the social media trenches working with his clients as Chief Social Officer for Socialized! Ltd. (http://socialized.me)
Podcast: Play in new window | Download | Embed
Today's podcast and blog post are a result of some great dialogue, ideas and amazing research findings that were unearthed at yesterday's panel at the ERDI conference here in Calgary, Alberta.
The panel I sat on was on "Technology Implementation over the last 20 years in our schools. The panelists were: Michael Goldberg, Economist, Marty Keast, President of the School Division for Pearson Education, Linda Fabi, Director of Education for the Waterloo District School Board and the panel was kicked off by a very engaging and insightful talk by Thomas Greaves.
Thomas who is the co-author of "America's Digital Schools" spearheaded an in-depth research project called Project Red, of which he shared key findings with us. They did an in-depth study of 997 schools (K-12) in the USA and looked at 136 different variables in regards to technology and it's impact on student engagement, drop rates and even the positive economic impacts and savings associated with schools that are digital.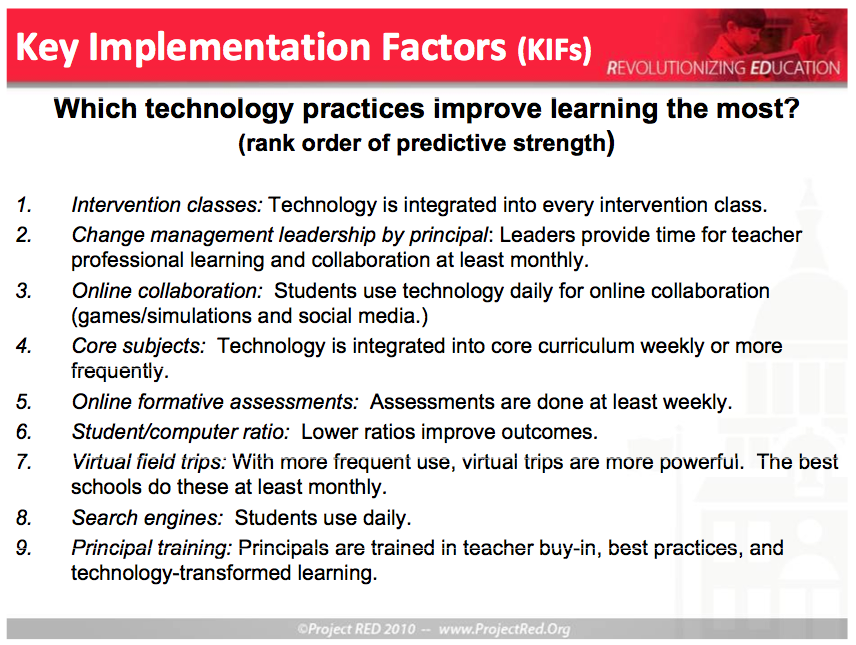 The schools that had some or all of the above 9 factors implemented effectively outperformed comparable schools that had not embraced technology. Very few schools (I believe only 1 if my notes are correct) apply all 9 strategically and comprehensively.
The one thing that really stood out for me is that fact that students that were allowed to regularly use search and social media in the classroom outperformed those that didn't. One big question from the audience of over 100 school superintendents, directors and technology partners is: "Where a how do we start with social media?"
My thoughts would be to do the following: (which is expanded upon in this podcast):
#1) Start with a social media policy for district staff from senior executives to principles and teachers. Then expand that to a policy for students, volunteers, parents and any other stakeholders.
#2) Have a series on initial buy-in sessions for staff at all level to help see the scope of social media and it's impact and relevance in education. This is vital as so many people have varied knowledge and assumptions about social communications. The biggest barrier to implementation is often misinformation and/or politics.
#3) Put together a step by step strategy to implement social media at the school board level. (If leadership isn't using it how can they tell principals and teachers to do it?
#4) Collaboratively work with Principals and Teachers to build an implementation plan at the school level. (Start with a few pilot schools)
#5) Each plan should involve training in both policy, the rules of engagement, online learning best practices, and in the key tools used by today's digital citizens (including but not limited to Facebook, LinkedIn, Twitter, YouTube and social search/monitoring) Some of this training can be done by student leaders.
#6) Develop curriculum to help get students social media literate. This educational component must address online etiquette, safety, and the value of collaboration and positive social communications.
#7) Reward collaborators and contributors at all levels.
There is a lot more to this process but the key opportunity and core ingredient for success in using social media for learning is the bi-directional communications and collaborations. It's no longer about talking at kids in the classroom, it's about engaging them in two-way dialogue and creating an environment where a network of students (and their teachers) can learn together through networked intelligence.
One statement that was made over and over was that collectively the computing power of smartphones that people bring to school far out-powers what is in the average school computer inventory/labs. The educational environment of the very near future is highly networked, always on, and very mobile. Those organizations that apply all 9 Factors indicated above can prosper in this new environment.