No problem can be solved from the same level of consciousness that created it.  – Albert Einstein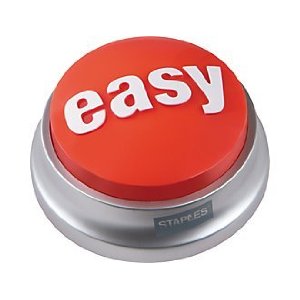 This is not my typical post. It consists of more questions than answers and what I really want to know is how you feel about these images.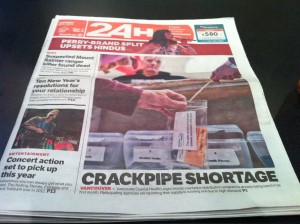 This is today's 24H News frontpage. It seems that what makes the headlines is not food shortages at the food bank or that we have the most chronically destitute skid row on the planet. It's about the fact that we have an abundance of crack users and not enough crack pipes. We have a systemic problem not just and addiction problem. Paraphrasing the Einstein quote above – the people and the thinking in the system that have allowed this social disease to propagate are very unlikely to be able to solve the problem.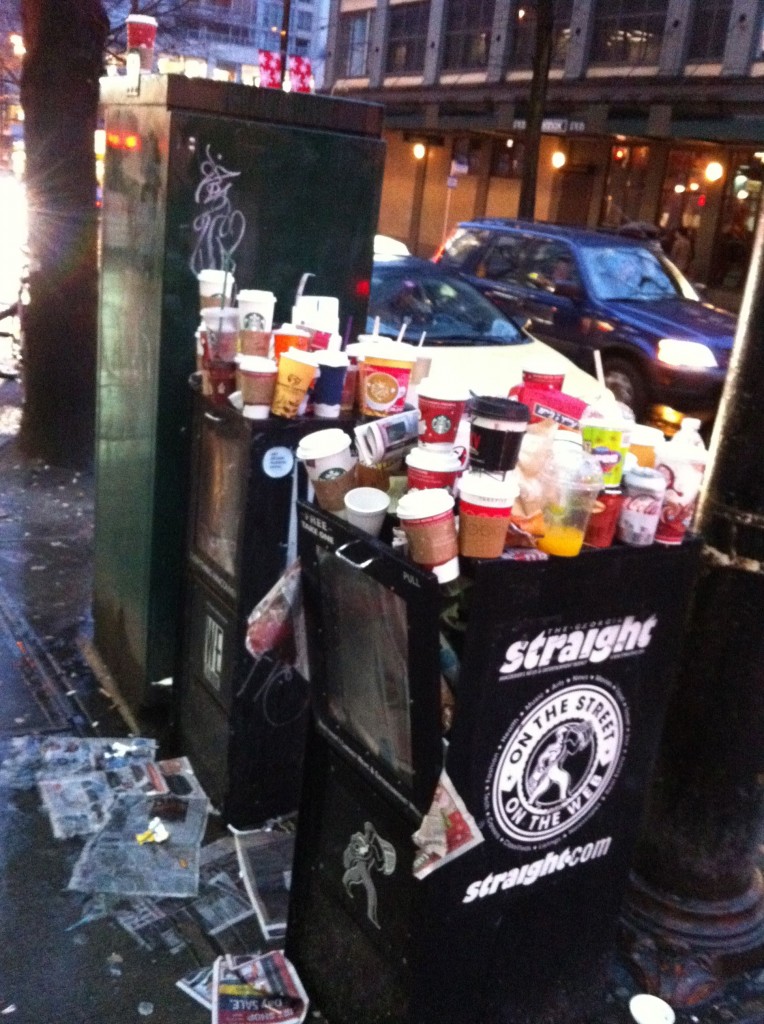 8 Blocks away from Canada's poorest postal code where hundreds of HIV infected drug users live in 3rd world conditions I snapped this picture. It's from boxing day. Seems people waiting to get into the Future Shop Boxing Day Sale felt it was okay to pile their empty cups and garbage on top of two news stands instead of (gasp) holding onto them and disposing of them in an ethical way. My hyposthesis: these consumer drones were so fixated to their big screen TV's they couldn't make the right decision in their trance. In addition to this… everyone else was doing it. (similar logic for the riots).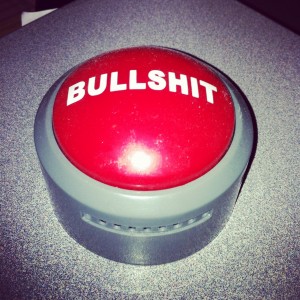 Lastly I think that this image sums it up. We should be reaching for this button more often than the "Easy Button." Our thinking and level of personal responsibility on all fronts needs to be adjusted.  What has to change? I think as we discard our garbage while we buy new "things" and hope that big brother will take care of all of our problems we will be doomed to propagate these social sicknesses and to a greater level. The solution isn't more money from government or more "things" – it's a new consciousness. What has to change on a individual level to make this happen?
Podcast: Play in new window | Download | Embed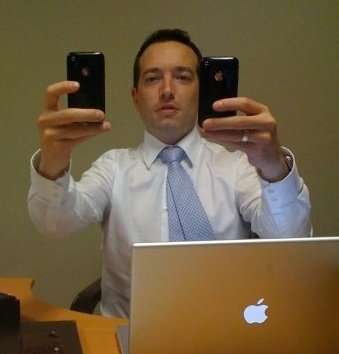 Hiring a social media manager, social media coordinator, chief tweeter or whatever you might call it is a challenging endeavor. There are many brands which have experienced great success and many who have also shot the foot off of their brand on the internet. Social media is not a department or a cubicle, it represents the most powerful word of mouth (or word of mouse) channels that have ever existed. Too many organizations aren't strategic about who they hire internally or how they intend on implementing social media and integrating it into their business processes. Today's podcast covers four major areas you need to look at (there are many more) before hiring.
These are the 7 Rules of Engagement from Sociable! (http://fb.me/sociablebook) that Stephen Jagger and I developed almost 2 years ago… and the rules are now more important than ever! Enjoy! – Shane Gibson.
Many people ask us how to do this. Here's the answer:
Today as associations, non-profits and any other member based organizations we need harness the power of community to grow our member base. This infographic is a work in progress but I wanted to post it and get your feedback. What are your thoughts?

Social media use by hotels for their marketing, service and branding initiatives is growing rapidly. Today a tweet posted by a customer from a hotel front lobby can reach more people than an ad in Air Canada's in flight magazine. In addition to this we have all witnessed the havoc that a Twitter influencer can have on a brand after the broadcast their disdain for the bad service they have received to their 20,000 followers.
Social Media Tools and Networks are a significant force that is growing. We cannot afford to avoid using them. The truth is in the numbers:
•Facebook: 800 Million People
•Linkedin: 100 Million Professionals representing every company on the Fortune 500
•Twitter: 250 million status updates per day and Twitter search is now the second most used search engine on the planet
•Youtube: 2 Billion Views Per Day
A recent study released by AirPlus International Travel on business travelers has a also cited a significant spike in social media use and stated the following:
"83 percent of respondents indicated they participate in social media sites this year, as compared to 77 percent last year. When delving into specific platforms, LinkedIn users, which held virtually steady in 2009 (58 percent) and 2010 (59 percent), jumped to 74 percent this year. Facebook also grew from a low of 45 percent in 2009 to 55 percent in 2010 and to 62 percent this year." – Travelpulse.com
This all adds up to one important conclusion. It's not a question of whether or not your customer uses social media or social networks. The question is are you fully prepared to profit from it?
Progressive marketers such as the Palms Resort and Casino in Las Vegas have seen the rise of the social customer and have responded proactively. Using the industry leading social media influence ranking index Klout.com the Palms will upgrade and roll-out the red carpet for big influencers. They also provide some basic perks for those of us that are social regardless if we rank high – a thank-you for connecting with them socially. Palms calls it their "Klout Klub."
Before using social media we need to understand some core principles:
#1) Social Media messaging is not produced solely by a marketing team.
Expand marketing roles to everyone possible, taking the number of marketing messages and multiplying them significantly online. In addition to this realize that any customer facing staff need to be well versed in your Facebook, Twitter or Foursquare promotions. Nothing is worse than investing in a brilliant online marketing campaign that your front office doesn't deliver on.
#2) Provide social media training to all staff.
More important than training on the tools is training on the principles of using the tools. There is a specific etiquette to engaging people in each of the major networks.
#3) Have a social media policy and process that outlines how to engage customers online, and how to deal with influencers in-person.
This should include guidance on how to deal with negativity, social events, and clients. Important note: If your guidelines are too stringent and you take the fun out of Twitter or blogging don't be surprised if your efforts fall flat.
#4) Listen and Engage in Real-time
Social media is about listening, community, adding value and entertaining people. It's about a dialogue. It is a two-way communications medium. "Talking at" people or "blasting updates" is not true engagement and it's not good for your brand either. The biggest opportunity in social media in in the "now." It's about instantly engaging the influencer who has announced to Twitter that they are in your lobby, or thanking the person who took the time to check-in on Foursquare while attending a conference at your hotel. That instant feedback and dialogue is what builds brands and lets the customer you care on a very personal level.
#5) Get Local
Every hotel group should have a Twitter and Facebook account but I don't believe that you should stop at a nationally operated profiles. Go the next step and empower your front line marketing and sales teams to engage with customers on a local level using Twitter, Facebook and any other platforms your customers use. This will give you an advantage over marketing generalists that have not gone hyper-local with their social media efforts.
This blog post was adapted from an article written for the Cdn Hotels Marketing & Sales Executives.
Shane Gibson (@ShaneGibson) is a sales and social media speaker who has addressed over 100,000 people on stages on three continents over the past 15 years. He is also co-author of Guerrilla Social Media Marketing and Sociable! How Social Media is Turning Sales and Marketing Upside-down. When he's not speaking or Tweeting he is in the social media trenches working with his clients as Chief Social Officer for Socialized! Ltd. (http://socialized.me)
Podcast: Play in new window | Download | Embed
Today's podcast and blog post are a result of some great dialogue, ideas and amazing research findings that were unearthed at yesterday's panel at the ERDI conference here in Calgary, Alberta.
The panel I sat on was on "Technology Implementation over the last 20 years in our schools. The panelists were: Michael Goldberg, Economist, Marty Keast, President of the School Division for Pearson Education, Linda Fabi, Director of Education for the Waterloo District School Board and the panel was kicked off by a very engaging and insightful talk by Thomas Greaves.
Thomas who is the co-author of "America's Digital Schools" spearheaded an in-depth research project called Project Red, of which he shared key findings with us. They did an in-depth study of 997 schools (K-12) in the USA and looked at 136 different variables in regards to technology and it's impact on student engagement, drop rates and even the positive economic impacts and savings associated with schools that are digital.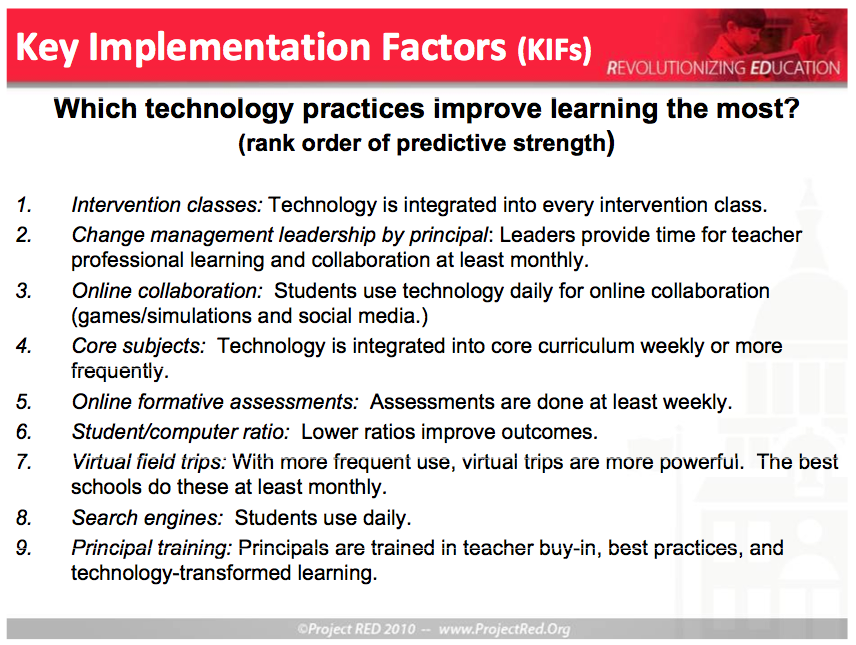 The schools that had some or all of the above 9 factors implemented effectively outperformed comparable schools that had not embraced technology. Very few schools (I believe only 1 if my notes are correct) apply all 9 strategically and comprehensively.
The one thing that really stood out for me is that fact that students that were allowed to regularly use search and social media in the classroom outperformed those that didn't. One big question from the audience of over 100 school superintendents, directors and technology partners is: "Where a how do we start with social media?"
My thoughts would be to do the following: (which is expanded upon in this podcast):
#1) Start with a social media policy for district staff from senior executives to principles and teachers. Then expand that to a policy for students, volunteers, parents and any other stakeholders.
#2) Have a series on initial buy-in sessions for staff at all level to help see the scope of social media and it's impact and relevance in education. This is vital as so many people have varied knowledge and assumptions about social communications. The biggest barrier to implementation is often misinformation and/or politics.
#3) Put together a step by step strategy to implement social media at the school board level. (If leadership isn't using it how can they tell principals and teachers to do it?
#4) Collaboratively work with Principals and Teachers to build an implementation plan at the school level. (Start with a few pilot schools)
#5) Each plan should involve training in both policy, the rules of engagement, online learning best practices, and in the key tools used by today's digital citizens (including but not limited to Facebook, LinkedIn, Twitter, YouTube and social search/monitoring) Some of this training can be done by student leaders.
#6) Develop curriculum to help get students social media literate. This educational component must address online etiquette, safety, and the value of collaboration and positive social communications.
#7) Reward collaborators and contributors at all levels.
There is a lot more to this process but the key opportunity and core ingredient for success in using social media for learning is the bi-directional communications and collaborations. It's no longer about talking at kids in the classroom, it's about engaging them in two-way dialogue and creating an environment where a network of students (and their teachers) can learn together through networked intelligence.
One statement that was made over and over was that collectively the computing power of smartphones that people bring to school far out-powers what is in the average school computer inventory/labs. The educational environment of the very near future is highly networked, always on, and very mobile. Those organizations that apply all 9 Factors indicated above can prosper in this new environment.
Podcast: Play in new window | Download | Embed
Today's podcast is an interview with Cameron Herold on his brand new book "Double Double – How to Double Your Revenue and Profit in 3 Years or Less." I read this book twice I found it so valuable and so I reached out to Cameron and asked him to come on the show.
If you're a business leader, entrepreneur or business builder you need to read this book. It's packed with usable real-world advice and success strategies.
Podcast: Play in new window | Download | Embed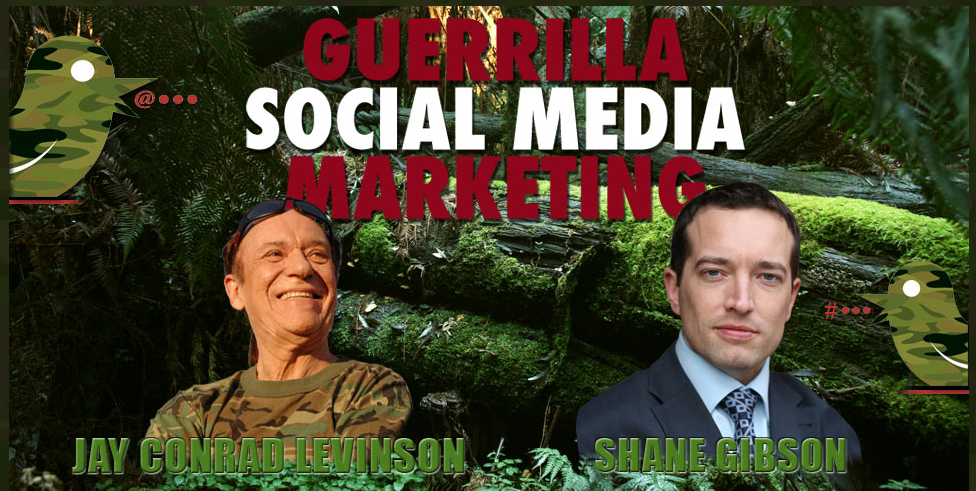 Psychology in marketing is still a rather untapped landscape. Since I stepped into the ring and became a guerrilla author in writing Guerrilla Social Media Marketing with Jay Conrad Levinson I have come across all kinds of misunderstanding, misuse and abuse of the term guerrilla marketing. Today's podcast was inspired by what I can describe as a well meaning (or possibly not) but off-base commenter on the Creative Guerrilla Marketing blog.
I decided instead of just replying in the comments section that I would take the time to respond in the form of a podcast. Why? It's so vital to understand the role of psychology and community in Guerrilla Marketing.
I also think it's important to establish that Guerrilla Marketing is well defined, and it's body of wisdom and definition that is widely accepted and used by over 20 million readers of the Guerrilla Marketing Series of books. Some people will take pieces of the body of wisdom and use them to suit their outlook on marketing but the whole is greater than the sum of the parts. In addition to this just because you slap the term guerrilla on a book, blog post or marketing campaign it doesn't make it guerrilla.
Here are the facts:
The term "guerrilla marketing" was coined by Jay Conrad Levinson and popularized by his best selling book that was released in 1983. Guerrilla Marketing uses unconventional means to achieve conventional goals,  it relies on time, energy and imagination rather than a big marketing budget. (We added community on-top of time, energy and imagination for Guerrilla Social Media Marketing because of the vital role it plays in social media marketing).
Since then over 20,000,000 (that's twenty million) books have been sold and read in Jay Levinson's Guerrilla Marketing series of books making it the #1 best selling series of marketing books in history. Jay's definition is the original and most widely accepted definition and grows by 1million readers and fans per year.
Guerrilla's apply and use the 19 Guerrilla Marketing Secrets (Principles).
Instead of paraphrasing why true guerrillas must understand and depend on psychology, I have posted in Jay's own (timeless) words the importance:
Guerrilla marketing does not rely on guesswork because wrong guesses are so darned expensive. Instead, it relies upon psychology as much as possible. Psychology used to be a body of theories. Today, many of those theories have been debunked while others have been transformed into laws, actual laws of human behavior. Guerrillas lean on these laws because they want certainty to be a hallmark of their marketing.

There are 15 things that all guerrillas know about psychology as marketing is slowly transforming from guesswork into science:

Purchase decisisons are made in the unconscious mind. People may say the words consciously, but they process the data in their unconscious.
We now know how to access the unconscious mind. The way to do it is with repetition. Put these two thoughts together — purchase decisions are made in the unconscious, and you can access the unconscious with repetition, and you begin to understand the entire process of marketing.
People are either left-brained or right-brained. Left-brained people respond to sequential, logical reasons and love marketing that gives ten reasons to buy. Right-brained people respond to emotional, aesthetic appeals and love marketing that looks stunning and tugs at heartstrings. Guerrillas are sure to hit both left and right-brained people.
Businesses that succeed are those that form two bonds with all customers: the human bond and the business bond. The stronger the human bond, the stronger the business bond. Connect up as two human beings before you connect up as buyer and seller.
All marketing has two messages — the stated message and the metamessage. The stated message is what you say. The metamessage, often stronger than the stated message, is what your marketing looks like, feels like, where it appears, what size it is, and how professional it appears.
If you're interested in increasing your share of market, the way to do it is to first increase your share of mind. If you go only for the share of market, don't expect much customer loyalty — or even many customers.
There are two schools of marketing hard at work in America these days — Freudian marketing, which is based on Sigmund Freud's work and aims for a change of attitude — and Skinnerian marketing, based on B.F. Skinner's proof of the power of behavior modification. Which does a guerrilla choose? Both. Guerrillas constantly implant attitudes while peppering their prospects with special offers that require instant action.
During a recession, the tactics that generate sales are: leaning on current customers, enlarging the size of each transaction, offering a guarantee, and showing that high prices are an assurance against making a purchase mistake — something nobody wants to do during a recession.
Realize that people hate taking the hard step of buying something, so guerrillas use soft steps to make the hard step a little easier. Soft steps include things like free consultations, free seminars, brochures, videos, demonstrations, and free samples.
Full color marketing materials increase retention by 57% and increase inclination to buy by 41%. And the cost of full-color drops dramatically if you tell the printer you have the patience to wait for a gang run.
Use as much non-verbal communication as you can. There are only about 250,000 commonly-used words in the English language, but there are 600,000 non-verbal gestures. They are more potent than the spoken words.
You can gain guerrilla marketing power if you blend customer insight with product insight. The more your insight, the better your marketing.
The way guerrillas view their marketing is as an opportunity to help their customers succeed. If you do the same, your profits will show it.
A key to successful marketing is making each of your customers feel a special way. The way they should feel is unique. Not easy, but necessary.
It is essential that you constantly feel a sense of dissatisfaction with your marketing and try to improve it without changing your identity. This personality trait will fare you well in the marketing wars.
So I have a challenge when someone (for their own self-interest) tries to redefine Guerrilla Marketing. Add to it? Great! Innovate? Great! But don't negate, shrink, or dilute it. Back off. It is a timeless body of wisdom that has grown to be mainstream but it is more relevant than today than it was 20 years ago. It works, it's simple, and it's time tested.
Guerrilla Marketing is a body of wisdom and movement. It's bigger and more important than campaigns, tricks, or tactics. To learn more about the book that started the movement (and continues to grow daily and globally). You can visit http://gmarketing.com.
Have a listen to the podcast and tell me what you think!
Like our Facebook Page

Podcast: Play in new window | Download | Embed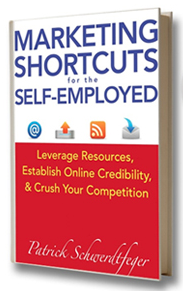 Today's podcast is an interview with Patrick Schwerdtfeger author of the new book "Marketing Shortcuts for the Self-Employed" (2011, Wiley) and a regular speaker for Bloomberg TV.
We talked about how you can take one blog post and repurpose it in at least seven different ways.  Patrick shared with us a few simple tips, that can build a MASSIVE online identity while working less than most of our competitors competitors.
We also covered some important social media how-to's:
1. Five places to get great content ideas.
2. Seven ways to repurpose your content online.
3. The reality behind blogs, content and getting found online.
4. The three-part "winning formula" for social media success.
For more information on Patrick's book and a free gift visit http://www.80shortcuts.com/gifts
I recently delivered the keynote speaker address to CDC Software's CRM conference in Las Vegas. This is one of the most recent social media for sales professionals talks I have done and it' not just a promo clip. Here's the full 41 minutes on "Going Social with CRM – How Social Media is Turning Sales Upside-down:
Here are the slides to go with the presentation:
Shane Gibson (@ShaneGibson) is a sales and social media speaker who has addressed over 100,000 people on stages on three continents over the past 15 years. He is also co-author of Guerrilla Social Media Marketing and Sociable! How Social Media is Turning Sales and Marketing Upside-down. When he's not speaking or Tweeting he is in the social media trenches working with his clients as Chief Social Officer for Socialized! Ltd. a social media agency and training organization.