I recently delivered the keynote speaker address to CDC Software's CRM conference in Las Vegas. This is one of the most recent social media for sales professionals talks I have done and it' not just a promo clip. Here's the full 41 minutes on "Going Social with CRM – How Social Media is Turning Sales Upside-down:
Here are the slides to go with the presentation:
Shane Gibson (@ShaneGibson) is a sales and social media speaker who has addressed over 100,000 people on stages on three continents over the past 15 years. He is also co-author of Guerrilla Social Media Marketing and Sociable! How Social Media is Turning Sales and Marketing Upside-down. When he's not speaking or Tweeting he is in the social media trenches working with his clients as Chief Social Officer for Socialized! Ltd. a social media agency and training organization.
I had a number of people (close to 300) complete the 28 Days to Better Selling Program I put on in May and June.  Many of you were asking when I was going to do it again? My next one will be in the fall but it will be marketing focused. With that said, you can do the 28 Days to Better Selling Program at your own pace by following the links below.
Here's how 28 Days to Better Selling Works:
1)    A daily task that you can easily implement to improve your sales and business
2)    A succinct daily lesson to help you make the improvement
By the end of the 28 days you will have looked at 28 ways to fine tune and improve your sales process and business.  The daily lessons will be in written, video or audio format and will take less than 10 minutes each to review.
Day 2 Targeting the Right Referral Sources
Day 3 Prospecting in Person
Day 4 Networking Strategy
Day 5 LinkedIn Prospecting
Day 6 Investigative Prospecting
Day 7 Lead Nurturing
Day 8 Don't Be A Boring Salesperson
Day 9 Listening in Sales
Day 10 Needs Analysis in Sales Part 1
Day 11 Needs Analysis In Sales Part 2
Day 12 Twitter for Sales Part 1
Day 13 Twitter for Sales Part 2
Day 14 Keeping Commitments
Day 15 Selling Benefits and Results
Day 16 Preemptive Objection Handling
Day 17 Sell the Price Different Not The Total Cost
Day 18 Vital Signs
Day 19 Preparing For a Sales Call
Day 20 Team Selling
Day 21 Just Thinking About You
Day 22 Team Players Make Efficient Sellers
Day 23 Day of Rest, Chill Out and Reflect

Day 24 Influencing Top Level Decision Makers
Day 25 Key Skills and Strengths for Selling Intangibles
Day 26 Reducing Anxiety and Worry
Day 27 15 Ways to Close A Sale
Day 28 Operationalizing Your Sales Process
Want to Close Bigger Deals? Buy the Book: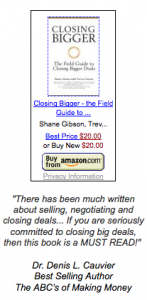 Podcast: Play in new window | Download | Embed
Following are the five key elements of Operationalizing sales (Full explanation in text is here):
1.    Tools
2.    Measurement
3.    Processes and Knowledge
4.    Maximize Selling Time
5.    Support and Accountability Structure
After you listen to today's podcast your assignment is to:
List the 5 headings for operationalizing sales discussed
Fill in under each heading what actions or steps you are going to take
Once mapped out make sure you assign a specific time to implement the steps
Find someone you can be accountable to in the process.
Podcast: Play in new window | Download | Embed
Today for day 27 of the 28 Days to Better Selling we are covering 15 ways to close a sale. After you listen to the podcast identify how many of the closes listed below that you could apply to your sales process.
The Alternative Close
The Assumed Close
The Minor Decision Close
The Courtesy Close – "silent principle"
The Direct Close
The Urgency Close
The "Shut-up Principle" Close
The "Bonus" Close –
The Objection Close
The "Use of Terms" Close
The Third Party Close
The Summary Close
The Similar Situation Close
The Empathy Close
The Consultant Close
Podcast: Play in new window | Download | Embed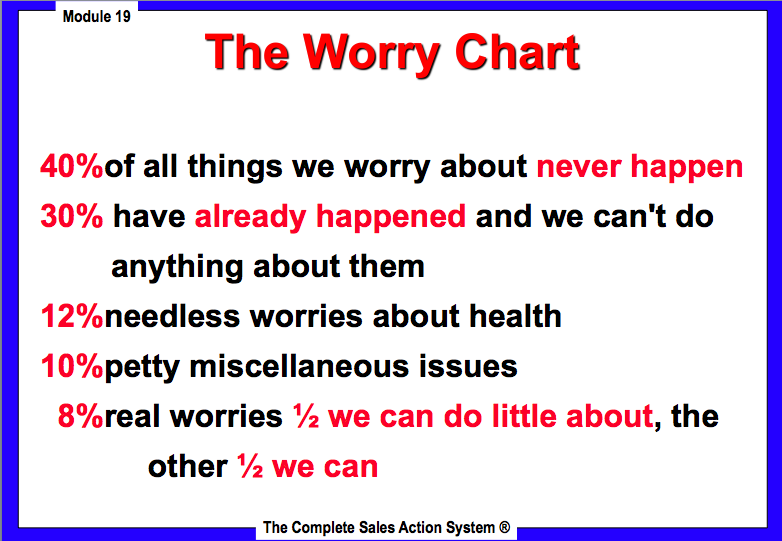 Energy management in sales is just as important as time management. Worry and anxiety can be big energy drainers.  Your assignment today is to implement as many of the strategies outlined in today's podcast as possible.
The following are some ideas, strategies, and tips to proactively help reduce your worry and anxiety:
Set a Specific Time for Worry
Move to Action
Try Exercise
Get Out of Bed Quickly
Post Good News
Surround Yourself with Positive People
Make Meetings Productive with the Worry Chart
Time Limit on Hard Work
Know the Value of the Present
Laugh at Yourself
Give Yourself Special Treatment
Podcast: Play in new window | Download | Embed
Yesterday we talked about the importance of proving or selling inangible results related to your products or services.  Today we are going to focus on some of the key attributes needed to do so.  The following provides a brief overview of some of the skills and strengths needed to be great at selling intangibles.
Personal Brand of You
When selling intangible solutions, it really is about credibility and the relationship.  Because the solution is intangible, the purchase is largely based upon the believability of the salesperson.
Having a strong personal brand helps people understand who we are, what we are about, and it removes uncertainty.
Differentiation
People who are good at this type of sales often communicate what they do in a unique way. This means specializing and unique positioning is often necessary.
Passionate Evangelist/Industry Authority or Both
As an extension of our personal brand and our ability to differentiate, our passion and knowledge are critical in selling intangibles. Because the client cannot often experience the service or solution in a tangible way, their experience of you has to be credible and inspiring.
Clarity
"In communicating, your greatest enemy isn't the noise around you – it's the noise you create, un-wittingly" – Harry Beckwith, author of What Clients Love and Selling the Invisible.
Brevity and focus are key. If we focus on one or two core things we are good at and communicate those proficiencies really well, we can own a large portion of client mindshare and wallet share.
Value Builders
Because what we are selling cannot be seen, touched, or measured, we need to be good at building value. Your ability to articulate the real value in terms of return on investment is very important. Solutions must be presented in a way that solves a core client pain or challenge.
-
Podcast: Play in new window | Download | Embed
Top level decision makers are results-orientated. Both tangible results and intangible results appeal to them.  In order to be seen as a resource and potential supplier you must tap into their desire to produce results.
The kind of tangible results that appeal to them are:

Raising Revenues:
Show them how their overall volume can be increased; in other words, an increase in sales.

Increase Efficiency:
If they see that their employees, or their equipment, or other capital  will be more efficient, then the chance of their buy-in is higher.

Keeping Shareholders Happy:
Top level decision makers are the ones who have to answer to the Board of Directors and to the Shareholders in a large corporation. Keeping the Board or shareholders happy is their main priority.

Lowering Cost of Production:
Lower costs equal better margins and bigger profits.

Increasing Market Share:
They are interested in advertising, marketing and business development strategies, tactics and methods to increase market share.
Higher Return On Investment:
Can you show them how they will get a bigger return on their investment for the money they invest with your services, products, ideas and concepts?

Dealing With Market Changes:
If you come with solutions for  market changes that affect them, then they will  take the time to explore the possibilities with you.

Intangible Results:
The types of intangible results that appeal to top level decision makers are:

Lower the Risk And Worry:
Anything that you can do to lower or eliminate the risk makes them feel better.
Personal and Corporate Pride:
Senior executives and top level decision makers are at the top because they have personal pride and are proud of the business results that they achieve.

Image – Personally And Corporately:
Yes the car they drive reflects their success level. The suits, the shoes they wear, the house they live in, the office address, and the image their marketing material portrays are all examples of personal and/or corporate image.
Retaining And Attracting Good Employees Who Work Beyond The Norm:
The top level decision maker knows that you win when you have exceptional people working with you.
Your assignment today after listening to the podcast is to:
1) Look at how many of these results your products or services can achieve for your clients.
2) Develop a unique way to present these results you produce
3) Memorize and practice presenting those core results statements that you will use with senior decision makers.
-
Podcast: Play in new window | Download | Embed
Too often salespeople even when surrounded by a large corporation do things all on their own.  They have been selected because of their personal drive and focus, but this can also be a downfall.
This podcast is focused on the importance of connecting with and collaborating with internal and external stakeholders. Who knows, maybe the marketing team wants to know who your ideal client is!
Podcast: Play in new window | Download | Embed
Today's assignment is pretty straight forward. Mindshare = Walletshare. With that said mindshare is gained through adding value in multiple contexts with clients. Your assingment today is to add value by letting five of your key accounts know you are thinking about them and care about their success.
Podcast: Play in new window | Download | Embed
Team selling is a whole new dynamic for a lot of new sales people, even tenured sales people and executives can often miss in a team environment. Sales people are measured by their individual contribution to the bottom-line but in team selling they need to take a look at the bigger picture and engage and coordinate a whole team.
Today's assignment after you listen to the podcast is as follows:
1)    Develop your own Edification sheet or elevator pitch for your team mates
2)    Get each of them to do that as well for you and then memorize each others "Edification Sheet"
3)    Develop a checklist for prepping for meetings that ensures that you:
a.    Know the key strengths and purpose of those people on your team
b.    Determine the meeting lead
c.    Warm everyone up for the call
d.    Debrief after the meeting  with the key questions:
- What went well?
- What didn't go well?
- What could we do better?
`
Podcast: Play in new window | Download | Embed
We work hard to target the right companies, get past the gatekeeper, and get a commitment from the client to meet with us.  But are we prepared? This is a two part podcast on getting ready for meetings.  Today we will focus on individual sales calls and tomorrow we will talk about how to plan out team selling scenarios.
After you listen to today's podcast here is your assignment:
#1) Brainstorm all of the possible objections you could get in your typical sales call and either pre-empt them or memorize your answers
#2) Be prepared for the worst case scenario, map out what those could be and how you will handle them.
#3) Be prepared for the best case scenario, what will you need to close the deal or negotiate with a key prospect on the spot?
#4) Map out key research sources you can review and confirm before heading to the meeting
#5) Build a checklist for this process and go through before each meeting well in advance
-