I'm doing a webinar for the Association of Professional Design Firms this morning and while I was compiling a resource list for them I thought I might as well blog it instead.  I've put up a lot of video, podcasts and blog entries up in the past month on Social Media Strategy and tools so I thought I would build a topic map. Most of this content is inspired by the book "Sociable! How Social Media is Turning Sales and Marketing Upside Down."
Resources by Topic:
Why Blogging is An Important Part of Social Media Strategy [Video]
Integrating Social Media Into Your Sales and Marketing Process [Podcast/Blog]
Making Social Media Part of What You Do [Video]
Developing a Social Media Calendar and Implementation Plan [Podcast/Blog]
Sample Social Media Policy [Blog]
What is Social Media Etiquette [Video]
5 Ways to Build a Twitter Following Organically [Blog]
Twitter for Sales and Marketing [Video] Part 1 and Part 2
Social Media ROI [Podcast]
The Future of Sales and Marketing Social CRM [Podcast]
Slides from Today's Presentation: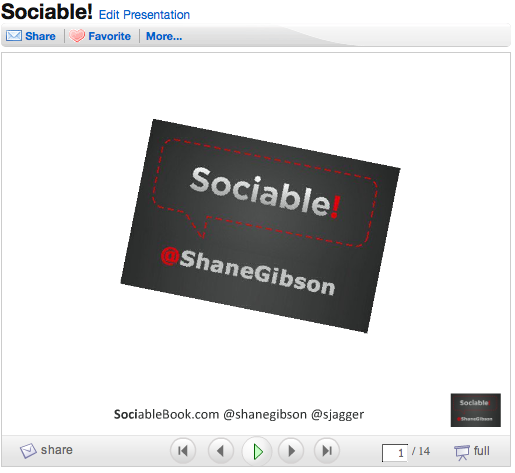 Following is an excerpt of an article I wrote for the BC Chapter of the AMA (You can download the entire magazine and read the full article here)
Great conversations in the offline world are about listening, providing insight, empathy, and at times the right measure of humor. The same goes for online tools. In using a tool like Twitter here are some tips on being engaging:
• Fill out your profile completely with a current photo, link to your personal blog or site, and use the entire 140 characters provided for your bio. Hiding who you are or not providing your company information can create a barrier to trust or engagement.
• Update regularly, for most active Twitter users that's 8 to 15 times per day. Key principle: don't update unless it adds value, solves a problem, inspires or entertains your target market.
• Share useful links to sites other than yours. Also pass on and share (know as retweeting on Twitter) useful information from other Twitter users. This will strengthen your relationship with them and increase the chances of them sharing your messages.
• Use social search to monitor what people are saying about your company or your industry. http://search.twitter.com can give you by-the-minute opportunities to engage people who are talking about your brand. You can instantly solve a problem or correct a situation as it happens.
• Vary your message and the frequency so that you appear human and not robotic. Your updates should be a combination of personal messages, corporate updates, answering questions, commenting on other people's great tweets, and links to valuable information.
• If you sound like everyone else you're not a brand or a leader. Create engaging content and unique conversations. This is vital to building a brand and solidifying client relationships.
Great use of Twitter and other social mediums and networks is 90% listening and contribution and 10% marketing and messaging. While that seems like a bad marketing ratio we can go back to what John C. Maxwell said about leadership "It's 90% connection and 10% content."
To Donate the the Vancouver Food Bank Click here or the image below. Every bit helps!
Social Media Speaker Shane Gibson
Social Media Speaker Shane Gibson on Social Media Etiquette

To Donate the the Vancouver Food Bank Click here or the image below. Every bit helps!
To Donate the the Vancouver Food Bank Click here or the image below. Every bit helps!
Social Media Speaker Shane Gibson Video on Why Blogging is Critical:
To Donate the the Vancouver Food Bank Click here or the image below. Every bit helps!
The Manager's Thought for the Day
It is not uncommon for salespeople and/or sales managers to get caught in the throes of everyday problems and miss seeing the trees because of the forest.
In most cases there is much more support and help around us than we can see. If most of us could really appreciate what we do have, and be grateful, most of the time we would never have a motivation problem.
There is power in gratitude. For example; Have you ever been forced into giving a kiss and a hug to a relative or a friend of a friend you couldn't stand? It's not an inspiring experience. As a matter of fact, it can be downright de-motivating. But if you have ever been asked to hug and kiss someone you secretly admired, I bet you found it to be a very pleasant experience. What's the difference between the two?
Having to embrace someone you can't stand, can be de-motivating; embracing someone you admire is motivating.
The same rule applies to situations. Most of us spend time living for tomorrow; living for when we will get that raise, that job, that relationship, or that home. In other words, that's when we will be happy. We don't like where we are now, so let us dream about tomorrow. What this means is we are not living in the now. It also means we often set our objectives or goals from a time, place, or state of mind that we do not like, which means we don't embrace it. Therefore it is de-motivating.
What if you could appreciate the moment and embrace it? It would be inspiring, just like embracing that person you admired.
Gratitude is a powerful motivation. To embrace or appreciate the moment you are in, gives you a deep settled strength, and alleviates anxiety. With this strength you are able to tap into your intuition and be directed into paths that are more meaningful and in tune with who you are. This makes it much easier for you to become enthusiastic and move forward and feel good about the present as well as where you want to go. Having gratitude for where you are now can get you started.
Think about the situation you are in right now that frustrates or even immobilizes you. Now come up with a list of some really positive things that you have going for you right at this moment. Think of things you may be grateful for. A few examples could be good health, living in the country you are in, experience in your field, great relationship with your wife, husband or significant other, certain belongings, past experiences, just to name a few.
Once you finish the list, go back through and mentally say "thank you" to all the circumstances and people you could thank for each one of these. For example; in reference to your health, mentally thank someone who showed you how to eat properly, or who got you involved in some form of physical exercise. Maybe a previous employer believed in balanced living and not just work, work, work. Be sure to thank that person mentally. Thank your government for the facilities that are available and your creator for being so kind to you. As Plato once said; "Happiness is not being in a good state, but rather knowing you are in a good state."
Once you have completed this exercise, you will have experienced the power of appreciation. You will feel much better about the moment. To see the positive in your present circumstances and to feel gratitude about the moment will get you started and keep you going.
Unfortunately, our egos work very hard at stopping us from experiencing gratitude. Very few of us can openly display gratitude on a daily basis to all those people and situations around us. It is much easier to fill our minds and bodies with self-importance, dissatisfaction, criticism, and victim-style thinking, than it is to put these feeling aside and say thank you. Monitor yourself and see how often you resist or justify not having gratitude. Being aware of your anti-gratitude stance alone, can start you on the road to being more grateful and more productive.
As the manager you may want to share this process with your people. Gratitude is one of the greatest internal motivators of all.
(An excerpt from our "Complete Sales Action System")
To Donate the the Vancouver Food Bank Click here or the image below. Every bit helps!
You see this in the business world all of the time whether someone is selling cars, insurance, real estate, or electronic equipment.  They try really hard to become successful.  They read all the motivational books and they go to all the personal development seminars yet, no matter how hard they try, they just can't seem to become successful in their chosen field.
Simply put, it's just not their calling.  You have to be 100 percent congruent with what it is you are promoting, selling and marketing.  Whether you are an athlete promoting your talent or a marketer promoting your product you need to be excited enough to get up early and stay up late.  Your chosen profession must be in harmony with your calling in life.  Your success will be your destiny.
-
Being online and making connections is fun. We all love to see out Twitter, blog, and video following increase.  For me though, it's events like this Tweetup that was organized by Capones that make it all real for me. Meeting people you are connected to online seems to slow things down temporarily and really help build trust and intimacy.
To Donate the the Vancouver Food Bank Click here or the image below. Every bit helps!
Walking the middle path between the yin/yang is where all harmonious and balanced answers are received and expressed.  This was a very powerful principle that was taught to me by Master Fook Yueng.
It is important when focusing on the holistic approach that we look at things in multiple ways.  We ask questions in multiple ways, we discover answers in multiple ways.  One of the best visual examples is the yin/yang symbol.  It is often used in traditional medicine and Tai Chi to demonstrate balance of all things.  In western culture it is referred to as yin and yang.  This creates a separation between the two.  In the Chinese culture they refer to it as the yin/yang and there is no separation between the two.
Within yin there is yang. Within yang there is yin.
Within energy there is structure.  Within structure there is energy.
Within softness there is hardness.  Within hardness there is softness.
Within leadership there is a servant.  Within a servant there is leadership.
-
-
-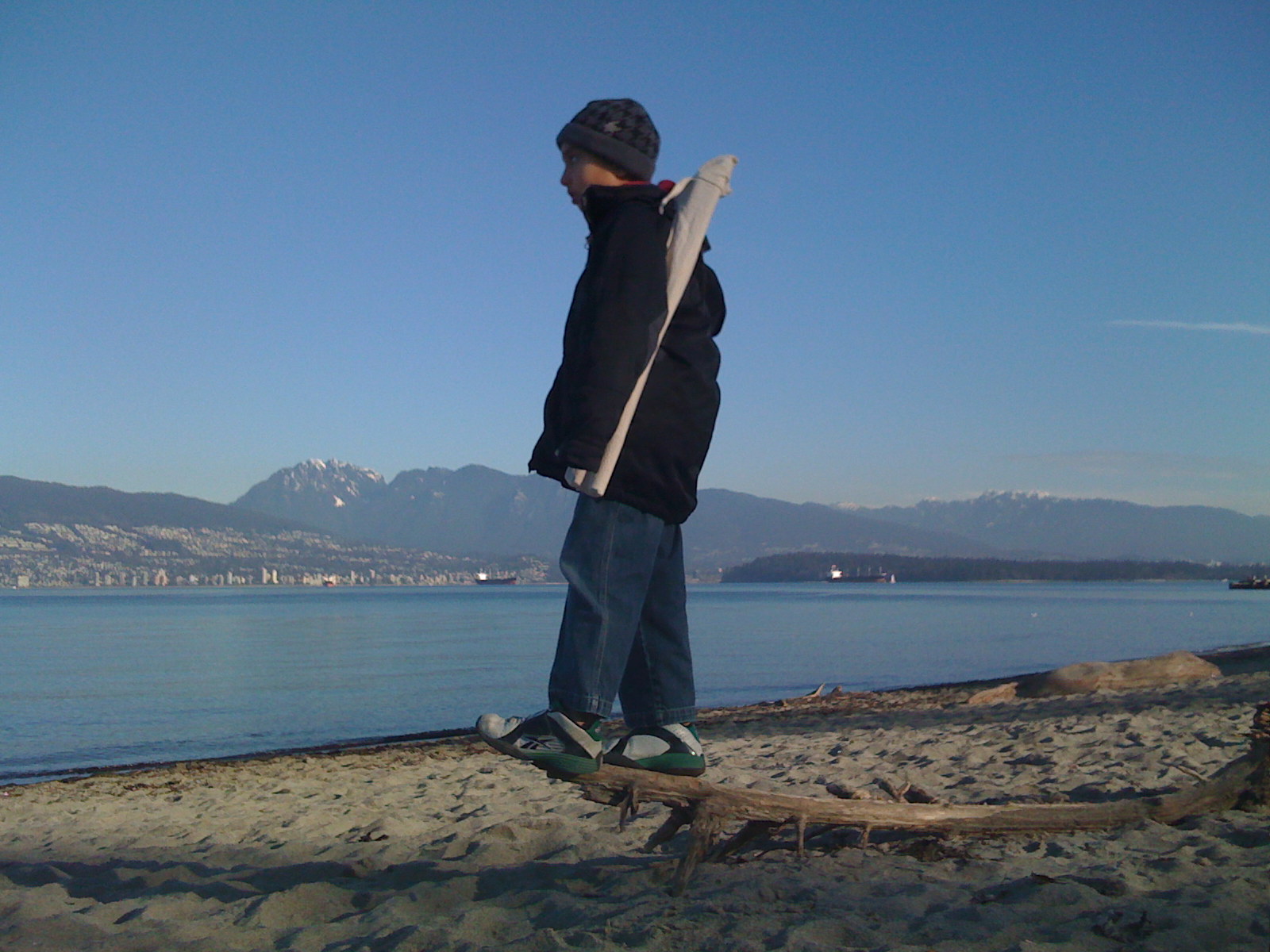 My friend Trevor Wallace decided to not do a cash donation and donate food directly at a Vancouver Food Bank collection box. If you believe in the cause and would prefer to do that fantastic. Send me a pic like Trevor did and I will put it up on the site. My son also brought some cans, macaroni and cheese, and pasta from his Mom's house too, guess we'll be doing a delivery tomorrow too.
Thanks Trevor!
To Donate the the Vancouver Food Bank Click here or the image below. Every bit helps!