Podcast: Play in new window | Download | Embed
Today's podcast is about 10 social media myths that are commonplace in the companies and organizations that we work with at Socialized! Agency. Many of these misconceptions stop organizations from truly realizing the potential of social media (or even starting). Below I have listed the myths. Have a listen to the podcast and let me know what you think.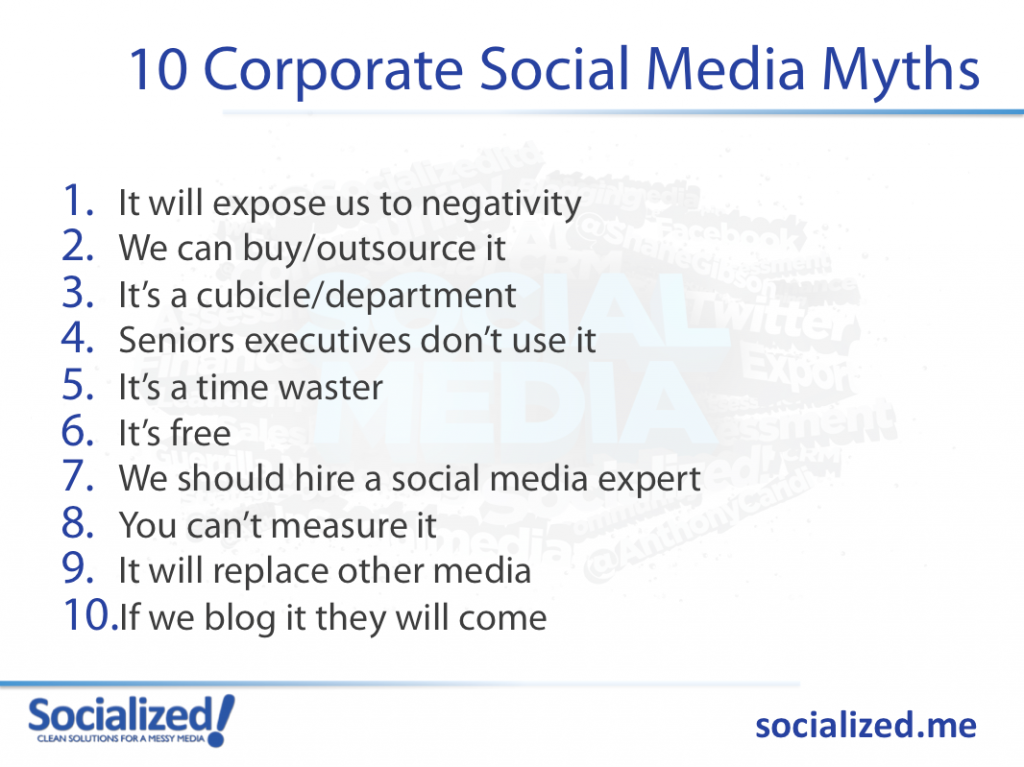 No problem can be solved from the same level of consciousness that created it.  – Albert Einstein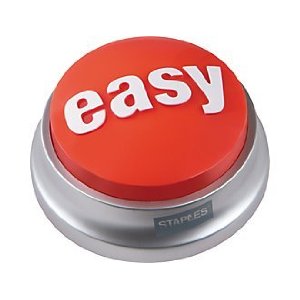 This is not my typical post. It consists of more questions than answers and what I really want to know is how you feel about these images.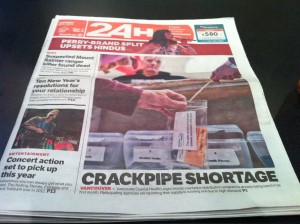 This is today's 24H News frontpage. It seems that what makes the headlines is not food shortages at the food bank or that we have the most chronically destitute skid row on the planet. It's about the fact that we have an abundance of crack users and not enough crack pipes. We have a systemic problem not just and addiction problem. Paraphrasing the Einstein quote above – the people and the thinking in the system that have allowed this social disease to propagate are very unlikely to be able to solve the problem.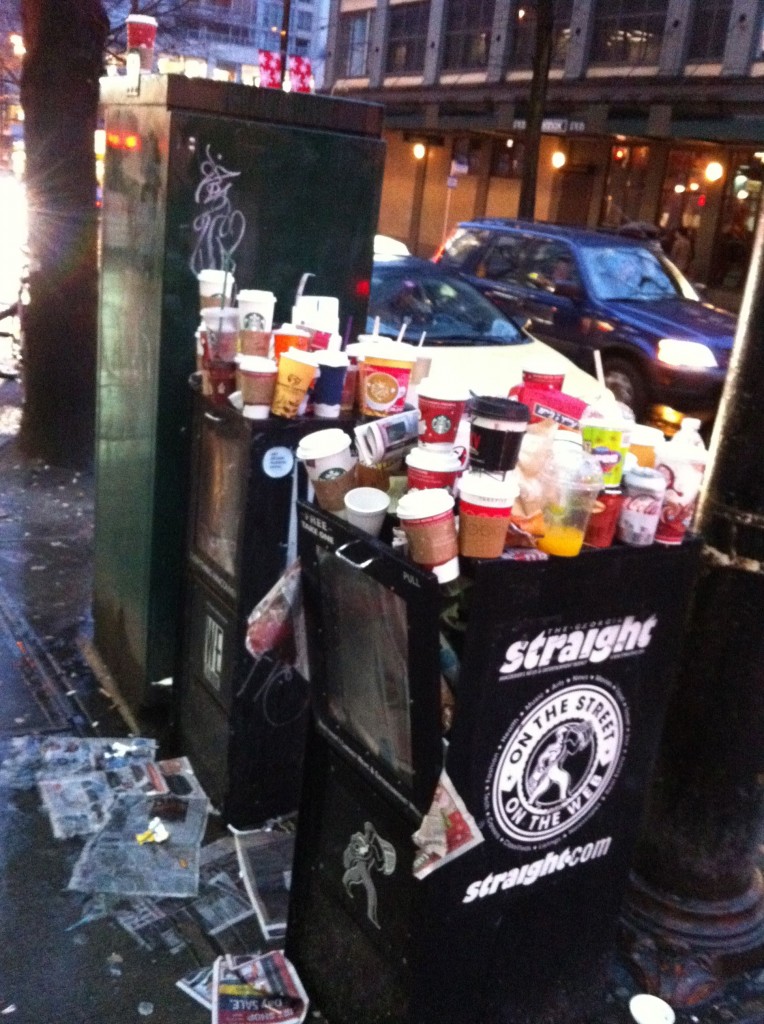 8 Blocks away from Canada's poorest postal code where hundreds of HIV infected drug users live in 3rd world conditions I snapped this picture. It's from boxing day. Seems people waiting to get into the Future Shop Boxing Day Sale felt it was okay to pile their empty cups and garbage on top of two news stands instead of (gasp) holding onto them and disposing of them in an ethical way. My hyposthesis: these consumer drones were so fixated to their big screen TV's they couldn't make the right decision in their trance. In addition to this… everyone else was doing it. (similar logic for the riots).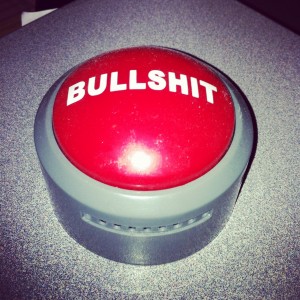 Lastly I think that this image sums it up. We should be reaching for this button more often than the "Easy Button." Our thinking and level of personal responsibility on all fronts needs to be adjusted.  What has to change? I think as we discard our garbage while we buy new "things" and hope that big brother will take care of all of our problems we will be doomed to propagate these social sicknesses and to a greater level. The solution isn't more money from government or more "things" – it's a new consciousness. What has to change on a individual level to make this happen?
Podcast: Play in new window | Download | Embed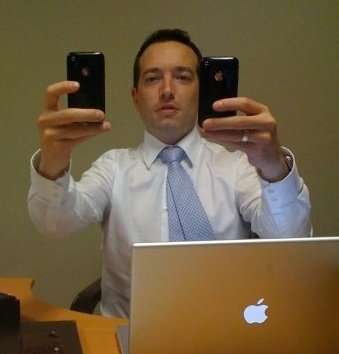 Hiring a social media manager, social media coordinator, chief tweeter or whatever you might call it is a challenging endeavor. There are many brands which have experienced great success and many who have also shot the foot off of their brand on the internet. Social media is not a department or a cubicle, it represents the most powerful word of mouth (or word of mouse) channels that have ever existed. Too many organizations aren't strategic about who they hire internally or how they intend on implementing social media and integrating it into their business processes. Today's podcast covers four major areas you need to look at (there are many more) before hiring.
Today as associations, non-profits and any other member based organizations we need harness the power of community to grow our member base. This infographic is a work in progress but I wanted to post it and get your feedback. What are your thoughts?

Podcast: Play in new window | Download | Embed
Today's podcast is an interview with Cameron Herold on his brand new book "Double Double – How to Double Your Revenue and Profit in 3 Years or Less." I read this book twice I found it so valuable and so I reached out to Cameron and asked him to come on the show.
If you're a business leader, entrepreneur or business builder you need to read this book. It's packed with usable real-world advice and success strategies.
Podcast: Play in new window | Download | Embed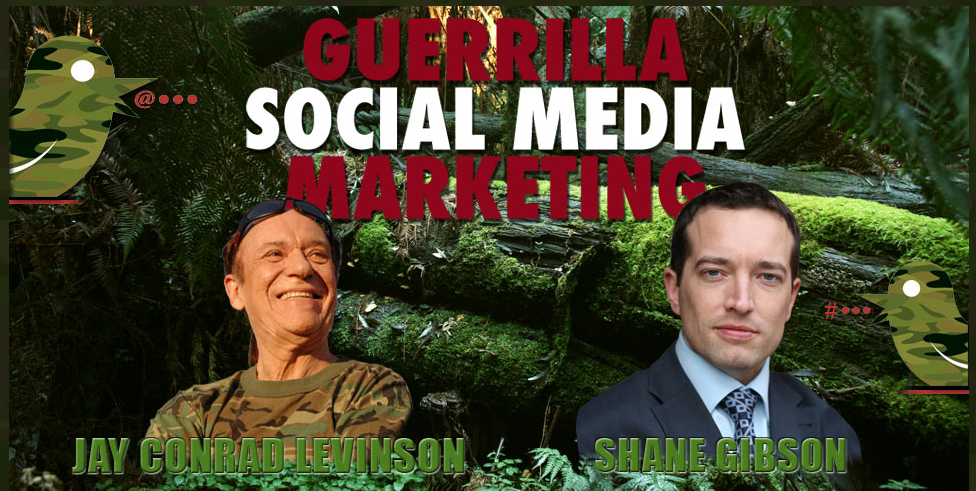 Psychology in marketing is still a rather untapped landscape. Since I stepped into the ring and became a guerrilla author in writing Guerrilla Social Media Marketing with Jay Conrad Levinson I have come across all kinds of misunderstanding, misuse and abuse of the term guerrilla marketing. Today's podcast was inspired by what I can describe as a well meaning (or possibly not) but off-base commenter on the Creative Guerrilla Marketing blog.
I decided instead of just replying in the comments section that I would take the time to respond in the form of a podcast. Why? It's so vital to understand the role of psychology and community in Guerrilla Marketing.
I also think it's important to establish that Guerrilla Marketing is well defined, and it's body of wisdom and definition that is widely accepted and used by over 20 million readers of the Guerrilla Marketing Series of books. Some people will take pieces of the body of wisdom and use them to suit their outlook on marketing but the whole is greater than the sum of the parts. In addition to this just because you slap the term guerrilla on a book, blog post or marketing campaign it doesn't make it guerrilla.
Here are the facts:
The term "guerrilla marketing" was coined by Jay Conrad Levinson and popularized by his best selling book that was released in 1983. Guerrilla Marketing uses unconventional means to achieve conventional goals,  it relies on time, energy and imagination rather than a big marketing budget. (We added community on-top of time, energy and imagination for Guerrilla Social Media Marketing because of the vital role it plays in social media marketing).
Since then over 20,000,000 (that's twenty million) books have been sold and read in Jay Levinson's Guerrilla Marketing series of books making it the #1 best selling series of marketing books in history. Jay's definition is the original and most widely accepted definition and grows by 1million readers and fans per year.
Guerrilla's apply and use the 19 Guerrilla Marketing Secrets (Principles).
Instead of paraphrasing why true guerrillas must understand and depend on psychology, I have posted in Jay's own (timeless) words the importance:
Guerrilla marketing does not rely on guesswork because wrong guesses are so darned expensive. Instead, it relies upon psychology as much as possible. Psychology used to be a body of theories. Today, many of those theories have been debunked while others have been transformed into laws, actual laws of human behavior. Guerrillas lean on these laws because they want certainty to be a hallmark of their marketing.

There are 15 things that all guerrillas know about psychology as marketing is slowly transforming from guesswork into science:

Purchase decisisons are made in the unconscious mind. People may say the words consciously, but they process the data in their unconscious.
We now know how to access the unconscious mind. The way to do it is with repetition. Put these two thoughts together — purchase decisions are made in the unconscious, and you can access the unconscious with repetition, and you begin to understand the entire process of marketing.
People are either left-brained or right-brained. Left-brained people respond to sequential, logical reasons and love marketing that gives ten reasons to buy. Right-brained people respond to emotional, aesthetic appeals and love marketing that looks stunning and tugs at heartstrings. Guerrillas are sure to hit both left and right-brained people.
Businesses that succeed are those that form two bonds with all customers: the human bond and the business bond. The stronger the human bond, the stronger the business bond. Connect up as two human beings before you connect up as buyer and seller.
All marketing has two messages — the stated message and the metamessage. The stated message is what you say. The metamessage, often stronger than the stated message, is what your marketing looks like, feels like, where it appears, what size it is, and how professional it appears.
If you're interested in increasing your share of market, the way to do it is to first increase your share of mind. If you go only for the share of market, don't expect much customer loyalty — or even many customers.
There are two schools of marketing hard at work in America these days — Freudian marketing, which is based on Sigmund Freud's work and aims for a change of attitude — and Skinnerian marketing, based on B.F. Skinner's proof of the power of behavior modification. Which does a guerrilla choose? Both. Guerrillas constantly implant attitudes while peppering their prospects with special offers that require instant action.
During a recession, the tactics that generate sales are: leaning on current customers, enlarging the size of each transaction, offering a guarantee, and showing that high prices are an assurance against making a purchase mistake — something nobody wants to do during a recession.
Realize that people hate taking the hard step of buying something, so guerrillas use soft steps to make the hard step a little easier. Soft steps include things like free consultations, free seminars, brochures, videos, demonstrations, and free samples.
Full color marketing materials increase retention by 57% and increase inclination to buy by 41%. And the cost of full-color drops dramatically if you tell the printer you have the patience to wait for a gang run.
Use as much non-verbal communication as you can. There are only about 250,000 commonly-used words in the English language, but there are 600,000 non-verbal gestures. They are more potent than the spoken words.
You can gain guerrilla marketing power if you blend customer insight with product insight. The more your insight, the better your marketing.
The way guerrillas view their marketing is as an opportunity to help their customers succeed. If you do the same, your profits will show it.
A key to successful marketing is making each of your customers feel a special way. The way they should feel is unique. Not easy, but necessary.
It is essential that you constantly feel a sense of dissatisfaction with your marketing and try to improve it without changing your identity. This personality trait will fare you well in the marketing wars.
So I have a challenge when someone (for their own self-interest) tries to redefine Guerrilla Marketing. Add to it? Great! Innovate? Great! But don't negate, shrink, or dilute it. Back off. It is a timeless body of wisdom that has grown to be mainstream but it is more relevant than today than it was 20 years ago. It works, it's simple, and it's time tested.
Guerrilla Marketing is a body of wisdom and movement. It's bigger and more important than campaigns, tricks, or tactics. To learn more about the book that started the movement (and continues to grow daily and globally). You can visit http://gmarketing.com.
Have a listen to the podcast and tell me what you think!
Like our Facebook Page

Podcast: Play in new window | Download | Embed
My friend and associate Kemp Edmonds who heads up Hootsuite University asked me an interesting question at a barbeque last weekend. He asked me what I thought about the crowdsourced policing that had occurred during the Vancouver Canucks Riot last week. I personally see it as a fact of life. Anything you do can end up on the internet and then on CBC or CNN or BBC — in seconds. The question of "should we be monitoring" each other is a tough one. The same people who think that citizens shouldn't be monitoring each other are the same people who cry foul when a police officer objects to being recorded by a passerby's cell phone camera during an arrest. Corporate accountability, the move toward open government, and citizen journalism (Even Yelp) has put us all under a microscope. Have a listen to today's podcast and let me know your thoughts on the issue. Here's the gist of my opinion:
If you don't want it on the internet – DON'T DO IT – and if you do it and it ends up on the internet it's not the crowd's fault or the the social media communities fault — the responsibility is yours. This goes for executives, public figures and teenagers at a riot. We are humble today or we will be humbled tomorrow.
What are your thoughts?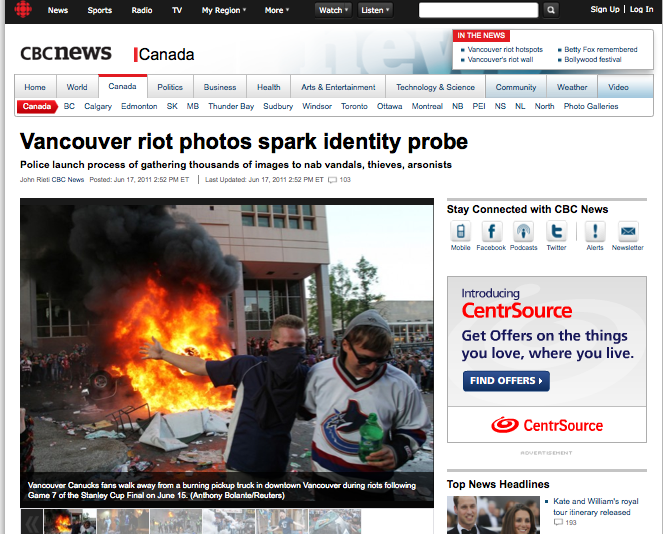 Podcast: Play in new window | Download | Embed
This podcast was created for you. I just wanted you to know that you have permission to launch. Get started, paint that picture, write that book, apply for that promotion. Have a listen to this podcast and start implementing those great ideas.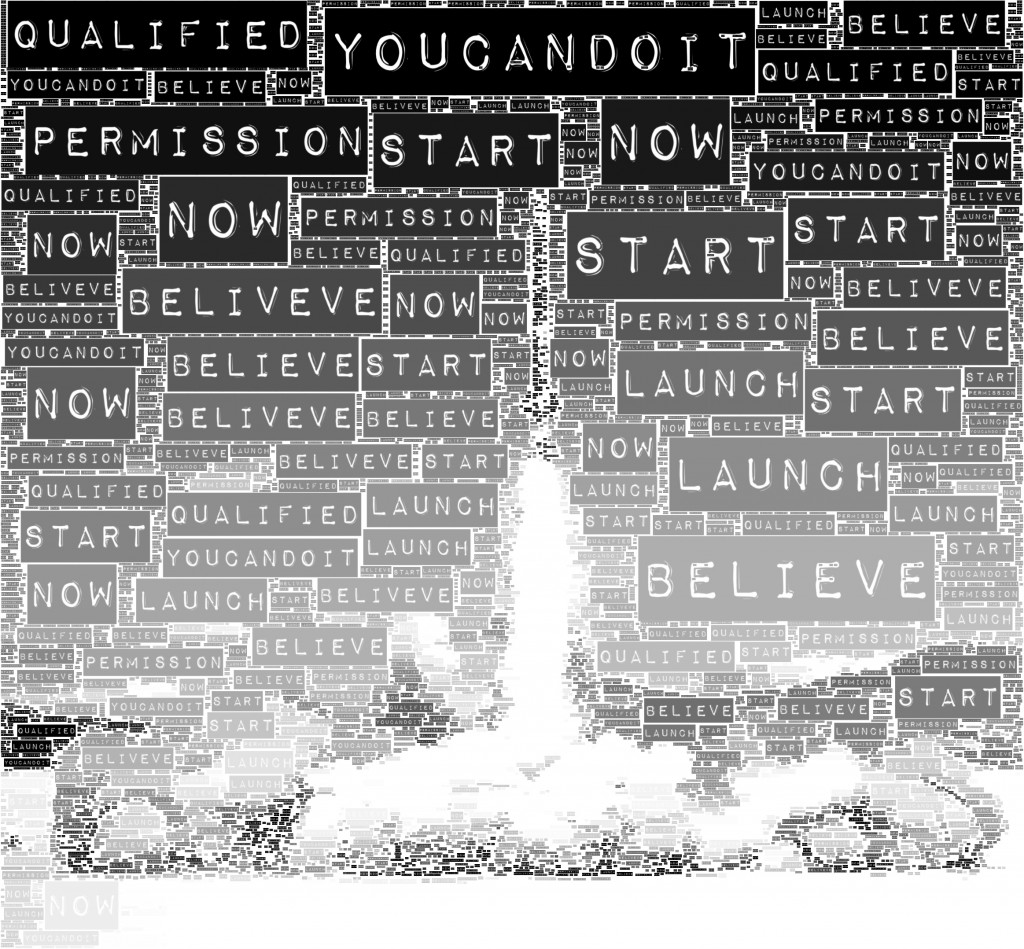 Podcast: Play in new window | Download | Embed
Today's podcast is about being truly sociable. You need to be social to have long-term social media success! There I said it. Plain and simple, hiding behind your computer or iPhone is only going to give you marginal long-term success. Eventually the Wizard of Oz was found out. Compared to people who are good at social media and also have great personal presence and charisma those that are solely good at being social online will not fare as well for many reasons. Have a listen to today's podcast and tell me what you think.
Shane Gibson (@ShaneGibson) is a sales and social media speaker who has addressed over 100,000 people on stages on three continents over the past 15 years.  He is also co-author of Guerrilla Social Media Marketing and Sociable! How Social Media is Turning Sales and Marketing Upside-down.  When he's not speaking or Tweeting he is in the social media trenches working with his clients as Chief Social Officer for Socialized! Ltd. a social media agency and training organization.
Podcast: Play in new window | Download | Embed
Today's podcast is on Outsourcing Automation and Building Virtual Teams. My guest today is Stephen Jagger (who is also my co-author for Sociable!) co-founder of Ubertor and Outsourcingthingsdone.com. They have a 150 seat office in Manila where they supply North American tech firms, Realtors and a variety of other industries with virtual team members.
I asked Stephen to come on the show to discuss best practices in the area of outsourcing and the technology needed to lead virtual teams.
Podcast: Play in new window | Download | Embed
Today's podcast is titled "Professional Speaking for Geeks." Yes they call it death by PowerPoint and many other things. It's the art of the bomb, crash and burn — or worse. We get a polite applause and the audience attendees forget about us half-way through the conference wrap-up party.
I have had a number of inquiries from my tech and social media brethren about how to present on stage. Some are gentle questions like "how many slides should I have for a one hour presentation?" to outright pleas for help such as "I'm terrified of audiences over 20 people, how do I present our new iPhone app at this conference?"
Geeks (science or tech savvy and knowledgeable folks who get turned on by pixels, pings, microchips, biology, chemistry, APIs etc.) tend to struggle with presentations, yet if they master the art they can have a massive impact on their business and career (think Steve Jobs or David Suzuki).
Too many people think content is king. Connection is king. Unless you can connect with your audience and engage them effectively your geek speak will mean very little to them. Today's podcast covers a few insights on better stage presentations.
[This is day one of my 30 day podcasting challenge, I will be posting a new podcast everyday for the next month, drop by, make a comment or share a link to the podcast you posted today).