I wanted to personally introduce you to a program that can immediately help you boost your company revenues and personal career. It's said that nothing happens until someone sells something. We teach a lot of companies how to use social media to build brand, community and drive leads to that business… but someone still needs to know how to sell to turn that into revenues.
Working with Langara College, international speaker Bill Gibson of Knowledge Brokers (South Africa) and our team here at Socialized we have put together the ultimate sales training program for new sales professionals and professionals that want to add a revenue generating toolkit to their repertoire. The methodologies in this program have been successfully used and implemented by major sales organizations including BMW, ABSA Bank, Gestetner, Vodacom, Siemens and Ford to name a few.
Here's a quick video we shot where Shane Gibson (me) facilitator of the program  walks you through what you will learn.
Our next program starts soon and here are the dates:
Successful Selling Strategies 
(50203) Jan. 14, 2013
Persuasion, Communication & Relationship Building
(50204) Feb. 12, 2013
Motivation, Closing & Keeping Clients
(50205) Mar. 11, 2013
Sales & Planning Toolkit
(50206) Apr. 8, 2013
Each course is 18 hours in duration held over a six week period and consists of weekly reading, presentations, group discussions and live webinars. If participants can't make the date and time of the live-webinar there will be an opportunity to watch a recorded version. All courses have testing built-in and each participant must have a passing grade in all courses to be eligible for the certificate.
This certificate is awarded to students who have successfully completed all four online courses below.
Successful Selling Strategies
Persuasion, Communication & Relationship Building 
Motivation, Closing & Keeping Clients
Sales & Planning Toolkit
Students will have access to their course on the first day using the Blackboard learning system. For course descriptions of our offerings at Langara College this term, please click 
HERE 
 and then on the orange Course Title. Please note that the CRN is the course number for
registration
.  If you have any questions at all, please email Lynn at
lkitchen@langara.bc.ca
I recently delivered the keynote speaker address to CDC Software's CRM conference in Las Vegas. This is one of the most recent social media for sales professionals talks I have done and it' not just a promo clip. Here's the full 41 minutes on "Going Social with CRM – How Social Media is Turning Sales Upside-down:
Here are the slides to go with the presentation:
Shane Gibson (@ShaneGibson) is a sales and social media speaker who has addressed over 100,000 people on stages on three continents over the past 15 years. He is also co-author of Guerrilla Social Media Marketing and Sociable! How Social Media is Turning Sales and Marketing Upside-down. When he's not speaking or Tweeting he is in the social media trenches working with his clients as Chief Social Officer for Socialized! Ltd. a social media agency and training organization.
Podcast: Play in new window | Download | Embed
Today's podcast is on developing a prospecting discipline and why you need to plan it out and make it part of your sales and marketing strategy. Bullet points on the podcast:
Four Types of Prospecting:
Face to Face
Extended Personal
Community and Network Prospecting
Media Marketing/Prospecting
Make a Plan:
Have the intent to meet people wherever you go, be aware and focus on rapport
Book time everyday for e-mail and phone calls
Book time everyday for prospecting on Linkedin and listening/monitoring the web
Attend two target rich events per month and one major conference per quarter
Budget a percentage of your projected income or revenues and spend it every month on media and press releases etc.
What's your prospecting plan look like?
Subscribe in iTunes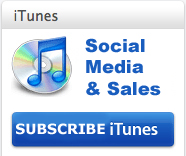 E-Book PDF: Open in New Window | Download
Bill Gibson Chair of Knowledge Brokers International has put together a condensed goal setting guide called "Get a Fast Start for 2010." You can download the PDF free here or you can view it via Scrib below. Enjoy!
Bill Gibson Free Goal Setting Guide
I had a number of people (close to 300) complete the 28 Days to Better Selling Program I put on in May and June.  Many of you were asking when I was going to do it again? My next one will be in the fall but it will be marketing focused. With that said, you can do the 28 Days to Better Selling Program at your own pace by following the links below.
Here's how 28 Days to Better Selling Works:
1)    A daily task that you can easily implement to improve your sales and business
2)    A succinct daily lesson to help you make the improvement
By the end of the 28 days you will have looked at 28 ways to fine tune and improve your sales process and business.  The daily lessons will be in written, video or audio format and will take less than 10 minutes each to review.
Day 2 Targeting the Right Referral Sources
Day 3 Prospecting in Person
Day 4 Networking Strategy
Day 5 LinkedIn Prospecting
Day 6 Investigative Prospecting
Day 7 Lead Nurturing
Day 8 Don't Be A Boring Salesperson
Day 9 Listening in Sales
Day 10 Needs Analysis in Sales Part 1
Day 11 Needs Analysis In Sales Part 2
Day 12 Twitter for Sales Part 1
Day 13 Twitter for Sales Part 2
Day 14 Keeping Commitments
Day 15 Selling Benefits and Results
Day 16 Preemptive Objection Handling
Day 17 Sell the Price Different Not The Total Cost
Day 18 Vital Signs
Day 19 Preparing For a Sales Call
Day 20 Team Selling
Day 21 Just Thinking About You
Day 22 Team Players Make Efficient Sellers
Day 23 Day of Rest, Chill Out and Reflect

Day 24 Influencing Top Level Decision Makers
Day 25 Key Skills and Strengths for Selling Intangibles
Day 26 Reducing Anxiety and Worry
Day 27 15 Ways to Close A Sale
Day 28 Operationalizing Your Sales Process
Want to Close Bigger Deals? Buy the Book: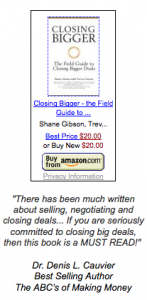 I'm doing a webinar for the Association of Professional Design Firms this morning and while I was compiling a resource list for them I thought I might as well blog it instead.  I've put up a lot of video, podcasts and blog entries up in the past month on Social Media Strategy and tools so I thought I would build a topic map. Most of this content is inspired by the book "Sociable! How Social Media is Turning Sales and Marketing Upside Down."
Resources by Topic:
Why Blogging is An Important Part of Social Media Strategy [Video]
Integrating Social Media Into Your Sales and Marketing Process [Podcast/Blog]
Making Social Media Part of What You Do [Video]
Developing a Social Media Calendar and Implementation Plan [Podcast/Blog]
Sample Social Media Policy [Blog]
What is Social Media Etiquette [Video]
5 Ways to Build a Twitter Following Organically [Blog]
Twitter for Sales and Marketing [Video] Part 1 and Part 2
Social Media ROI [Podcast]
The Future of Sales and Marketing Social CRM [Podcast]
Slides from Today's Presentation: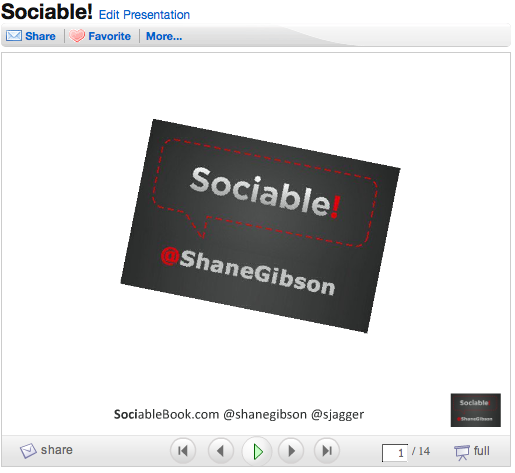 The Manager's Thought for the Day
It is not uncommon for salespeople and/or sales managers to get caught in the throes of everyday problems and miss seeing the trees because of the forest.
In most cases there is much more support and help around us than we can see. If most of us could really appreciate what we do have, and be grateful, most of the time we would never have a motivation problem.
There is power in gratitude. For example; Have you ever been forced into giving a kiss and a hug to a relative or a friend of a friend you couldn't stand? It's not an inspiring experience. As a matter of fact, it can be downright de-motivating. But if you have ever been asked to hug and kiss someone you secretly admired, I bet you found it to be a very pleasant experience. What's the difference between the two?
Having to embrace someone you can't stand, can be de-motivating; embracing someone you admire is motivating.
The same rule applies to situations. Most of us spend time living for tomorrow; living for when we will get that raise, that job, that relationship, or that home. In other words, that's when we will be happy. We don't like where we are now, so let us dream about tomorrow. What this means is we are not living in the now. It also means we often set our objectives or goals from a time, place, or state of mind that we do not like, which means we don't embrace it. Therefore it is de-motivating.
What if you could appreciate the moment and embrace it? It would be inspiring, just like embracing that person you admired.
Gratitude is a powerful motivation. To embrace or appreciate the moment you are in, gives you a deep settled strength, and alleviates anxiety. With this strength you are able to tap into your intuition and be directed into paths that are more meaningful and in tune with who you are. This makes it much easier for you to become enthusiastic and move forward and feel good about the present as well as where you want to go. Having gratitude for where you are now can get you started.
Think about the situation you are in right now that frustrates or even immobilizes you. Now come up with a list of some really positive things that you have going for you right at this moment. Think of things you may be grateful for. A few examples could be good health, living in the country you are in, experience in your field, great relationship with your wife, husband or significant other, certain belongings, past experiences, just to name a few.
Once you finish the list, go back through and mentally say "thank you" to all the circumstances and people you could thank for each one of these. For example; in reference to your health, mentally thank someone who showed you how to eat properly, or who got you involved in some form of physical exercise. Maybe a previous employer believed in balanced living and not just work, work, work. Be sure to thank that person mentally. Thank your government for the facilities that are available and your creator for being so kind to you. As Plato once said; "Happiness is not being in a good state, but rather knowing you are in a good state."
Once you have completed this exercise, you will have experienced the power of appreciation. You will feel much better about the moment. To see the positive in your present circumstances and to feel gratitude about the moment will get you started and keep you going.
Unfortunately, our egos work very hard at stopping us from experiencing gratitude. Very few of us can openly display gratitude on a daily basis to all those people and situations around us. It is much easier to fill our minds and bodies with self-importance, dissatisfaction, criticism, and victim-style thinking, than it is to put these feeling aside and say thank you. Monitor yourself and see how often you resist or justify not having gratitude. Being aware of your anti-gratitude stance alone, can start you on the road to being more grateful and more productive.
As the manager you may want to share this process with your people. Gratitude is one of the greatest internal motivators of all.
(An excerpt from our "Complete Sales Action System")
To Donate the the Vancouver Food Bank Click here or the image below. Every bit helps!
In a Hyper-transparent World You'll Be Found Out
In our book Sociable! Stephen Jagger and I talk about some of the do's and don't's of social media. One thing we talk about is wherever you are, there's a camera, and at 2:00 am that funny twitpic might not be so funny when your boss or your best client sees them.
Steve and I have not learned this by standing at the pulpit looking down at people making silly errors or posting things they shouldn't have. We learned this by doing it ourselves (okay actually most of the dumb things that have been documented were done by me).
I also believe in not deleting, people will catch you and make things worse. So I leave these errors in judgment up, why you might ask? Mostly because they weren't really errors, it was me, my real personality doing these things. Blame it on my Celtic East Coast sense of humor. So in the spirit of full transparency and for charity (please donate) here's some pictures from the last few years that probably should not made it on the internet (better me than someone else posting these!):
#1) Kyle MacDonald (The guy who traded up "One Red Paper Clip" for a house) and I after we left a conference we were speaking at. This is is us at 3:00 am after we emptied a Keg. Kyle is really Superman because he did a fantastic radio interview 4 hours later. (Seriously itemized beer bill).
#2) Everyone who left the Mother of all Meetups at Christmas time left their tags with me (so to speak)
#3) I sorta crashed a womens' only conference for social media after party/tweetup (invited by Colleen), this is what ended up on Twitpic. I look so sincere.
#4) This was just a bad mistake, I wanted a pic of the hat on me but the preview didn't show the bloke in the background (nice personal branding).

#5) No man should ever walk a dog dressed like this. Yes that's my dog.
To Donate the the Vancouver Food Bank Click here or the image below. Every bit helps!
Podcast: Play in new window | Download | Embed
The last podcast I did was about "Getting Real in Social Media" and this is an extension of that. I'm a big proponent of the use of social media marketing and social networking in business. With that said, often social media helps us start a relationship, it can also help us nurture a relationship, but there are core sales skills needed to turn those relationships into revenues. There are dozens of core sales competencies but for this podcast I want to focus on three that social media marketers need to master:
#1) They need to master the art of Rapport Building
#2) They need to get good at Needs Analysis Selling
#3) They need to understand how to sell what people buy, and it's not features, price or technology
To Donate the the Vancouver Food Bank Click here or the image below. Every bit helps!
This blog entry was submitted in support of my 24 hour blogathon for the Vancouver Food Bank (donate here to help feed hunger and poverty). Thank-you Cindy King for all of your support. What an eye opening and incredible blog entry and video. Thanks!
Here it is:
Can You Use Social Media To Get International Sales For Your Business?
As a small business owner based in France targeting North American clients, social media makes good sense for me. And it works my business. Why? Because there are no significant barriers created by cultural differences between the social media I use and the people I connect with.
If you want use social media to develop your international business, there are two things you need to remember.
Sales Techniques
You will need to develop strong international sales negotiation techniques.
This comes with practice. But you must be willing to put in the personal effort needed to develop these skills.
Adapt Your Business
Have a look at the 5 different cultural scales outlined by Geert Hofstede:
· High versus Low Power Distance
· Individualism versus Collectivism
· Masculinity versus Femininity
· High versus Low Uncertainty Avoidance
· Long versus Short Term Orientation
What are these scales? They are an attempt to categorize and explain cultural differences.
I will not go into them here, but click through the link above. It is a very interesting table. You will see scores for a long list of countries for all 5 of these scales. And you can choose your country and another one to see how the two sets of cultural differences compare.
Although these 5 scales seem complex and they have their limitations, it is easy to understand why you need to approach people from different cultures differently.
And International Social Media?
Read the news and open your ears. Social media has hit the world everywhere. Here are a few points to remember:
· There are different social medial platforms in different countries
· What is popular in one country may not be popular in another one
· People use social media differently
It is not easy to get international social media statistics. And I am not sure I would even begin trying to get a comprehensive world vision of social media.
I suggest another approach…
Instead of taking on the whole planet, simply because social media is "free':
· Keep your business in mind.
· Choose one country and jump into their social media environment.
Do not start with social media marketing. Instead:
· Start with social media networking
Get to know how people use social media in their country and then work on finding out how to adapt marketing your business in this new country.
There are some international social media networking scenarios where it is easy to create business relationships from a distance.
If you have any international social media stories to share, I would love to hear them. Please leave a comment below and tell me how you have used social media within part of your sales process.
Cindy King is a Cross-Cultural Marketer & International Sales Strategist based in France.  She uses her dual background in sales & marketing to help businesses improve their international sales conversion and develop country-specific international sales guides. Connect with her on Twitter @CindyKing

To Donate the the Vancouver Food Bank Click here or the image below. Every bit helps!
Sales Best Practices: Keeps track of all the names, titles, and positions of all the key contact people within every account.
This is so basic, you would think everyone would be doing it. Not so.
I was sitting across the desk from the operations manager of the company for which I had worked a number of years earlier. We were reminiscing, and he told me this story.
In the time after I had left this company, it had been swallowed up by a large national company. Now, at number two in the nation, it was again being merged with number three. The government got involved, and mandated that every salesperson fill out a form for every account doing over $100,000 in annual business.
The operations manager described how he looked over the forms as he assembled them to send back to the government. As he did so, he got a sick feeling in his stomach. It seems that on many of the forms, the names listed were nicknames, and there was no title indicated.
He told me that he realized that his salespeople didn't know the full name and correct title of the key contact people in their largest accounts!
While that may sound like an exception to you, I have since discovered that it is the rule, not the exception. The sad truth is that few salespeople have systematically collected and stored the full names and accurate titles of their key contact people. As a result, their proposals and correspondence are amateurish and they look unprofessional to their customers.
Such a simple little thing!
Yet, over and over again, it's not the big things that separate the Top Gun performers from the pack. It's the methodical, disciplined adherence to excellence in the little things.
I know there are thousands of salespeople who are reading this right now, thinking "I already know that." Yet, most of them aren't methodical and systematic in their execution of this practice. It's not what you know that makes you into a Top Gun performer, it is what you do.
That's why the best practices are called "practices."
About the author: Dave Kahle is one of the world's leading sales training educators. Since 1988, Dave has worked with over 400 companies, helping them to increase their sales and develop their sales people. He's been published over 1,000 times, writes a weekly Ezine (subscribe for free at http://www.davekahle.com/mailinglist.htm), and has authored seven books. Dave's website is available at http://www.davekahle.com, and you can follow his sales blog at http://www.davekahle.com/salesblog.
To Donate the the Vancouver Food Bank Click here or the image below. Every bit helps!