I wanted to personally introduce you to a program that can immediately help you boost your company revenues and personal career. It's said that nothing happens until someone sells something. We teach a lot of companies how to use social media to build brand, community and drive leads to that business… but someone still needs to know how to sell to turn that into revenues.
Working with Langara College, international speaker Bill Gibson of Knowledge Brokers (South Africa) and our team here at Socialized we have put together the ultimate sales training program for new sales professionals and professionals that want to add a revenue generating toolkit to their repertoire. The methodologies in this program have been successfully used and implemented by major sales organizations including BMW, ABSA Bank, Gestetner, Vodacom, Siemens and Ford to name a few.
Here's a quick video we shot where Shane Gibson (me) facilitator of the program  walks you through what you will learn.
Our next program starts soon and here are the dates:
Successful Selling Strategies 
(50203) Jan. 14, 2013
Persuasion, Communication & Relationship Building
(50204) Feb. 12, 2013
Motivation, Closing & Keeping Clients
(50205) Mar. 11, 2013
Sales & Planning Toolkit
(50206) Apr. 8, 2013
Each course is 18 hours in duration held over a six week period and consists of weekly reading, presentations, group discussions and live webinars. If participants can't make the date and time of the live-webinar there will be an opportunity to watch a recorded version. All courses have testing built-in and each participant must have a passing grade in all courses to be eligible for the certificate.
This certificate is awarded to students who have successfully completed all four online courses below.
Successful Selling Strategies
Persuasion, Communication & Relationship Building 
Motivation, Closing & Keeping Clients
Sales & Planning Toolkit
Students will have access to their course on the first day using the Blackboard learning system. For course descriptions of our offerings at Langara College this term, please click 
HERE 
 and then on the orange Course Title. Please note that the CRN is the course number for
registration
.  If you have any questions at all, please email Lynn at
lkitchen@langara.bc.ca

E-Book PDF: Open in New Window | Download
Bill Gibson Chair of Knowledge Brokers International has put together a condensed goal setting guide called "Get a Fast Start for 2010." You can download the PDF free here or you can view it via Scrib below. Enjoy!
Bill Gibson Free Goal Setting Guide
I had a number of people (close to 300) complete the 28 Days to Better Selling Program I put on in May and June.  Many of you were asking when I was going to do it again? My next one will be in the fall but it will be marketing focused. With that said, you can do the 28 Days to Better Selling Program at your own pace by following the links below.
Here's how 28 Days to Better Selling Works:
1)    A daily task that you can easily implement to improve your sales and business
2)    A succinct daily lesson to help you make the improvement
By the end of the 28 days you will have looked at 28 ways to fine tune and improve your sales process and business.  The daily lessons will be in written, video or audio format and will take less than 10 minutes each to review.
Day 2 Targeting the Right Referral Sources
Day 3 Prospecting in Person
Day 4 Networking Strategy
Day 5 LinkedIn Prospecting
Day 6 Investigative Prospecting
Day 7 Lead Nurturing
Day 8 Don't Be A Boring Salesperson
Day 9 Listening in Sales
Day 10 Needs Analysis in Sales Part 1
Day 11 Needs Analysis In Sales Part 2
Day 12 Twitter for Sales Part 1
Day 13 Twitter for Sales Part 2
Day 14 Keeping Commitments
Day 15 Selling Benefits and Results
Day 16 Preemptive Objection Handling
Day 17 Sell the Price Different Not The Total Cost
Day 18 Vital Signs
Day 19 Preparing For a Sales Call
Day 20 Team Selling
Day 21 Just Thinking About You
Day 22 Team Players Make Efficient Sellers
Day 23 Day of Rest, Chill Out and Reflect

Day 24 Influencing Top Level Decision Makers
Day 25 Key Skills and Strengths for Selling Intangibles
Day 26 Reducing Anxiety and Worry
Day 27 15 Ways to Close A Sale
Day 28 Operationalizing Your Sales Process
Want to Close Bigger Deals? Buy the Book: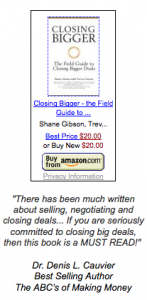 This blog entry was submitted in support of my 24 hour blogathon for the Vancouver Food Bank (donate here to help feed hunger and poverty). Thank-you Cindy King for all of your support. What an eye opening and incredible blog entry and video. Thanks!
Here it is:
Can You Use Social Media To Get International Sales For Your Business?
As a small business owner based in France targeting North American clients, social media makes good sense for me. And it works my business. Why? Because there are no significant barriers created by cultural differences between the social media I use and the people I connect with.
If you want use social media to develop your international business, there are two things you need to remember.
Sales Techniques
You will need to develop strong international sales negotiation techniques.
This comes with practice. But you must be willing to put in the personal effort needed to develop these skills.
Adapt Your Business
Have a look at the 5 different cultural scales outlined by Geert Hofstede:
· High versus Low Power Distance
· Individualism versus Collectivism
· Masculinity versus Femininity
· High versus Low Uncertainty Avoidance
· Long versus Short Term Orientation
What are these scales? They are an attempt to categorize and explain cultural differences.
I will not go into them here, but click through the link above. It is a very interesting table. You will see scores for a long list of countries for all 5 of these scales. And you can choose your country and another one to see how the two sets of cultural differences compare.
Although these 5 scales seem complex and they have their limitations, it is easy to understand why you need to approach people from different cultures differently.
And International Social Media?
Read the news and open your ears. Social media has hit the world everywhere. Here are a few points to remember:
· There are different social medial platforms in different countries
· What is popular in one country may not be popular in another one
· People use social media differently
It is not easy to get international social media statistics. And I am not sure I would even begin trying to get a comprehensive world vision of social media.
I suggest another approach…
Instead of taking on the whole planet, simply because social media is "free':
· Keep your business in mind.
· Choose one country and jump into their social media environment.
Do not start with social media marketing. Instead:
· Start with social media networking
Get to know how people use social media in their country and then work on finding out how to adapt marketing your business in this new country.
There are some international social media networking scenarios where it is easy to create business relationships from a distance.
If you have any international social media stories to share, I would love to hear them. Please leave a comment below and tell me how you have used social media within part of your sales process.
Cindy King is a Cross-Cultural Marketer & International Sales Strategist based in France.  She uses her dual background in sales & marketing to help businesses improve their international sales conversion and develop country-specific international sales guides. Connect with her on Twitter @CindyKing

To Donate the the Vancouver Food Bank Click here or the image below. Every bit helps!
Launches May 18th 2009
If you want to improve your sales and have been too busy to put a plan into place you're not alone.
I have had many people in the sales community including sales professionals, senior executives and high tech entrepreneurs and bloggers who are all looking for ways to convert connections into long-term clients and relationships.
Their challenge is that most resources available are either one time training opportunities, or extensive and over whelming programs that are tough to implement. This program takes care of all of this.
The 28 Days to Better Selling program is completely free and is 100% content and 0% advertising or promotions. All content focused on helping you.
This concept was inspired by a 31 Days to Build a Better Blog program that Problogger.com put on for 12,000 other bloggers. As a participant it was very helpful for me. The concept is simple:
Here's how 28 Days to Better Selling Works:
1) A daily task that you can easily implement to improve your sales and business
2) A succinct daily lesson to help you make the improvement
By the end of the 28 days you will have looked at 28 ways to fine tune and improve your sales process and business. The daily lessons will be in written, video or audio format and will take less than 10 minutes each to review.
To Register for the program please enter your e-mail address below:
I had the fantastic opportunity to spend several days with Jay Levinson (twitter) and his wife Jeannie while I was in Santiago Chile this week.  Jay and I both spoke at the Annual Sales and Marketing conference put together by Seminarium, the leading provider of executive business education in South America.
Jay Levinson has sold over 20 million books on Guerrilla Marketing making him one of the top selling marketing authors in history. Following is a brief video interview I did with Jay on Guerrilla Marketing.
Mack dropped by this blog today and made a comment about Stephen Jagger and I writing our book in 90 days. We felt is was critical that we published this new book on how social media and social networking as soon as possible.
Number one Sociable! and it's principles are needed right now by most of our collective clients.  If we waited a year to release it, and went the traditional book publisher route we would be hypocrites for saying "the rules of business have changed but we are going to write, distribute, market and roll-out our book basically the same it has been done for years."  So we broke a bunch of rules, and we also set some big aggressive goals that are going to create some real momentum.
Here's what Mack had to say:
Undoubtebdly you guys are both experts, but a book in 90 days? As a consumer I am a lot less interested in the book as it seems like something rushed. For you to write three books in a year is a great achievement but as a reader I would prefer one Excellent book in a year instead of three that were quickly banged out.  Maybe my assessment is wrong, I'd love to hear why. (Original comment here)
I would side with Seth Godin on this when he said:
Blogs have eliminated the reason for most business books to exist. If you can say it in three blog posts and reach more people, then waiting a year and putting in all that effort seems sort of pointless. The chances that your effort will be rewarded with income in proportion to the time you put in are pretty low. (See the full post at Seth Godin's Blog)
In order to create ROI for the writer and be relevant to the reader the way books are written, marketed and revised must change. Here's my full response via video (please weigh in and add comments, I really want to know what my readers feel about this subject):

I picked up my copy of Leadership Lessons of the Navy Seals today and it really got me thinking about how casual or loose most sales teams and organizations are. If I was to go into battle (so to speak) how many sales people that I know would I actually bring with me? Who could I count? Who can count on me?  Today's podcast is about how sales management and sales professionals can learn from the leadership lessons of the Navy Seals.
Podcast: Play in new window | Download | Embed
Today's podcast is about applying 5 easy steps to increase the momentum in your business or sales process.  If you have been going through the motions or not feeling motivated today's podcast will hopefully give you a boost.
Podcast: Play in new window | Download | Embed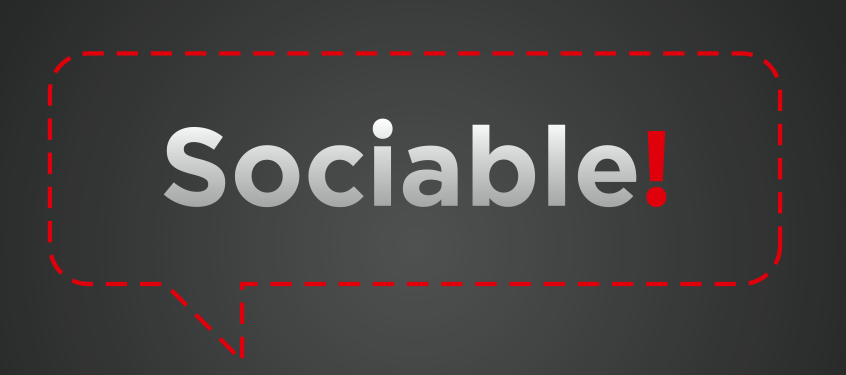 Yesterday was the first day Stephen Jagger and I officially announced our new book Sociable! A book on how social media is turning sales and marketing up-side down.  We did a 30 minute presentation and 25 minute Q&A at the Massive Technology Show in Vancouver. (We will be in Toronto on May7th as well)  The feedback from the seminar was positive and the big question has been when is the book being released?
Based upon feedback from the publisher / printer we're looking at early June as the soft launch of the book.  We will be announcing a series of events around the book in the coming weeks and how you can get advance copies for review.
If you want to be kept up to date on this you can get on our list here: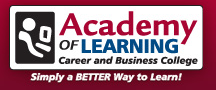 I have been working with the Academy of Learning for over a year to launch this program and it is now available through their network of 145 locations across Canada.
New Program Trains Sales Professionals Who Meet the Demands of Today's Business World
Academy of Learning is pleased to announce the new Sales Professional Diploma program" said Derek Hamill, President of LaunchLife International Inc., the franchisor of Academy of Learning. "Without sales there is no business. Academy of Learning wanted to deliver a first rate diploma program to guide and prepare graduates for top notch sales opportunities, and that's what we did.
Academy of Learning, along with speaker, author and global entrepreneur, Shane Gibson, President of Knowledge Brokers International (KBI), designed the Sales Professional Diploma program with the goal to ensure that every student has the necessary sales knowledge and practical tools to succeed in a sales career.
This program is based upon KBI's methodologies that have been implemented and used by leading business organizations such as SIEMENS, Old Mutual, The Certified Management Accountants of Canada, the Vancouver Board of Trade and dozens of manufacturers and leading financial services companies. Over 100,000 people in the last 10 years have attended KBI's programs in Canada, USA, Southern Africa, South East Asia, the Middle East and South America.
This program will prepare graduates with the right skills to excel as a sales professional.
Some of the key courses and areas of focus in the program include: Principles of Selling, Business Presentations, Professional Selling, Business Negotiations & Contracts, and Business Law and Ethics. Graduates will be prepared with the right tools for lucrative sales careers in disciplines such as inside sales, outside sales, key account management, retail and large business to business sales careers. This program is ideal for individuals entering the workplace for the first time, re-entering the workplace, or current jobholders who want to upgrade or get formal recognition as a sales professional.
Labour conditions for the sales profession have remained consistent. Jobfutures.ca indicates that there is a broad variety of career opportunities in sales in fields such as advertising, wholesale, publications, hospitality, entertainment, travel, as well as in the telecommunication industry. Companies need to be competitive and that means having the right sales person who knows how to win accounts and maintain business relationships.
A labour analysis conducted by Academy of Learning shows sales positions are still key requirements in the workforce. Additional research relating specifically to the sales profession research found that:
Graduates of sales related programs can expect a salary at a mid to slightly higher than average annual salary.
The employment outlook in sales is at a good level for the coming year.
The Globe and Mail newspaper stated that employers are having difficulty filling Sales Representatives positions.
72% of those with previous work experience found a job within one month of graduation.
45% of respondents in the Canadian Professional Sales Association study on "The State of the Sales Nation" stated that finding good sales people was very challenging.
According to Rob Simas, Director, Academic Division at LaunchLife International, "the labour market findings allowed us to develop a comprehensive and focused Sales Professional Diploma program, designed to meet the outcomes and objectives of program standards used by many of the community colleges, without sacrificing vocation and integrity."
Mr. Simas concluded by saying, "We are pleased to provide a program to individuals looking for a well-rounded introduction to sales. We are confident that this program will open the door to entry-level positions within the exciting and rewarding field of sales."