Podcast: Play in new window | Download | Embed
Too many people think a website, Twitter account or well produced video is a strategy — in reality they're just tools. Before you invest money and time in building a brand new site, or devote more time to your social media efforts, it might be a good idea to have a plan.
Today's podcast was inspired by a couple of conversations I have had recently. The recurring issue is people and organizations revamping their websites (some spending thousands and thousands of dollars) and not having a social media strategy before doing so. Many sites are built by well meaning developers or agencies that haven't considered what a truly social site and blog are.
I personally think organizations should have a plan, strategy and spec their sites to be social and easily adaptable to new social media tools and trends (and not cost huge amounts of money in the process). Have a listen to my podcast and let me know your thoughts on this.
Shane Gibson (@ShaneGibson) is a sales and social media speaker who has addressed over 100,000 people on stages on three continents over the past 15 years.  He is also co-author of Guerrilla Social Media Marketing and Sociable! How Social Media is Turning Sales and Marketing Upside-down.  When he's not speaking or Tweeting he is in the social media trenches working with his clients as Chief Social Officer for Socialized! Ltd. a social media agency and training organization.
Podcast: Play in new window | Download | Embed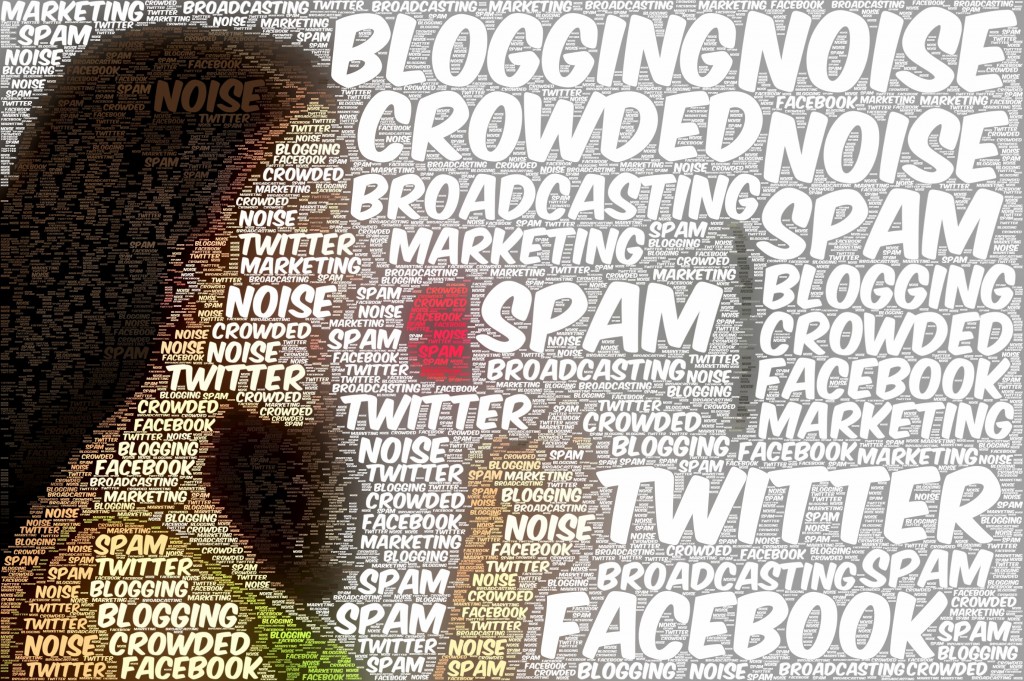 Today's social media podcast is on "How to get above the noise." With over a billion people Tweeting, posting to Facebook and blogging about everything imaginable you have a lot of competition for mind share within your target market.
Today I will talk about three things that will help you rise above the crowd:
Consistency
Niche and Nano-marketing
Connecting (Connection is King. Content is secondary)
This is day 5 of my 30 day podcasting challenge. I will be posting a new podcast everyday for the next 30 days. If you would like to contribute as a guest on the show e-mail me shane@socialized.me. Otherwise a comment, tweet or Facebook share would be greatly appreciated.
The question is formed in many different ways. I get it all the time. What is the best social media or social network for me to use? Which ones will my clients respond best to? Should I use social media or invest in search engine optimization?
These are the wrong questions. Lets use a guerrilla analogy: What's the best weapon for combat? The answer is: You need more than one weapon, you need multiple weapons, multiple approaches and a lot of redundancy and back-up.
Lets step back from "social media marketing" and talk about marketing. We know that the best marketing campaigns use a variety of media and messages. BMW doesn't just use billboards, they use e-mail, micro-sites, online video, direct mail and also encourage user generated content on some of their more social sites. Starbucks is much the same.
The message here is this:
Stop falling in love with social media tools, start falling in love with your customer
Starbucks, BMW, Ford, Comcast and many other successful social media marketers are customer engagement focused. They surround their customers online with multiple opportunities from multiple media to learn, connect and engage. It takes time, frequency of contact and a lot value added interactions to become top of mind with your customer.
EngagementDB.com a project by Altimeter Group and WetPaint studied the web's top brands and looked at the impact of using multiple media and channels versus being a one-weapon marketer. Without exception the brands that used multiple media and channels had greater and faster engagement levels. These brands also happened to be more profitable than the others. This is probably not due to social media use but the fact that they are progressive and strategic at all levels in their businesses.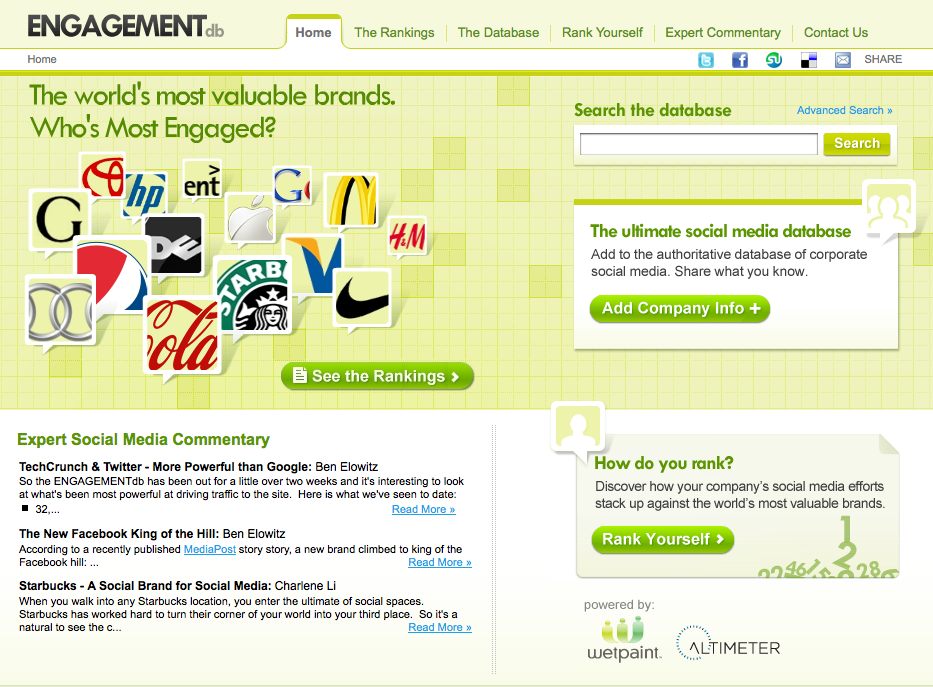 Here's your take-away:
Fall in love with your customer, interact with them in multiple channels and add value. Focus on them, not the tools.
Have an over reaching plan and goal that drives your content creation and interaction
Use all of your social media tools, search marketing and offline marketing in tandem and with the same focus.
Stay on message, stay consistent, and continually engage
What are your thoughts on this? Have you found that multiple media helps you engage faster and more effectively?
-
-
-
Here are a selection of Tweets (Twitter Updates) I recently shared on Twitter (via @shanegibson). I've put them all in one place as a brief social media tip digest.
Social Media Tips:
Unique, brief sound bytes produced consistently can yield great results.
Once in a while ask your FB and Twitter friends for help. See who steps up. This will tell you a lot.
Make a list of people who support you online. Develop a strategy to reciprocate.
Use your experience in social media to predict areas of growth in new regions and niches. Then pay it forward.
You may be awesome blogger but does the world know? SEO, social networks, offline promotions are needed.
Make your events that you promote about the community. Education and collaboration trump pitches.
"Think what's in it for me?" from your target market's perspective.
Using more than one channel / stream shortens your brand engagement curve.
Defining your target market and goals is easy, engaging them is the challenge.
The numbers are exciting but they're just numbers until you make it real and build good relationships.
Engagement is not just about listening; it's about empathy, rapport, and making people feel heard.
Engagement is the goal, social media are the tools.
Thank people who comment on your blog via e-mail or twitter. Let them know you're listening.
Search engine optimization can help you rapidly grow your network and connections. Get good at it.
Develop a list of your top connections/influencers and make sure you're connected on multiple networks.
There is a Trend: Condensed writing, short videos all getting shorter.
Blogging tip. Pick a theme or topic for the month. Plan 7-10 blog entries that build up to 1 core message, event, or action.
Have a series of steps planned and measured to track and develop relationships.
One of your final steps in the social media sales process is to connect offline, on the phone, or at least one on one virtually.
Social Media Speaker Shane Gibson Video on Why Blogging is Critical:
To Donate the the Vancouver Food Bank Click here or the image below. Every bit helps!
Guest blog entry by Tris Hussey, author, blogger, new media maven:
Encouraging comments and discussion
Comments are what keep blogging going. The dialogue and feedback that helps you not only grow as a writer, but also ensures that you stay on track. Through comments you learn, interact, and gain inspiration. I've written entire follow-up posts based a comment from a post. I've also received cease-and-desist letters because of comments as well. Part of getting comments is writing to encourage comments. First step is to make sure comments are enabled (aka turned on) for all your posts. Nine times out of ten the default setting for blog engines is to have comments on, but sometimes they get turned off so just double check. Whether or not anyone can post a comment or if there is some kind of moderation in place is up to you, and I'll get to that shortly.
With comments turned on, the next part is subtler: getting people to leave comments. There isn't a "magic formula" for you to get lots of comments. Sometimes I pull it off, sometimes I don't. In any case here are simple things you can do to help encourage comments:
Leave examples out on purpose. People love to feel that they are contributing by adding to your post.
Ask open-ended questions
Ask for comments directly
Take a contrary or controversial stance to the status quo
Even with these tips, including out-right asking for comments, sometimes a great post just doesn't get any comments. Don't worry, this happens with even the best posts. Sometimes it's the posts that you don't expect to receive any comments to be the one that gets the most. Sometimes you just never know.
Once you do get comments, to keep the flow going you have to respond to the comments you receive. Be open and willing to be proved wrong or challenged. Engaging in a healthy dialogue makes your blog a place where people will go for ideas and inspiration—which means that you will also gain inspiration as well. Every blog, no matter what the topic is, is made better with comments.
This is an excerpt from Tris Hussey's upcoming book on blogging "6 Easy Blogging Projects" published by Pearson. Follow Tris on twitter.
Just for the record I'm one of 26 Vancouver area bloggers that are blogging for 24 hours for charity. Globally according to http://blogathon.org there's 161 bloggers and over $30,000 already raised in the first 6.5 hours of blogging! Here's a list of my friends and fellow Metro Vancouver Bloggers. What to go guys!
Blogger and Supported Charity:
To Donate the the Vancouver Food Bank Click here or the image below. Every bit helps!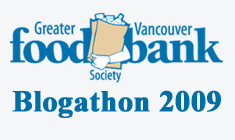 Last year I blogged for 24 hours (49 blog entries) for the MSMF foundation and raised over $1400.00 to help build school in a destitute part of rural India.
Presently there are over 140 bloggers already registered to blog for 24 hours (one blog post every 30 minutes) to raise money for the charity of their choice. We will be blogging from 6 am July 25th 2009 until 6:00 am July 26th 2009.
This year I have decided to blog for something more local. The Greater Vancouver Food bank Society.
With belts tightening due to the economic down turn globally even within affluent regions like Vancouver, BC organizations like the Food Bank are receiving significantly lower cash and food donations this year. With increased unemployment and underemployment there is actually an increased need for their services.
Here's how you can help:
#1 A donation of any amount would be great and can be made through CanadaHelps.org
#2 A donation of $100 or more to sponsor a blog post simply donate the amount and then send me a quick e-mail or comment on my blog. I will either answer a question about social media, sales or leadership that you have, or I can write a 150 word profile of your company. In both instances there will be links back to your site or blog and your photo or logo included. (See Vancouver Board of Trade example from last year here)
#3 Drop off non-perishable goods directly at the Greater Vancouver Food Bank [map] and let me know what was dropped off.
You can see a recent article about the Blogathon here.
Thanks in advance for all of your help and support!
Shane Gibson (Follow my updates on Twitter)
One of my favorite books period, an easy read yet with deep consequences is the book "Ethics 101″ by John C. Maxwell.  Here is an image of the book cover from Amazon.com ( and no this is not an affiliate link):
-
-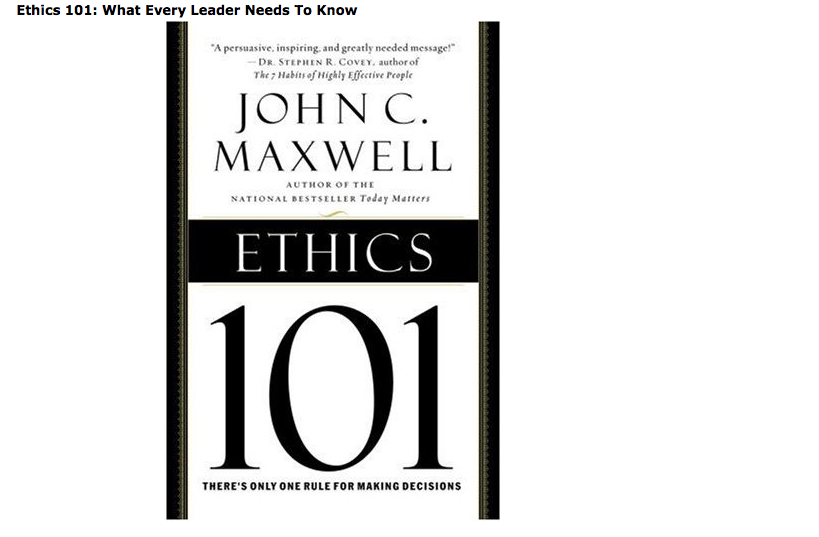 -
Now lets look at a screen cap of the following this Techcrunch Entry titled Our Reaction To Your Reactions To the Twitter Confidential Documents Post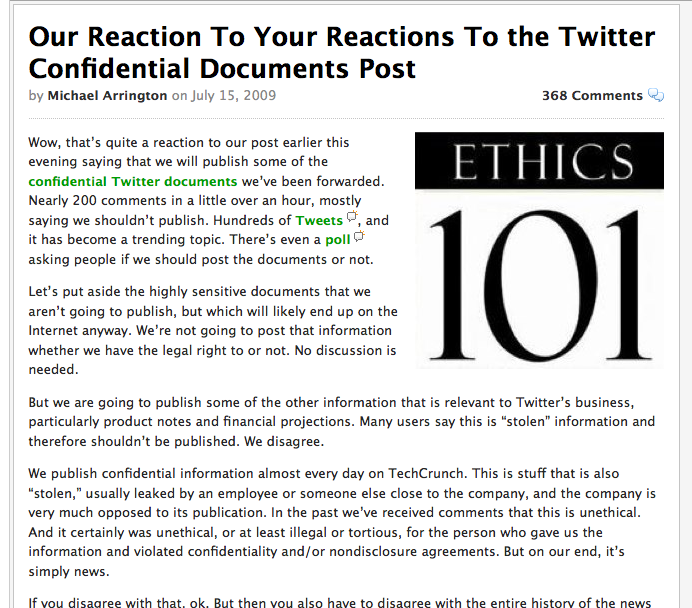 -
-
The irony for me is using an image called "Ethics 101″ but it's an image of the book cover "Ethics 101″ cutting off the authors name and without attribution.  I know this is minor, but as a "blogging 101″ lesson for anyone; don't take images that are not yours and give credit where credit is due.  I wonder if after ones blog gets huge and you have 1000′s of visitors per hour if you no longer have to obey common blogging and attribution etiquette? (I could be wrong, maybe they used the exact font etc. and layout and this is a total coincidence, but well I don't think so.)
I'd love to hear your thoughts on this?