Guerrilla Marketing as Jay Levinson and I discussed in our book Guerrilla Social Media is defined as achieving conventional marketing goals by unconventional means. Ambient marketing is a spin-off of Guerrilla Marketing – you may spend the same dollars but it involves morphing the media and blending the environment and community blurring the lines between ad and viewer making them active participants in in the marketing activity. A couple of these photos may offend… but remember guerrilla marketing focuses on human emotions and depends upon them to take action.
Podcast: Play in new window | Download | Embed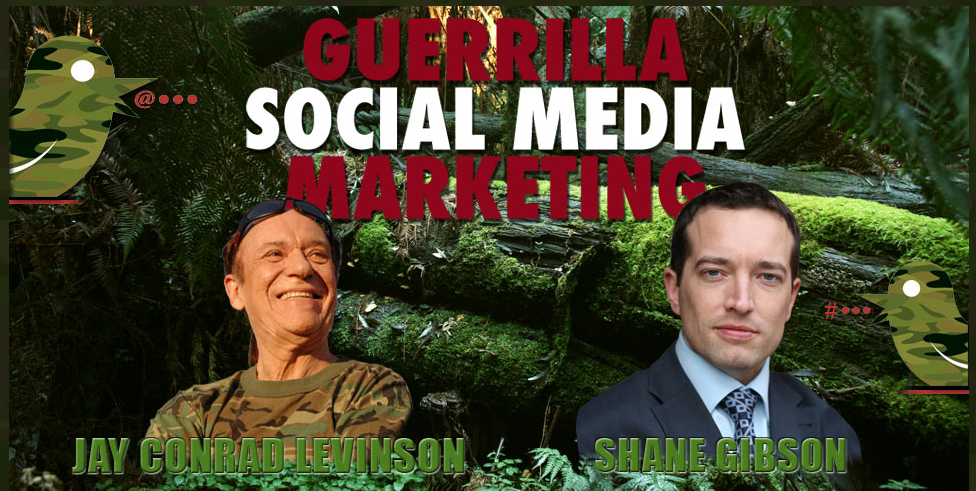 Psychology in marketing is still a rather untapped landscape. Since I stepped into the ring and became a guerrilla author in writing Guerrilla Social Media Marketing with Jay Conrad Levinson I have come across all kinds of misunderstanding, misuse and abuse of the term guerrilla marketing. Today's podcast was inspired by what I can describe as a well meaning (or possibly not) but off-base commenter on the Creative Guerrilla Marketing blog.
I decided instead of just replying in the comments section that I would take the time to respond in the form of a podcast. Why? It's so vital to understand the role of psychology and community in Guerrilla Marketing.
I also think it's important to establish that Guerrilla Marketing is well defined, and it's body of wisdom and definition that is widely accepted and used by over 20 million readers of the Guerrilla Marketing Series of books. Some people will take pieces of the body of wisdom and use them to suit their outlook on marketing but the whole is greater than the sum of the parts. In addition to this just because you slap the term guerrilla on a book, blog post or marketing campaign it doesn't make it guerrilla.
Here are the facts:
The term "guerrilla marketing" was coined by Jay Conrad Levinson and popularized by his best selling book that was released in 1983. Guerrilla Marketing uses unconventional means to achieve conventional goals,  it relies on time, energy and imagination rather than a big marketing budget. (We added community on-top of time, energy and imagination for Guerrilla Social Media Marketing because of the vital role it plays in social media marketing).
Since then over 20,000,000 (that's twenty million) books have been sold and read in Jay Levinson's Guerrilla Marketing series of books making it the #1 best selling series of marketing books in history. Jay's definition is the original and most widely accepted definition and grows by 1million readers and fans per year.
Guerrilla's apply and use the 19 Guerrilla Marketing Secrets (Principles).
Instead of paraphrasing why true guerrillas must understand and depend on psychology, I have posted in Jay's own (timeless) words the importance:
Guerrilla marketing does not rely on guesswork because wrong guesses are so darned expensive. Instead, it relies upon psychology as much as possible. Psychology used to be a body of theories. Today, many of those theories have been debunked while others have been transformed into laws, actual laws of human behavior. Guerrillas lean on these laws because they want certainty to be a hallmark of their marketing.

There are 15 things that all guerrillas know about psychology as marketing is slowly transforming from guesswork into science:

Purchase decisisons are made in the unconscious mind. People may say the words consciously, but they process the data in their unconscious.
We now know how to access the unconscious mind. The way to do it is with repetition. Put these two thoughts together — purchase decisions are made in the unconscious, and you can access the unconscious with repetition, and you begin to understand the entire process of marketing.
People are either left-brained or right-brained. Left-brained people respond to sequential, logical reasons and love marketing that gives ten reasons to buy. Right-brained people respond to emotional, aesthetic appeals and love marketing that looks stunning and tugs at heartstrings. Guerrillas are sure to hit both left and right-brained people.
Businesses that succeed are those that form two bonds with all customers: the human bond and the business bond. The stronger the human bond, the stronger the business bond. Connect up as two human beings before you connect up as buyer and seller.
All marketing has two messages — the stated message and the metamessage. The stated message is what you say. The metamessage, often stronger than the stated message, is what your marketing looks like, feels like, where it appears, what size it is, and how professional it appears.
If you're interested in increasing your share of market, the way to do it is to first increase your share of mind. If you go only for the share of market, don't expect much customer loyalty — or even many customers.
There are two schools of marketing hard at work in America these days — Freudian marketing, which is based on Sigmund Freud's work and aims for a change of attitude — and Skinnerian marketing, based on B.F. Skinner's proof of the power of behavior modification. Which does a guerrilla choose? Both. Guerrillas constantly implant attitudes while peppering their prospects with special offers that require instant action.
During a recession, the tactics that generate sales are: leaning on current customers, enlarging the size of each transaction, offering a guarantee, and showing that high prices are an assurance against making a purchase mistake — something nobody wants to do during a recession.
Realize that people hate taking the hard step of buying something, so guerrillas use soft steps to make the hard step a little easier. Soft steps include things like free consultations, free seminars, brochures, videos, demonstrations, and free samples.
Full color marketing materials increase retention by 57% and increase inclination to buy by 41%. And the cost of full-color drops dramatically if you tell the printer you have the patience to wait for a gang run.
Use as much non-verbal communication as you can. There are only about 250,000 commonly-used words in the English language, but there are 600,000 non-verbal gestures. They are more potent than the spoken words.
You can gain guerrilla marketing power if you blend customer insight with product insight. The more your insight, the better your marketing.
The way guerrillas view their marketing is as an opportunity to help their customers succeed. If you do the same, your profits will show it.
A key to successful marketing is making each of your customers feel a special way. The way they should feel is unique. Not easy, but necessary.
It is essential that you constantly feel a sense of dissatisfaction with your marketing and try to improve it without changing your identity. This personality trait will fare you well in the marketing wars.
So I have a challenge when someone (for their own self-interest) tries to redefine Guerrilla Marketing. Add to it? Great! Innovate? Great! But don't negate, shrink, or dilute it. Back off. It is a timeless body of wisdom that has grown to be mainstream but it is more relevant than today than it was 20 years ago. It works, it's simple, and it's time tested.
Guerrilla Marketing is a body of wisdom and movement. It's bigger and more important than campaigns, tricks, or tactics. To learn more about the book that started the movement (and continues to grow daily and globally). You can visit http://gmarketing.com.
Have a listen to the podcast and tell me what you think!
Like our Facebook Page

Consistent – Guerrilla Social Media Marketing Secret is today's topic. Shane Gibson talks about how consistency is one of the major reasons Gary Vaynerchuck experienced his high level of success.
I have been asked by a number of people what the difference is between most brands and a brand that employs guerrilla social media strategies. Today I thought I would share an excerpt from my upcoming book that answers that question.
What is an authentic guerrilla brand?
It makes promises and statements that can be backed up today, tomorrow and indefinitely.
It is customer-focused and sells and markets to the customer what they need and want.
It is consistent, 24 hours a day, 365 days a year, in any geography or language.
It doesn't take shortcuts for short-term gain; the guerrilla brand builds customers for life.
It is, however, fallible; all brands have imperfections and weaknesses, and a guerrilla brand does not shovel these things under the rug. It takes feedback and improves the customer experience.
It is accessible. No executives are in an ivory tower; no labyrinths have been built to keep out the unhappy customer.
It is focused on a distinct area of true competency and expertise, and that is why people gravitate to the guerrilla brand.
Join our Facebook Page:
Guerrilla Social Media Marketing Official Page | Promote Your Page Too

Podcast: Play in new window | Download | Embed
There are many aspects to success in social media. Having a solid goal, knowing your core target market and of course monitoring social media conversations and your brand. Producing great content and engaging community are also vital. All of this has to be grounded in a solid implementation plan in order to work over the long term. A goal, great content, and community engagement are not enough to succeed using social media as a marketer, sales person or entrepreneur. We also need to ensure that we are consistent in our approach, message and community involvement.
Today's podcast is about the importance of a social media calendar for individuals and organizations. I have also provides a social media calendar template that Jay Levinson and I developed for Guerrilla Social Media Marketing.
Have a listen, download the sample social media calendar and then let me know how it works for you.
Download the sample Social Media Calendar (WORD) and Social Media Calendar (PDF)
Excerpt from Guerrilla Social Media Marketing by Shane Gibson and Jay Conrad Levinson:
.tel: This is a new domain name extension but it's more than just another domain. Yourname.tel, Yourproduct.tel and yourcompany.tel are vital guerrilla tools. A .tel domain is driven by a proprietary software that integrates a variety of SmartPhone and web based applications. Embedded in the .tel are your contact details and key information. With a click of a button your prospects can immediately download your contact information into their address book or cellular phone. George Moen CEO of Blenz Coffee has a business card with no phone numbers, addresses or e-mail on it. It simply says GeorgeMoen.tel.
What the .tel network is building is worlds biggest phone book that dynamically integrates into websites and applications. Anytime you update your contact details in your .tel dashboard it automatically updates all of the other sites and the Smartphone applications. How many times have you been somewhere and forgot your business cards? Now you can simply tell people to visit yourname.tel, yourproduct.tel or yourcompany.tel, and most people will find that easy to remember and easy to do.
Copyright 2010 Jay Conrad Levinson, Shane Gibson and Entrepreneur Press
The question is formed in many different ways. I get it all the time. What is the best social media or social network for me to use? Which ones will my clients respond best to? Should I use social media or invest in search engine optimization?
These are the wrong questions. Lets use a guerrilla analogy: What's the best weapon for combat? The answer is: You need more than one weapon, you need multiple weapons, multiple approaches and a lot of redundancy and back-up.
Lets step back from "social media marketing" and talk about marketing. We know that the best marketing campaigns use a variety of media and messages. BMW doesn't just use billboards, they use e-mail, micro-sites, online video, direct mail and also encourage user generated content on some of their more social sites. Starbucks is much the same.
The message here is this:
Stop falling in love with social media tools, start falling in love with your customer
Starbucks, BMW, Ford, Comcast and many other successful social media marketers are customer engagement focused. They surround their customers online with multiple opportunities from multiple media to learn, connect and engage. It takes time, frequency of contact and a lot value added interactions to become top of mind with your customer.
EngagementDB.com a project by Altimeter Group and WetPaint studied the web's top brands and looked at the impact of using multiple media and channels versus being a one-weapon marketer. Without exception the brands that used multiple media and channels had greater and faster engagement levels. These brands also happened to be more profitable than the others. This is probably not due to social media use but the fact that they are progressive and strategic at all levels in their businesses.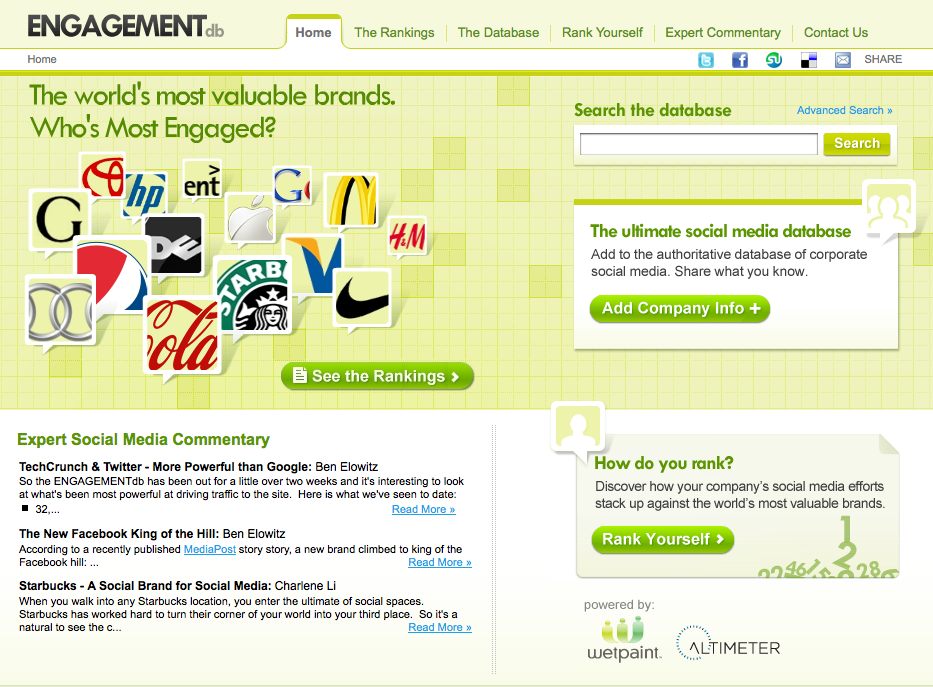 Here's your take-away:
Fall in love with your customer, interact with them in multiple channels and add value. Focus on them, not the tools.
Have an over reaching plan and goal that drives your content creation and interaction
Use all of your social media tools, search marketing and offline marketing in tandem and with the same focus.
Stay on message, stay consistent, and continually engage
What are your thoughts on this? Have you found that multiple media helps you engage faster and more effectively?
-
-
-
Here's another excerpt from the book I'm working on with Jay Conrad Levinson.
Truth:
Marketing is the truth made fascinating. Guerrilla social media marketing is about using all of the tools available to tell your fascinating brand story in a way that drives trust, consent and profits. With that said, guerrillas tell the truth and they tell the whole truth. With social media networks and platforms the millions of people that inhabit them quickly detect lies or half-truths. Misinformation or false pretenses can be profitable in the short-term but over the long term not telling the truth will destroy the customer's trust, credibility and ultimately your fragile reputation.
Copyright 2010 -  Jay Conrad Levinson, Shane Gibson and Entrepreneur Press
Jay Levinson and I put our heads together and came up with "The 10 Personality traits of a Guerrilla Social Media Marketer" they will be part of a program we're developing together.  I thought I would give you a sneak peek into these traits and the Guerrilla way:
Immune to hype:
There is a lot of hype around social media. The Guerrilla searches for truth, verifies information and executes with dependable tools and strategies.
Curiosity:
Penicillin was invented serendipitously.  Guerrillas aren't afraid to experiment, make mistakes or try new things to gain a competitive advantage.
The ability to sprint:
There will be small windows of opportunity and the Guerrilla is always ready to exploit them with all of their energy passion and resources.
The ability to run marathons:
Many battles are battles of attrition. Guerrillas know how to wear their competition down and build a presence through consistency.
Transparent:
A Guerrilla knows that truth, empathy and integrity are keys to social media marketing, and they build trust and loyalty through transparency.
Community focused
A Guerrilla builds, connects and helps the community.  Within that community are other Guerrilla Allies that will be their assets.
Profit driven
A Guerrilla measures success by profits, not clicks, visitors, or any "cool factor."
8. Tech hungry
Technology is the Guerrilla's Social Media Marketers core weapon and competency. They are always learning more about technology.
Self-developer
A Guerrilla knows that technology and business moves fast. They are constantly learning more to stay ahead of the competition.
Leadership mentality
A Guerrilla observes the community and gathers intelligence but they are always thinking about what is next. They create trends, unique solutions and are thought leaders.
Copyright 2008-2009 Jay Levinson and Shane Gibson
Guerrilla Marketing Official Page


Promote Your Page Too
This is part part 7 of the 19 Guerrilla Social Media Marketing Secrets inspired by Jay Levinson and adapted by Shane Gibson (me). Here's today's 2 Guerrilla Social Media Marketing Tips:
18.    Experiment – You will have little failures before you have one big success.  Constantly test and be curious about the psychology behind what motivates and engages your customers, prospects and the online communities you participate.  Remember that penicillin and gun powder were both invented by accident.  Have fun, be engaging and bold and most importantly observe everything.
19.     Implement – The world belongs to those who are willing to implement.  Put a solid marketing calendar together that includes core social media disciplines.  Blog at least 3 times per week, update your Twitter status five or more times per day, spend at least 30 minutes a day pro-actively listening to your audience. Constantly devour information on how to hone your skills as a Guerrilla Social Media Marketer.
Guerrilla Social Media Marketing Secrets Part 1
Guerrilla Social Media Marketing Secrets Part 2
Guerrilla Social Media Marketing Secrets Part 3
Guerrilla Social Media Marketing Secrets Part 4
Guerrilla Social Media Marketing Secrets Part 5
Guerrilla Social Media Marketing Secrets Part 6
Subscribe to this blog via e-mail:
Last week I posted Guerrilla Social Media Marketing secrets 1,2 and 3. There are 19 Guerrilla Marketing secrets and after chatting with Jay Levinson he gave me the go ahead to share a few more. So here's secrets 4,5 and 6 based upon my interpretation of Jay's 19 secrets:
3.    Consistent – Don't change your identity.  Brands, relationships, trust, and technology all take time for adoption and acceptance. Be consistent with your message and on-line social media identity.
4.    Confident – You must be confident and instill confidence in the customer.  Use social media to listen to your customers.  Jay says, "Service is anything the customer wants it to be." Listen! He goes on to say, "Quality is what customers get out of your product. "  This is great information that can help you provide specific, on topic, brilliant solutions to your target market's pains.
5.    Patient – Be patient. Be patient with yourself, it will take you time to master the Guerilla Marketing "Weapons of Social Media." Be patient as you build a community online, build roots and a foundation that will be un-shakable.  Be patient with your target market, they will rush in to use and engage in social media, but they will do it in their time-frame.