Guerrilla Social Media Marketing Secret – Commitment
I have been asked by a number of people what the difference is between most brands and a brand that employs guerrilla social media strategies. Today I thought I would share an excerpt from my upcoming book that answers that question.
What is an authentic guerrilla brand?
It makes promises and statements that can be backed up today, tomorrow and indefinitely.
It is customer-focused and sells and markets to the customer what they need and want.
It is consistent, 24 hours a day, 365 days a year, in any geography or language.
It doesn't take shortcuts for short-term gain; the guerrilla brand builds customers for life.
It is, however, fallible; all brands have imperfections and weaknesses, and a guerrilla brand does not shovel these things under the rug. It takes feedback and improves the customer experience.
It is accessible. No executives are in an ivory tower; no labyrinths have been built to keep out the unhappy customer.
It is focused on a distinct area of true competency and expertise, and that is why people gravitate to the guerrilla brand.
Join our Facebook Page:
Guerrilla Social Media Marketing Official Page | Promote Your Page Too

A common question I get from business to business focused marketers and sales professionals is: "Does social media marketing and social networking really work in the B2B space?"
I posed this same question to Jeff Booth CEO of Builddirect.com and here was the answer he gave me:
"Social media is not really about B2C or B2B it's about P2P or person-to-person communications and adding value."  – Jeff Booth CEO Builddirect.com (the worlds largest online wholesaler of building supplies.)
The reality is that the majority of decision makers or their direct influencers use the web to find information on a vendor and the individual employees they are dealing with. I have compiled a short list of resources and blogs that you may find useful in deciding is social media marketing will work for your organization.
Here are some statistics and quotes regarding social media in the commercial space:
…69% of B2B buyers use social networks "primarily for business networking and development." (About.com)
…Stereotypes may have C-level executives delegating research to others, but the study reveals that 53% prefer to search the Web and locate information themselves. – Google and Forbes Insights Study (2009)
Social media is not a separate silo or discipline, in fact, companies in the Business-to-Business space like Builddirect.com, Oracle, SAP, Intel, Accenture, GE, and Siemens have found that is most effective when integrated with existing sales and marketing processes. They also have found it has given them a significant advantage over their less socially engaged competitors. (An entire engagement study can be found at http://engagementdb.com )
B2B Social Media Reading and Resources: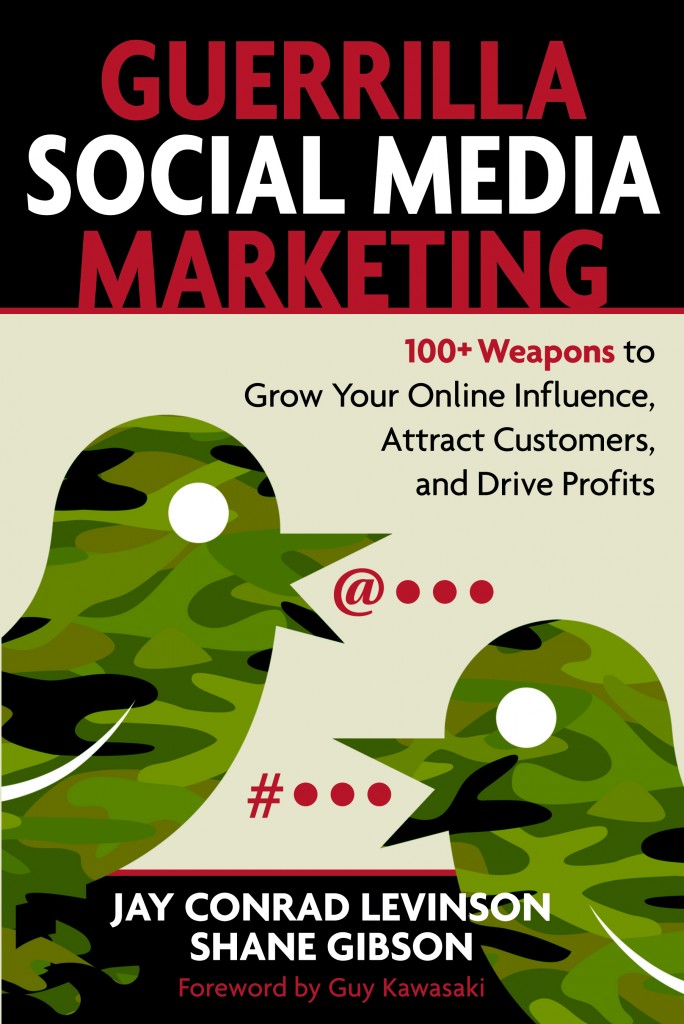 Since late 2009 Jay Conrad Levinson and I have been working on our new book Guerrilla Social Media Marketing. It's the latest in the Guerrilla Marketing series of books, the top selling marketing series of books of all time (20 million copies sold). I know Jay personally and when the opportunity came up to write the book I jumped at it. It wasn't until 1/2 way through the book did I realize the magnitude of the opportunity (and the work entailed in living up to the Guerrilla Marketing brand).
You can order it here or join the Facebook page here.
In the meantime I thought I would share the foreword written by Guy Kawasaki of Alltop.com:
How to Become a Social Media Guerrilla
I first met Jay Conrad Levinson, the father of guerrilla marketing, when I interviewed him in early 90s. I met Shane Gibson at an Olympic Hockey Tweetup in Vancouver, Canada. When Shane told me that he and Jay were working in this latest volume of the Guerrilla Marketing series about social media, he captivated my interest because the two are a match made in heaven.
Alltop owes its success to social-media guerrilla marketing. We used Twitter and Facebook to create Alltop evangelists, galvanize our supporters and critics, and generate page views and brand awareness. We also tapped community and built multiple nano-casts of content for the nano-markets that Jay and Shane talk about in this book.
The combination of the social media and guerrilla marketing enables entrepreneurs to level the playing field in their industry. Capitalizing on social media is not just about using them as tools but taking matters beyond this and making them guerrilla-marketing weapons.
Jay and Shane have crafted a comprehensive guide for the marketer, entrepreneur, or executive that is serious about profiting from social media. The challenges that people face in social media are:
• What tools to use and how to use them profitably.
• Finding and engaging profitable target markets.
• How to build community and then raving fans.
• What and how to measure ROI.
This book answers all these issues. It's not an easy path; it will take discipline, tenacity, and creativity. For those who are willing to pay this price, Jay and Shane have provided the ultimate roadmap needed to achieve your goal.
Guy Kawasaki
Guy Kawasaki is a founding partner and entrepreneur-in-residence at Garage Technology Ventures. He is also the co-founder of Alltop.com, an "online magazine rack" of popular topics on the web. Previously, he was an Apple Fellow at Apple Computer, Inc. Guy is the author of nine books including Reality Check, The Art of the Start, Rules for Revolutionaries, How to Drive Your Competition Crazy, Selling the Dream, and The Macintosh Way. He has a BA from Stanford University and an MBA from UCLA as well as an honorary doctorate from Babson College.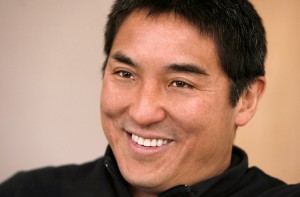 This is another (unedited) excerpt from Guerrilla Social Media Marketing a new book by Jay Conrad Levinson and Shane Gibson set for release in September 2010.
Engagement pages are designed to capture hearts and minds, not just e-mail addresses.

Traditional internet marketers rely heavily on controlling the behavior of their visitors. This means reducing options and choices. What is commonly referred to as a squeeze page is a good example of this. Squeeze pages usually are completely void of navigation buttons or links to other pages or websites, and give the visitor one of two choices: to read the marketing copy and then make a choice to either fill in their personal information and give consent or to leave. Although this will capture a percentage of visitors who are ready, willing or able to buy or give consent right now, it also repels visitors who could have become good clients if they had only been engaged in a credible manner.

Engagement pages have some similarities to a squeeze page, in that their purpose is also to gain consent and generate subscribers. The difference is: the engagement page offers the visitor multiple options, mediums and pathways to learn more about how the guerrilla's business can benefit and add value to the visitor's life or business. It also provides multiple subscription options.
As a reader what are your thoughts on this? Do you use landing pages or engagement pages? What is your impression or sentiment toward organizations that funnel you into squeeze pages?
This is another (unedited) excerpt from the new book Jay Conrad Levinson and I are writing:
Guerrillas know that social media and social networks are bi-directional communications tools. Most of your competitors will be stingy with their real level of interaction and conversations with the marketplace. Chat more, contribute more, and listen more than your competitors.
| | |
| --- | --- |
| Traditional Marketers Say: | Guerrillas Know: |
| Being conversational doesn't scale. | Positive conversations can go viral via online word of mouth and grow your brand geometrically. |
| You should find a way to automate your interaction and responses. | Taking the time to personally tailor our messages and communications creates rapport and trust in our brand. Trust in our brand means business. |
| Broadcast messages across multiple channels, it's a numbers game. | Listening to multiple communities online can help us respond with the right message, to the right prospect at the right time. It means we don't waste money, time or create noise. |
| Tease the market with free reports, meager discounts, and mass appeal offers. | Giving real value, truly customized solutions, and things that will help our market will create loyalty and a desire to reciprocate and do business with us. |
| If you don't get a return on investment from a community or target market, move on quickly and find a more receptive market. | It takes many conversations and value added interactions to gain the trust, loyalty and mindshare of a community. Having ongoing dialogue and involvement with our connections is what it takes to make a guerrilla marketing attack fully pay. Investing long-term in the right market is always a good strategy. |
Guerrilla Social Media Marketing – Copyright 2010 Jay Conrad Levinson – Shane Gibson & Entrepreneur Press
This is another (unedited) excerpt from the new book Jay Conrad Levinson and I are writing:
A guerrilla positioning story tells your specific niche the following:
1. What your corporate values are and what you represent
2. What you offer and specifically what business you are in
3. What makes you unique, and distinct
4. What you do better than anyone else
5. Who loves to do business with you (your target markets)
Guerrillas position through stories and conversations
The first step in positioning through social media is to get to know your audience intimately. Commonly referred to as social media monitoring tools, guerrilla intelligence tools allow you to sort through the millions of possible blog posts, Tweets, and videos honing in on relevant conversations by your target market. Once this target market has been identified, and their true needs, wants, communications style and culture has been determined then the conversation begins. It's not a sales pitch, it's a series of questions, value added content, and engaging conversations using multiple social media. Over time each of these little interactions forms and tells your positioning story. How you answer questions, share information and produce content must be consistent with your brand and the positioning story you want to tell.
Guerrilla Social Media Marketing – Copyright 2010 Jay Conrad Levinson – Shane Gibson & Entrepreneur Press
Here's another excerpt from the book I'm working on with Jay Conrad Levinson.
Truth:
Marketing is the truth made fascinating. Guerrilla social media marketing is about using all of the tools available to tell your fascinating brand story in a way that drives trust, consent and profits. With that said, guerrillas tell the truth and they tell the whole truth. With social media networks and platforms the millions of people that inhabit them quickly detect lies or half-truths. Misinformation or false pretenses can be profitable in the short-term but over the long term not telling the truth will destroy the customer's trust, credibility and ultimately your fragile reputation.
Copyright 2010 -  Jay Conrad Levinson, Shane Gibson and Entrepreneur Press
This is attribute #6 of the Top Ten Attributes of a Guerrilla Social Media Marketer. (unedited excerpt from my upcoming November 2010 book published by Entrepreneur Press and co-authored with Jay Levinson):
#6) Free and Variable

It is important to use free digital give away's that have real value and customer benefits. Then of course we need a variety of paid options to upgrade to. One size fits all doesn't work anymore, people want very personalized options tailored to their particular taste and desires.
Lego.com effectively applies the concept of free and variable and is profiting greatly from it. Using soft steps to gradually build consent from the customer is a key guerrilla strategy. Starting with free and highly interactive games kids and adults alike quickly develop a loyalty and positive association to the Lego brand and the toys in the game. There's not one, two or ten games; there are dozens with varying complexity and appeal.
Of course the real winner is the free Lego DesignByMe downloadable software. This digital design software allows the user to virtually build Lego models using thousands of Lego pieces that are stored in it's database.  The user can rotate a 3D model in any direction adding pieces, color and functionality and also calculate the exact cost of building and purchasing the model they have built. Once they are happy with their unique design, which fits their personal budget they then can even design a custom box cover and packaging. Lego will put all the pieces in the customer-designed box, complete with instructions to help the customer put together their model in real life and then they ship it to them directly from the factory.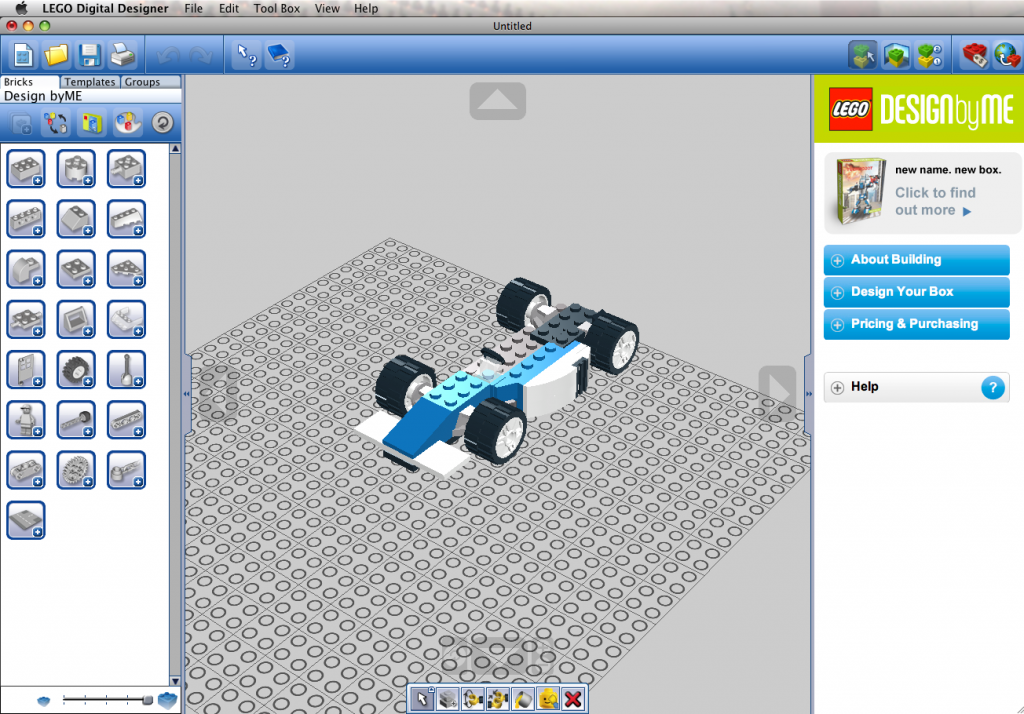 The software has a social aspect as well, allowing members to add friends, and also share and vote on designs. There's also several ways users can share their designs with friends and family who may want to purchase the custom Lego for them as a gift.
Free digital give away's build trust and allow the customer to experience our brand without risk. With trust we can garner consent to communicate and market to them. Variable customized options make it easier for customers to purchase and re-purchase. In the case of LEGO there's always a new, exciting model to be purchased because the options are limitless.
Copyright 2010 Shane Gibson, Jay Conrad Levinson and Entrepreneur Press
Jay Levinson and I put our heads together and came up with "The 10 Personality traits of a Guerrilla Social Media Marketer" they will be part of a program we're developing together.  I thought I would give you a sneak peek into these traits and the Guerrilla way:
Immune to hype:
There is a lot of hype around social media. The Guerrilla searches for truth, verifies information and executes with dependable tools and strategies.
Curiosity:
Penicillin was invented serendipitously.  Guerrillas aren't afraid to experiment, make mistakes or try new things to gain a competitive advantage.
The ability to sprint:
There will be small windows of opportunity and the Guerrilla is always ready to exploit them with all of their energy passion and resources.
The ability to run marathons:
Many battles are battles of attrition. Guerrillas know how to wear their competition down and build a presence through consistency.
Transparent:
A Guerrilla knows that truth, empathy and integrity are keys to social media marketing, and they build trust and loyalty through transparency.
Community focused
A Guerrilla builds, connects and helps the community.  Within that community are other Guerrilla Allies that will be their assets.
Profit driven
A Guerrilla measures success by profits, not clicks, visitors, or any "cool factor."
8. Tech hungry
Technology is the Guerrilla's Social Media Marketers core weapon and competency. They are always learning more about technology.
Self-developer
A Guerrilla knows that technology and business moves fast. They are constantly learning more to stay ahead of the competition.
Leadership mentality
A Guerrilla observes the community and gathers intelligence but they are always thinking about what is next. They create trends, unique solutions and are thought leaders.
Copyright 2008-2009 Jay Levinson and Shane Gibson
Guerrilla Marketing Official Page


Promote Your Page Too
Podcast: Play in new window | Download | Embed
I was recently asked to summarize the what marketers must know about social media marketing by Jay Levinson. I was about to answer him when he added a stipulation in, in 3 points, only 3 summarize what marketers must know about social media. I thought I would share with you what I shared with him:
It's a conversation – As marketers in the past we have been awarded based upon our ability to craft messages and broadcast to an audience, a niche or a market segment.  People no longer want to be talked at.  In fact their conversations with each other on Twitter, Facebook, or even the videos they post on YouTube impact and define major brands.  As social media marketers we need to get involved in those conversations if we want to effectively brand and market online.
It's a listening tool – More than a conversation, social media marketing is about listening.  We need to be listening for opportunities to engage with people that are talking about our brand.  Social media gives us the opportunity to engage at the instant someone is talking about us (if we're listening), and have relevant, personal and authentic conversations with our customers.  Use tools like Twitter search, Google Alerts, and SocialMention.com to monitor those conversations.
Social media belongs to everyone, which is good and bad, it forces you to be different to win – As a marketer you no longer have control or a monopoly on a medium.  Social media tools are in everyone's hands.  This is great news for anyone who wants to create a brand and generate revenues online.  This is also a bad thing, because it creates a lot of noise. You must have a distinctive message, offering and leadership style if you want to get noticed online.  To win you must be more engaging, add more value, and be more creative than everyone else if you want to rise above the noise.