Podcast: Play in new window | Download | Embed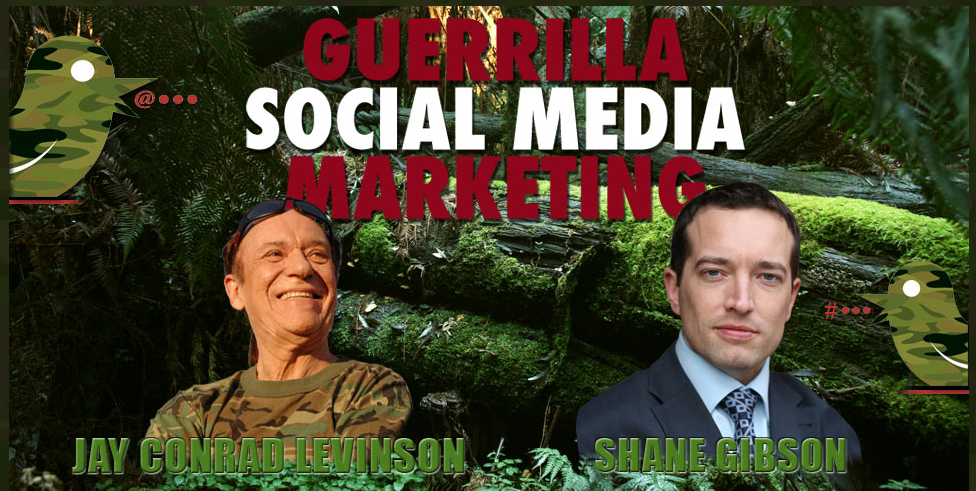 Psychology in marketing is still a rather untapped landscape. Since I stepped into the ring and became a guerrilla author in writing Guerrilla Social Media Marketing with Jay Conrad Levinson I have come across all kinds of misunderstanding, misuse and abuse of the term guerrilla marketing. Today's podcast was inspired by what I can describe as a well meaning (or possibly not) but off-base commenter on the Creative Guerrilla Marketing blog.
I decided instead of just replying in the comments section that I would take the time to respond in the form of a podcast. Why? It's so vital to understand the role of psychology and community in Guerrilla Marketing.
I also think it's important to establish that Guerrilla Marketing is well defined, and it's body of wisdom and definition that is widely accepted and used by over 20 million readers of the Guerrilla Marketing Series of books. Some people will take pieces of the body of wisdom and use them to suit their outlook on marketing but the whole is greater than the sum of the parts. In addition to this just because you slap the term guerrilla on a book, blog post or marketing campaign it doesn't make it guerrilla.
Here are the facts:
The term "guerrilla marketing" was coined by Jay Conrad Levinson and popularized by his best selling book that was released in 1983. Guerrilla Marketing uses unconventional means to achieve conventional goals,  it relies on time, energy and imagination rather than a big marketing budget. (We added community on-top of time, energy and imagination for Guerrilla Social Media Marketing because of the vital role it plays in social media marketing).
Since then over 20,000,000 (that's twenty million) books have been sold and read in Jay Levinson's Guerrilla Marketing series of books making it the #1 best selling series of marketing books in history. Jay's definition is the original and most widely accepted definition and grows by 1million readers and fans per year.
Guerrilla's apply and use the 19 Guerrilla Marketing Secrets (Principles).
Instead of paraphrasing why true guerrillas must understand and depend on psychology, I have posted in Jay's own (timeless) words the importance:
Guerrilla marketing does not rely on guesswork because wrong guesses are so darned expensive. Instead, it relies upon psychology as much as possible. Psychology used to be a body of theories. Today, many of those theories have been debunked while others have been transformed into laws, actual laws of human behavior. Guerrillas lean on these laws because they want certainty to be a hallmark of their marketing.

There are 15 things that all guerrillas know about psychology as marketing is slowly transforming from guesswork into science:

Purchase decisisons are made in the unconscious mind. People may say the words consciously, but they process the data in their unconscious.
We now know how to access the unconscious mind. The way to do it is with repetition. Put these two thoughts together — purchase decisions are made in the unconscious, and you can access the unconscious with repetition, and you begin to understand the entire process of marketing.
People are either left-brained or right-brained. Left-brained people respond to sequential, logical reasons and love marketing that gives ten reasons to buy. Right-brained people respond to emotional, aesthetic appeals and love marketing that looks stunning and tugs at heartstrings. Guerrillas are sure to hit both left and right-brained people.
Businesses that succeed are those that form two bonds with all customers: the human bond and the business bond. The stronger the human bond, the stronger the business bond. Connect up as two human beings before you connect up as buyer and seller.
All marketing has two messages — the stated message and the metamessage. The stated message is what you say. The metamessage, often stronger than the stated message, is what your marketing looks like, feels like, where it appears, what size it is, and how professional it appears.
If you're interested in increasing your share of market, the way to do it is to first increase your share of mind. If you go only for the share of market, don't expect much customer loyalty — or even many customers.
There are two schools of marketing hard at work in America these days — Freudian marketing, which is based on Sigmund Freud's work and aims for a change of attitude — and Skinnerian marketing, based on B.F. Skinner's proof of the power of behavior modification. Which does a guerrilla choose? Both. Guerrillas constantly implant attitudes while peppering their prospects with special offers that require instant action.
During a recession, the tactics that generate sales are: leaning on current customers, enlarging the size of each transaction, offering a guarantee, and showing that high prices are an assurance against making a purchase mistake — something nobody wants to do during a recession.
Realize that people hate taking the hard step of buying something, so guerrillas use soft steps to make the hard step a little easier. Soft steps include things like free consultations, free seminars, brochures, videos, demonstrations, and free samples.
Full color marketing materials increase retention by 57% and increase inclination to buy by 41%. And the cost of full-color drops dramatically if you tell the printer you have the patience to wait for a gang run.
Use as much non-verbal communication as you can. There are only about 250,000 commonly-used words in the English language, but there are 600,000 non-verbal gestures. They are more potent than the spoken words.
You can gain guerrilla marketing power if you blend customer insight with product insight. The more your insight, the better your marketing.
The way guerrillas view their marketing is as an opportunity to help their customers succeed. If you do the same, your profits will show it.
A key to successful marketing is making each of your customers feel a special way. The way they should feel is unique. Not easy, but necessary.
It is essential that you constantly feel a sense of dissatisfaction with your marketing and try to improve it without changing your identity. This personality trait will fare you well in the marketing wars.
So I have a challenge when someone (for their own self-interest) tries to redefine Guerrilla Marketing. Add to it? Great! Innovate? Great! But don't negate, shrink, or dilute it. Back off. It is a timeless body of wisdom that has grown to be mainstream but it is more relevant than today than it was 20 years ago. It works, it's simple, and it's time tested.
Guerrilla Marketing is a body of wisdom and movement. It's bigger and more important than campaigns, tricks, or tactics. To learn more about the book that started the movement (and continues to grow daily and globally). You can visit http://gmarketing.com.
Have a listen to the podcast and tell me what you think!
Like our Facebook Page

I have been asked by a number of people what the difference is between most brands and a brand that employs guerrilla social media strategies. Today I thought I would share an excerpt from my upcoming book that answers that question.
What is an authentic guerrilla brand?
It makes promises and statements that can be backed up today, tomorrow and indefinitely.
It is customer-focused and sells and markets to the customer what they need and want.
It is consistent, 24 hours a day, 365 days a year, in any geography or language.
It doesn't take shortcuts for short-term gain; the guerrilla brand builds customers for life.
It is, however, fallible; all brands have imperfections and weaknesses, and a guerrilla brand does not shovel these things under the rug. It takes feedback and improves the customer experience.
It is accessible. No executives are in an ivory tower; no labyrinths have been built to keep out the unhappy customer.
It is focused on a distinct area of true competency and expertise, and that is why people gravitate to the guerrilla brand.
Join our Facebook Page:
Guerrilla Social Media Marketing Official Page | Promote Your Page Too

Podcast: Play in new window | Download | Embed
There are many aspects to success in social media. Having a solid goal, knowing your core target market and of course monitoring social media conversations and your brand. Producing great content and engaging community are also vital. All of this has to be grounded in a solid implementation plan in order to work over the long term. A goal, great content, and community engagement are not enough to succeed using social media as a marketer, sales person or entrepreneur. We also need to ensure that we are consistent in our approach, message and community involvement.
Today's podcast is about the importance of a social media calendar for individuals and organizations. I have also provides a social media calendar template that Jay Levinson and I developed for Guerrilla Social Media Marketing.
Have a listen, download the sample social media calendar and then let me know how it works for you.
Download the sample Social Media Calendar (WORD) and Social Media Calendar (PDF)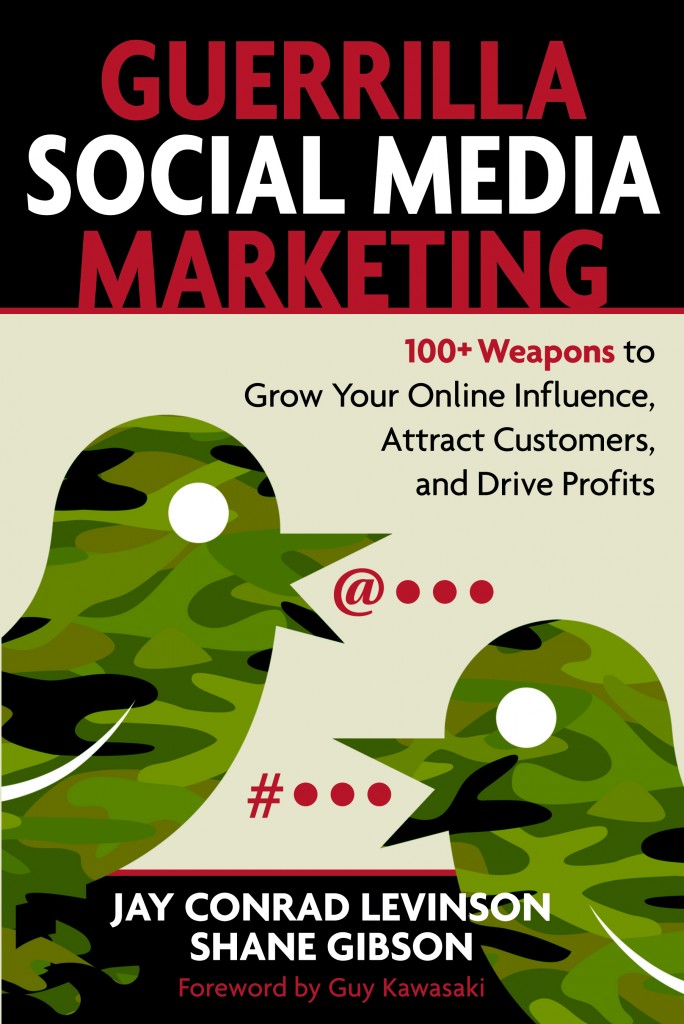 Since late 2009 Jay Conrad Levinson and I have been working on our new book Guerrilla Social Media Marketing. It's the latest in the Guerrilla Marketing series of books, the top selling marketing series of books of all time (20 million copies sold). I know Jay personally and when the opportunity came up to write the book I jumped at it. It wasn't until 1/2 way through the book did I realize the magnitude of the opportunity (and the work entailed in living up to the Guerrilla Marketing brand).
You can order it here or join the Facebook page here.
In the meantime I thought I would share the foreword written by Guy Kawasaki of Alltop.com:
How to Become a Social Media Guerrilla
I first met Jay Conrad Levinson, the father of guerrilla marketing, when I interviewed him in early 90s. I met Shane Gibson at an Olympic Hockey Tweetup in Vancouver, Canada. When Shane told me that he and Jay were working in this latest volume of the Guerrilla Marketing series about social media, he captivated my interest because the two are a match made in heaven.
Alltop owes its success to social-media guerrilla marketing. We used Twitter and Facebook to create Alltop evangelists, galvanize our supporters and critics, and generate page views and brand awareness. We also tapped community and built multiple nano-casts of content for the nano-markets that Jay and Shane talk about in this book.
The combination of the social media and guerrilla marketing enables entrepreneurs to level the playing field in their industry. Capitalizing on social media is not just about using them as tools but taking matters beyond this and making them guerrilla-marketing weapons.
Jay and Shane have crafted a comprehensive guide for the marketer, entrepreneur, or executive that is serious about profiting from social media. The challenges that people face in social media are:
• What tools to use and how to use them profitably.
• Finding and engaging profitable target markets.
• How to build community and then raving fans.
• What and how to measure ROI.
This book answers all these issues. It's not an easy path; it will take discipline, tenacity, and creativity. For those who are willing to pay this price, Jay and Shane have provided the ultimate roadmap needed to achieve your goal.
Guy Kawasaki
Guy Kawasaki is a founding partner and entrepreneur-in-residence at Garage Technology Ventures. He is also the co-founder of Alltop.com, an "online magazine rack" of popular topics on the web. Previously, he was an Apple Fellow at Apple Computer, Inc. Guy is the author of nine books including Reality Check, The Art of the Start, Rules for Revolutionaries, How to Drive Your Competition Crazy, Selling the Dream, and The Macintosh Way. He has a BA from Stanford University and an MBA from UCLA as well as an honorary doctorate from Babson College.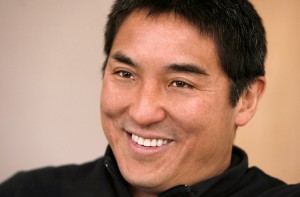 This is another (unedited) excerpt from Guerrilla Social Media Marketing a new book by Jay Conrad Levinson and Shane Gibson set for release in September 2010.
Engagement pages are designed to capture hearts and minds, not just e-mail addresses.

Traditional internet marketers rely heavily on controlling the behavior of their visitors. This means reducing options and choices. What is commonly referred to as a squeeze page is a good example of this. Squeeze pages usually are completely void of navigation buttons or links to other pages or websites, and give the visitor one of two choices: to read the marketing copy and then make a choice to either fill in their personal information and give consent or to leave. Although this will capture a percentage of visitors who are ready, willing or able to buy or give consent right now, it also repels visitors who could have become good clients if they had only been engaged in a credible manner.

Engagement pages have some similarities to a squeeze page, in that their purpose is also to gain consent and generate subscribers. The difference is: the engagement page offers the visitor multiple options, mediums and pathways to learn more about how the guerrilla's business can benefit and add value to the visitor's life or business. It also provides multiple subscription options.
As a reader what are your thoughts on this? Do you use landing pages or engagement pages? What is your impression or sentiment toward organizations that funnel you into squeeze pages?
This is another (unedited) excerpt from the new book Jay Conrad Levinson and I are writing:
Guerrillas know that social media and social networks are bi-directional communications tools. Most of your competitors will be stingy with their real level of interaction and conversations with the marketplace. Chat more, contribute more, and listen more than your competitors.
| | |
| --- | --- |
| Traditional Marketers Say: | Guerrillas Know: |
| Being conversational doesn't scale. | Positive conversations can go viral via online word of mouth and grow your brand geometrically. |
| You should find a way to automate your interaction and responses. | Taking the time to personally tailor our messages and communications creates rapport and trust in our brand. Trust in our brand means business. |
| Broadcast messages across multiple channels, it's a numbers game. | Listening to multiple communities online can help us respond with the right message, to the right prospect at the right time. It means we don't waste money, time or create noise. |
| Tease the market with free reports, meager discounts, and mass appeal offers. | Giving real value, truly customized solutions, and things that will help our market will create loyalty and a desire to reciprocate and do business with us. |
| If you don't get a return on investment from a community or target market, move on quickly and find a more receptive market. | It takes many conversations and value added interactions to gain the trust, loyalty and mindshare of a community. Having ongoing dialogue and involvement with our connections is what it takes to make a guerrilla marketing attack fully pay. Investing long-term in the right market is always a good strategy. |
Guerrilla Social Media Marketing – Copyright 2010 Jay Conrad Levinson – Shane Gibson & Entrepreneur Press
This is another (unedited) excerpt from the new book Jay Conrad Levinson and I are writing:
A guerrilla positioning story tells your specific niche the following:
1. What your corporate values are and what you represent
2. What you offer and specifically what business you are in
3. What makes you unique, and distinct
4. What you do better than anyone else
5. Who loves to do business with you (your target markets)
Guerrillas position through stories and conversations
The first step in positioning through social media is to get to know your audience intimately. Commonly referred to as social media monitoring tools, guerrilla intelligence tools allow you to sort through the millions of possible blog posts, Tweets, and videos honing in on relevant conversations by your target market. Once this target market has been identified, and their true needs, wants, communications style and culture has been determined then the conversation begins. It's not a sales pitch, it's a series of questions, value added content, and engaging conversations using multiple social media. Over time each of these little interactions forms and tells your positioning story. How you answer questions, share information and produce content must be consistent with your brand and the positioning story you want to tell.
Guerrilla Social Media Marketing – Copyright 2010 Jay Conrad Levinson – Shane Gibson & Entrepreneur Press
This is attribute #6 of the Top Ten Attributes of a Guerrilla Social Media Marketer. (unedited excerpt from my upcoming November 2010 book published by Entrepreneur Press and co-authored with Jay Levinson):
#6) Free and Variable

It is important to use free digital give away's that have real value and customer benefits. Then of course we need a variety of paid options to upgrade to. One size fits all doesn't work anymore, people want very personalized options tailored to their particular taste and desires.
Lego.com effectively applies the concept of free and variable and is profiting greatly from it. Using soft steps to gradually build consent from the customer is a key guerrilla strategy. Starting with free and highly interactive games kids and adults alike quickly develop a loyalty and positive association to the Lego brand and the toys in the game. There's not one, two or ten games; there are dozens with varying complexity and appeal.
Of course the real winner is the free Lego DesignByMe downloadable software. This digital design software allows the user to virtually build Lego models using thousands of Lego pieces that are stored in it's database.  The user can rotate a 3D model in any direction adding pieces, color and functionality and also calculate the exact cost of building and purchasing the model they have built. Once they are happy with their unique design, which fits their personal budget they then can even design a custom box cover and packaging. Lego will put all the pieces in the customer-designed box, complete with instructions to help the customer put together their model in real life and then they ship it to them directly from the factory.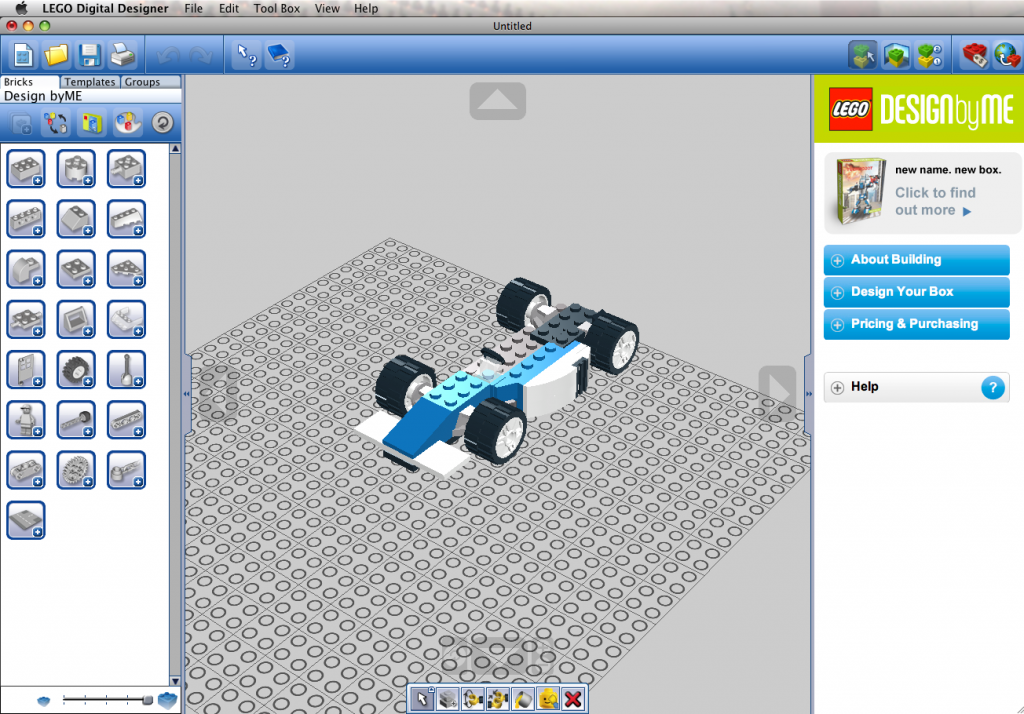 The software has a social aspect as well, allowing members to add friends, and also share and vote on designs. There's also several ways users can share their designs with friends and family who may want to purchase the custom Lego for them as a gift.
Free digital give away's build trust and allow the customer to experience our brand without risk. With trust we can garner consent to communicate and market to them. Variable customized options make it easier for customers to purchase and re-purchase. In the case of LEGO there's always a new, exciting model to be purchased because the options are limitless.
Copyright 2010 Shane Gibson, Jay Conrad Levinson and Entrepreneur Press
Jay Levinson and I put our heads together and came up with "The 10 Personality traits of a Guerrilla Social Media Marketer" they will be part of a program we're developing together.  I thought I would give you a sneak peek into these traits and the Guerrilla way:
Immune to hype:
There is a lot of hype around social media. The Guerrilla searches for truth, verifies information and executes with dependable tools and strategies.
Curiosity:
Penicillin was invented serendipitously.  Guerrillas aren't afraid to experiment, make mistakes or try new things to gain a competitive advantage.
The ability to sprint:
There will be small windows of opportunity and the Guerrilla is always ready to exploit them with all of their energy passion and resources.
The ability to run marathons:
Many battles are battles of attrition. Guerrillas know how to wear their competition down and build a presence through consistency.
Transparent:
A Guerrilla knows that truth, empathy and integrity are keys to social media marketing, and they build trust and loyalty through transparency.
Community focused
A Guerrilla builds, connects and helps the community.  Within that community are other Guerrilla Allies that will be their assets.
Profit driven
A Guerrilla measures success by profits, not clicks, visitors, or any "cool factor."
8. Tech hungry
Technology is the Guerrilla's Social Media Marketers core weapon and competency. They are always learning more about technology.
Self-developer
A Guerrilla knows that technology and business moves fast. They are constantly learning more to stay ahead of the competition.
Leadership mentality
A Guerrilla observes the community and gathers intelligence but they are always thinking about what is next. They create trends, unique solutions and are thought leaders.
Copyright 2008-2009 Jay Levinson and Shane Gibson
Guerrilla Marketing Official Page


Promote Your Page Too
Podcast: Play in new window | Download | Embed
I was recently asked to summarize the what marketers must know about social media marketing by Jay Levinson. I was about to answer him when he added a stipulation in, in 3 points, only 3 summarize what marketers must know about social media. I thought I would share with you what I shared with him:
It's a conversation – As marketers in the past we have been awarded based upon our ability to craft messages and broadcast to an audience, a niche or a market segment.  People no longer want to be talked at.  In fact their conversations with each other on Twitter, Facebook, or even the videos they post on YouTube impact and define major brands.  As social media marketers we need to get involved in those conversations if we want to effectively brand and market online.
It's a listening tool – More than a conversation, social media marketing is about listening.  We need to be listening for opportunities to engage with people that are talking about our brand.  Social media gives us the opportunity to engage at the instant someone is talking about us (if we're listening), and have relevant, personal and authentic conversations with our customers.  Use tools like Twitter search, Google Alerts, and SocialMention.com to monitor those conversations.
Social media belongs to everyone, which is good and bad, it forces you to be different to win – As a marketer you no longer have control or a monopoly on a medium.  Social media tools are in everyone's hands.  This is great news for anyone who wants to create a brand and generate revenues online.  This is also a bad thing, because it creates a lot of noise. You must have a distinctive message, offering and leadership style if you want to get noticed online.  To win you must be more engaging, add more value, and be more creative than everyone else if you want to rise above the noise.
I had the fantastic opportunity to spend several days with Jay Levinson and his wife Jeannie while we were in Santiago Chile in April. Jay and I both spoke at the Annual Sales and Marketing conference put together by Seminarium, the leading provider of executive education in South America.
Jay Levinson has sold over 20 million books on Guerrilla Marketing making him the top selling marketing author in history.
Jay Levinson shared with audience the 19 secrets of Guerrilla Marketing. In essence a formula for effectively executing this brilliant grass-roots type marketing. Guerrilla marketers measure success based upon profit, not sales volume, web traffic or how well a name is recognized. With my experience in Social Media and sales I thought I would share with you how you can use this formula to effectively execute a Guerrilla Social Media Marketing Campaign. I have shared these tips three at a time on my blog as series. Today I'm putting them all in one place.
According to Jay if you memorize these secrets, you will exceed your most optimistic expectations in business. All of these secrets end in "ent":
Commitment – Mediocre will win over brilliant. The key lesson here is stay the course. Your social media efforts, whether it is blogging, video podcasts, twitter or a combination of these tools must be executed with a one to two year commitment. Stick with it, it will pay big.
Investment – Guerrilla marketing is a recession proof investment. It will pay better than any traditional financial investment. The key thing is you will need to invest in Social Media. This will come not in dollars but time, energy, ability, money, reputation
Consistent – Don't change your identity. Brands, relationships, trust, and technology all take time for adoption and acceptance. Be consistent with your message and on-line social media identity.
Confident – You must be confident and instill confidence in the customer. Use social media to listen to your customers. Jay says, "Service is anything the customer wants it to be." Listen! He goes on to say, "Quality is what customers get out of your product. " This is great information that can help you provide specific, on topic, brilliant solutions to your target market's pains.
Patient – Be patient. Be patient with yourself, it will take you time to master the Guerrilla Marketing "Weapons of Social Media." Be patient as you build a community online, build roots and a foundation that will be un-shakable. Be patient with your target market, they will rush in to use and engage in social media, but they will do it in their time-frame.
Assortment of Weapons – Use a diversity of tools. Start with a blog or highly socially enabled site. Then use and master all of the major tools. You will identify over time which ones you have a talent for using, and which ones your market responds to best. Today these tools may include:

Blogging
Video Podcasting (YouTube, Viddler etc.)
FaceBook
Linkedin
Flickr
Twitter
Forums
Ning.com
Digg
StumbleUpon
FriendFeed
Google Profiles
Tumblr
Ubertor (for Realtors)
Meetup.com

Convenient – "Time is money is a lie. Time is life, don't waste their time." – Jay Levinson. This is critical, don't make people work hard to find your information or consume the great content you create. Also don't waste their time with 10 minute videos when you could say it in 3 minutes or even better, 3 Twitter tweets. Brevity is key in Guerrilla Social Media Marketing
Subsequent – Always know what's next, don't write an e-book, write a series of e-books. Don't just solve one customer pain, be in search of the next big thing that can help those who are connected with you.
Amazement – "Tell stories because stories are not boring." – People love stories, that's why they follow you on Twitter, they are following the story of your personal brand at 140 characters at a time. Stories spark passion, get good at using social media to tell stories.
Measurement – Measure your success, use tools like Google Analytics to track the traffic and behavior of those arrive at your site as a result of your social media activities. Don't just measure profits either. Look at happiness, education, network growth, and positive community impact these are all other forms of profit.
Involvement – Listen and engage, or even better give them platforms to communicate and share. Then jump into the conversation and let them know that you hear them. This could be building a Ning.com social network for people who are in your industry. It may be starting a new LinkedIn or FaceBook group. You can also use a tool like Meetup.com to get your online community to meet offline and cement relationships.
Dependent – "The guerrilla's job is not to compete but to cooperate with other businesses. Market them in return for them marketing you. Set up tie-ins with others. Become dependent to market more and invest less." Begin to blog, do interviews and profile your cooperative competitors online and many will reciprocate and help you grow your following and client base.
Armament – Arm yourself with all of the social media tools that your customer consumes or uses. Also find new markets through arming yourself with new social networks and mediums.
Consent – Permission is number one if you are going to be a Guerrilla Social Media marketer. Take time to build trust and relationships and never overstate or overstep your relationships online with pitches and unsolicited messaging.
Content – "Substance wins over style" Give real value, unique content and do it often with multiple social media weapons. If you want to dominate your marketplace using social media give more, and give more often. Your community and Google's robots will reward you!
Augment – Augment your attack; audit yourself and your strategy constantly. The world of social media is growing by the millions of members every month. You have to stay up on the tools and on the demographics of each medium. NHL Superstar Wayne Gretzky attributes his success on the ice to always knowing where the hockey puck was going to be versus where it was in the moment. He was always ahead of the game. You need to be the same way in the social media space. Ask: "What's next?"
Congruent – Make sure that all of your tools and messages work together. You should be layering each blog entry, twitter update, or FaceBook post like bricks in a building. They all are valuable but contribute to a greater masterpiece, your brand and reputation.
Experiment – You will have little failures before you have one big success. Constantly test and be curious about the psychology behind what motivates and engages your customers, prospects and the online communities you participate. Remember that penicillin and gun powder were both invented by accident. Have fun, be engaging and bold and most importantly observe everything.
Implement – The world belongs to those who are willing to implement. Put a solid marketing calendar together that includes core social media disciplines. Blog at least 3 times per week, update your Twitter status five or more times per day, spend at least 30 minutes a day pro-actively listening to your audience. Constantly devour information on how to hone your skills as a Guerrilla Social Media Marketer.