I had a number of people (close to 300) complete the 28 Days to Better Selling Program I put on in May and June.  Many of you were asking when I was going to do it again? My next one will be in the fall but it will be marketing focused. With that said, you can do the 28 Days to Better Selling Program at your own pace by following the links below.
Here's how 28 Days to Better Selling Works:
1)    A daily task that you can easily implement to improve your sales and business
2)    A succinct daily lesson to help you make the improvement
By the end of the 28 days you will have looked at 28 ways to fine tune and improve your sales process and business.  The daily lessons will be in written, video or audio format and will take less than 10 minutes each to review.
Day 2 Targeting the Right Referral Sources
Day 3 Prospecting in Person
Day 4 Networking Strategy
Day 5 LinkedIn Prospecting
Day 6 Investigative Prospecting
Day 7 Lead Nurturing
Day 8 Don't Be A Boring Salesperson
Day 9 Listening in Sales
Day 10 Needs Analysis in Sales Part 1
Day 11 Needs Analysis In Sales Part 2
Day 12 Twitter for Sales Part 1
Day 13 Twitter for Sales Part 2
Day 14 Keeping Commitments
Day 15 Selling Benefits and Results
Day 16 Preemptive Objection Handling
Day 17 Sell the Price Different Not The Total Cost
Day 18 Vital Signs
Day 19 Preparing For a Sales Call
Day 20 Team Selling
Day 21 Just Thinking About You
Day 22 Team Players Make Efficient Sellers
Day 23 Day of Rest, Chill Out and Reflect

Day 24 Influencing Top Level Decision Makers
Day 25 Key Skills and Strengths for Selling Intangibles
Day 26 Reducing Anxiety and Worry
Day 27 15 Ways to Close A Sale
Day 28 Operationalizing Your Sales Process
Want to Close Bigger Deals? Buy the Book: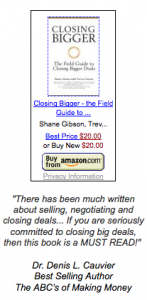 The Manager's Thought for the Day
It is not uncommon for salespeople and/or sales managers to get caught in the throes of everyday problems and miss seeing the trees because of the forest.
In most cases there is much more support and help around us than we can see. If most of us could really appreciate what we do have, and be grateful, most of the time we would never have a motivation problem.
There is power in gratitude. For example; Have you ever been forced into giving a kiss and a hug to a relative or a friend of a friend you couldn't stand? It's not an inspiring experience. As a matter of fact, it can be downright de-motivating. But if you have ever been asked to hug and kiss someone you secretly admired, I bet you found it to be a very pleasant experience. What's the difference between the two?
Having to embrace someone you can't stand, can be de-motivating; embracing someone you admire is motivating.
The same rule applies to situations. Most of us spend time living for tomorrow; living for when we will get that raise, that job, that relationship, or that home. In other words, that's when we will be happy. We don't like where we are now, so let us dream about tomorrow. What this means is we are not living in the now. It also means we often set our objectives or goals from a time, place, or state of mind that we do not like, which means we don't embrace it. Therefore it is de-motivating.
What if you could appreciate the moment and embrace it? It would be inspiring, just like embracing that person you admired.
Gratitude is a powerful motivation. To embrace or appreciate the moment you are in, gives you a deep settled strength, and alleviates anxiety. With this strength you are able to tap into your intuition and be directed into paths that are more meaningful and in tune with who you are. This makes it much easier for you to become enthusiastic and move forward and feel good about the present as well as where you want to go. Having gratitude for where you are now can get you started.
Think about the situation you are in right now that frustrates or even immobilizes you. Now come up with a list of some really positive things that you have going for you right at this moment. Think of things you may be grateful for. A few examples could be good health, living in the country you are in, experience in your field, great relationship with your wife, husband or significant other, certain belongings, past experiences, just to name a few.
Once you finish the list, go back through and mentally say "thank you" to all the circumstances and people you could thank for each one of these. For example; in reference to your health, mentally thank someone who showed you how to eat properly, or who got you involved in some form of physical exercise. Maybe a previous employer believed in balanced living and not just work, work, work. Be sure to thank that person mentally. Thank your government for the facilities that are available and your creator for being so kind to you. As Plato once said; "Happiness is not being in a good state, but rather knowing you are in a good state."
Once you have completed this exercise, you will have experienced the power of appreciation. You will feel much better about the moment. To see the positive in your present circumstances and to feel gratitude about the moment will get you started and keep you going.
Unfortunately, our egos work very hard at stopping us from experiencing gratitude. Very few of us can openly display gratitude on a daily basis to all those people and situations around us. It is much easier to fill our minds and bodies with self-importance, dissatisfaction, criticism, and victim-style thinking, than it is to put these feeling aside and say thank you. Monitor yourself and see how often you resist or justify not having gratitude. Being aware of your anti-gratitude stance alone, can start you on the road to being more grateful and more productive.
As the manager you may want to share this process with your people. Gratitude is one of the greatest internal motivators of all.
(An excerpt from our "Complete Sales Action System")
To Donate the the Vancouver Food Bank Click here or the image below. Every bit helps!
Sales Best Practices: Keeps track of all the names, titles, and positions of all the key contact people within every account.
This is so basic, you would think everyone would be doing it. Not so.
I was sitting across the desk from the operations manager of the company for which I had worked a number of years earlier. We were reminiscing, and he told me this story.
In the time after I had left this company, it had been swallowed up by a large national company. Now, at number two in the nation, it was again being merged with number three. The government got involved, and mandated that every salesperson fill out a form for every account doing over $100,000 in annual business.
The operations manager described how he looked over the forms as he assembled them to send back to the government. As he did so, he got a sick feeling in his stomach. It seems that on many of the forms, the names listed were nicknames, and there was no title indicated.
He told me that he realized that his salespeople didn't know the full name and correct title of the key contact people in their largest accounts!
While that may sound like an exception to you, I have since discovered that it is the rule, not the exception. The sad truth is that few salespeople have systematically collected and stored the full names and accurate titles of their key contact people. As a result, their proposals and correspondence are amateurish and they look unprofessional to their customers.
Such a simple little thing!
Yet, over and over again, it's not the big things that separate the Top Gun performers from the pack. It's the methodical, disciplined adherence to excellence in the little things.
I know there are thousands of salespeople who are reading this right now, thinking "I already know that." Yet, most of them aren't methodical and systematic in their execution of this practice. It's not what you know that makes you into a Top Gun performer, it is what you do.
That's why the best practices are called "practices."
About the author: Dave Kahle is one of the world's leading sales training educators. Since 1988, Dave has worked with over 400 companies, helping them to increase their sales and develop their sales people. He's been published over 1,000 times, writes a weekly Ezine (subscribe for free at http://www.davekahle.com/mailinglist.htm), and has authored seven books. Dave's website is available at http://www.davekahle.com, and you can follow his sales blog at http://www.davekahle.com/salesblog.
To Donate the the Vancouver Food Bank Click here or the image below. Every bit helps!
Sales Best Practices: Asking questions as a means of facilitating every step in the sales process.
The single most powerful tool that a salesperson has is a well-phrased, appropriately asked question. Nothing else compares to the impact that a good question can have on the customer and the sales process.
That's because a good question directs and influences the customer's thinking. When you ask a question, they think of the answer. That simple statement neatly packages the latent power of a good question.
Yet, few salespeople understand that, and fewer still implement it.
A number of years ago, a study was done on this very issue. Here are the results:
"Out of 300 salespeople studied, 87 percent realize the importance of asking questions. However, only 27 percent displayed the ability to ask a well thought out, stimulating series of questions."
In other words, thirteen percent of the salespeople in the world don't even recognize the power of asking a good question. And only about 1 out of 4 could actually do it. That means that 3 out of every 4 salespeople, or 75 percent, don't ask good questions.
There are two issues here: First, realizing the importance of using good questions effectively, and second, actually doing so.
This is such a big issue that my book, Question Your Way to Sales Success, is devoted entirely to this.
Everyone can ask a question. I have a three year old grandson. He can do it. This issue isn't asking questions; the issue is asking better sales questions. While I can't condense the book to a few hundred words here, I can point out a couple of things that the best do with this most powerful tool.
1. They prepare their major questions before the sales call. This gives them the time to select the best language and sequence.
2. They are mindful, at every stage of the sales process, of using better sales questions. They understand that there are questions, there are good questions, and there are better sales questions. So, they constantly focus on creating and using better sales questions. Whether it's a cold call on a prospect, or following up after the sale, at every stage of the sales process, a more effective use of questions will produce dramatically better results. And they know that.
3. They collect good questions over time, and use them over and over again.
A master salesperson is a master at the use of better sales questions. That's why it is a best practice of the best.
About the author: Dave Kahle is one of the world's leading sales training educators. Since 1988, Dave has worked with over 400 companies, helping them to increase their sales and develop their sales people. He's been published over 1,000 times, writes a weekly Ezine (subscribe for free at http://www.davekahle.com/mailinglist.htm), and has authored seven books.  Dave's website is available at http://www.davekahle.com, and you can follow his sales blog at http://www.davekahle.com/salesblog.
To Donate the the Vancouver Food Bank Click here or the image below. Every bit helps!
Podcast: Play in new window | Download | Embed
Today for day 27 of the 28 Days to Better Selling we are covering 15 ways to close a sale. After you listen to the podcast identify how many of the closes listed below that you could apply to your sales process.
The Alternative Close
The Assumed Close
The Minor Decision Close
The Courtesy Close – "silent principle"
The Direct Close
The Urgency Close
The "Shut-up Principle" Close
The "Bonus" Close –
The Objection Close
The "Use of Terms" Close
The Third Party Close
The Summary Close
The Similar Situation Close
The Empathy Close
The Consultant Close
Today's blog post is on the lighter side. Some of my comments are in jest so please take them with a grain of salt.  The post was inspired by a series of tips I posted on Twitter and the response I got from people on Twitter.  For those of you who are new to Vancouver or plan on visiting for business here are 10 tips on doing business in Vancouver:
Tip #1: Doing business in Vancouver: Your meeting has a good chance of starting late.
Tip #2: Doing business in Vancouver: You will most likely talk about 8 non-related things before getting down to business.
Tip #3: Doing Business in Vancouver: Your meeting will most likely take place in Starbucks (via @robertaw99)
Tip #4: Doing Business in Vancouver: Your meeting may be bumped by something of little consequence until you learn Vancouver priorities (via @Bradinator)
Tip #5: Doing Business in Vancouver: Vancouverites are friendly but take time to introduce and endorse you. They take business personally.
Tip #6: Doing Business in Vancouver: Green is the new bling and being too busy is a sign of business weakness.
Tip #7: Doing Business in Vancouver: Not everyone in Vancouver is into doing business.
Tip #8: Doing Business in Vancouver: When you don't get a call back right away don't worry and don't get offended. Follow-up again.
Tip #9: Doing Business in Vancouver: Everyone knows everyone, and many have done business with each other at some point. via @KontentCreative
Tip #10: Doing Business in Vancouver: It's all about relationships and what networks you're connected to.  Take your time getting to know who is connected to who. Join your local Board of Trade and corresponding Vancouver Linkedin and Meetup groups as a start.
This week has been an awesome week.  I did two blog entries while I was away in Chile which was half of my usual volume compared to the previous few weeks.  The most memorable one was the interview I did with Jay Levinson father of the Guerrilla Marketing movement.  With that said the world of sales blogging and sales podcasts has churned forward regardless. Many of my peers and friends have posted some great new tips and content that I would like to share with you.
Shamus Brown did a blog post called "Your Prospects are Human Lie Detectors." It's amazing that in this era of extreme transparency that sales professionals and business people still are missing this core lesson.
Simone Blum urged us to be Un Reasonable when it comes to business decisions and launching a new idea or product.
Alan Majer provided a great list of 21 things we can do to succeed in a carreer in selling.
The guys at Sales Roundup put together a good sales podcast on finding and prepping for a sales job.
The guys at the Advanced Selling Podcast did a great podcast on The Rules Tools and Attitudes needed to put more prospects into the sales funnel.
Brad Trnavsky at the Sales Bloggers Union did a good sales blog entry on The Primary Role of a Sales Manager.
Skip Anderson in his Selling to Consumers Podcast talked about the Essence of Selling. It's all about helping the client make a decision according to Skip.
Lastly I found this sales cartoon from Count5.com and it reminded me of at least half of the sales people that call my office daily. Anyone else suffering from the same?
I had the fantastic opportunity to spend several days with Jay Levinson (twitter) and his wife Jeannie while I was in Santiago Chile this week.  Jay and I both spoke at the Annual Sales and Marketing conference put together by Seminarium, the leading provider of executive business education in South America.
Jay Levinson has sold over 20 million books on Guerrilla Marketing making him one of the top selling marketing authors in history. Following is a brief video interview I did with Jay on Guerrilla Marketing.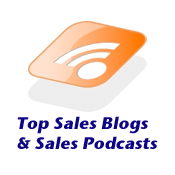 This week was a bit of a chore for me as far as devoting time to read other blogs and listen to podcasts. Stephen Jagger and I have been busy with our latest project and a lot of my time has been spent on marketing and technology orientated sites.   With that said there were several blogs that did leave an impression on me. Here's a quick list of what I found to be notable entries on the sales blogosphere this week.
#1) This is actually a live feed of multiple sales bloggers from around the globle. The World's Top Sales Bloggers List is a great place to discover new sales bloggers and podcast producers.
#2) Dave Kurlan put together a great sales management checklist of must have attibutes for sales leaders and managers.
#3) Kevin Eikenberry posted a good list of 5 ways to do some spring cleaning to your life.  Good tips for those needing to refocus.
#4) Paul Espinosa talked about how critical it is for organizations to get good ar hiring good sales managers in his post on "Sales Managers – The Real Role."
#5) The guys at the Sales Roundup Sales Podcast put together a great show on "How to price what you sell."
#6) George Petri from Symvolli posted a sales podcast on "B2B Relationships Don't Have To Be Lost – Continuous Contact Doesn't Mean Customer Stalking." Great stuff on creative follow-up.
#7) Bill Caskey and Bryan Neale put together a podcast on getting to and dealing with decision makers.
#8) Rick Cooper: The Fortune Is In the Follow Up was another podcast that I enjoyed.
Today's podcast is about applying 5 easy steps to increase the momentum in your business or sales process.  If you have been going through the motions or not feeling motivated today's podcast will hopefully give you a boost.
Podcast: Play in new window | Download | Embed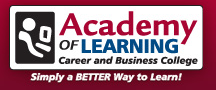 I have been working with the Academy of Learning for over a year to launch this program and it is now available through their network of 145 locations across Canada.
New Program Trains Sales Professionals Who Meet the Demands of Today's Business World
Academy of Learning is pleased to announce the new Sales Professional Diploma program" said Derek Hamill, President of LaunchLife International Inc., the franchisor of Academy of Learning. "Without sales there is no business. Academy of Learning wanted to deliver a first rate diploma program to guide and prepare graduates for top notch sales opportunities, and that's what we did.
Academy of Learning, along with speaker, author and global entrepreneur, Shane Gibson, President of Knowledge Brokers International (KBI), designed the Sales Professional Diploma program with the goal to ensure that every student has the necessary sales knowledge and practical tools to succeed in a sales career.
This program is based upon KBI's methodologies that have been implemented and used by leading business organizations such as SIEMENS, Old Mutual, The Certified Management Accountants of Canada, the Vancouver Board of Trade and dozens of manufacturers and leading financial services companies. Over 100,000 people in the last 10 years have attended KBI's programs in Canada, USA, Southern Africa, South East Asia, the Middle East and South America.
This program will prepare graduates with the right skills to excel as a sales professional.
Some of the key courses and areas of focus in the program include: Principles of Selling, Business Presentations, Professional Selling, Business Negotiations & Contracts, and Business Law and Ethics. Graduates will be prepared with the right tools for lucrative sales careers in disciplines such as inside sales, outside sales, key account management, retail and large business to business sales careers. This program is ideal for individuals entering the workplace for the first time, re-entering the workplace, or current jobholders who want to upgrade or get formal recognition as a sales professional.
Labour conditions for the sales profession have remained consistent. Jobfutures.ca indicates that there is a broad variety of career opportunities in sales in fields such as advertising, wholesale, publications, hospitality, entertainment, travel, as well as in the telecommunication industry. Companies need to be competitive and that means having the right sales person who knows how to win accounts and maintain business relationships.
A labour analysis conducted by Academy of Learning shows sales positions are still key requirements in the workforce. Additional research relating specifically to the sales profession research found that:
Graduates of sales related programs can expect a salary at a mid to slightly higher than average annual salary.
The employment outlook in sales is at a good level for the coming year.
The Globe and Mail newspaper stated that employers are having difficulty filling Sales Representatives positions.
72% of those with previous work experience found a job within one month of graduation.
45% of respondents in the Canadian Professional Sales Association study on "The State of the Sales Nation" stated that finding good sales people was very challenging.
According to Rob Simas, Director, Academic Division at LaunchLife International, "the labour market findings allowed us to develop a comprehensive and focused Sales Professional Diploma program, designed to meet the outcomes and objectives of program standards used by many of the community colleges, without sacrificing vocation and integrity."
Mr. Simas concluded by saying, "We are pleased to provide a program to individuals looking for a well-rounded introduction to sales. We are confident that this program will open the door to entry-level positions within the exciting and rewarding field of sales."