Podcast: Play in new window | Download | Embed
Today's podcast is an interview with Cameron Herold on his brand new book "Double Double – How to Double Your Revenue and Profit in 3 Years or Less." I read this book twice I found it so valuable and so I reached out to Cameron and asked him to come on the show.
If you're a business leader, entrepreneur or business builder you need to read this book. It's packed with usable real-world advice and success strategies.
Podcast: Play in new window | Download | Embed
Today's social media podcast (direct download here) is focused on social customer relationship management. Social SCRM (#SCRM on Twitter) is really where sales and social media form a nexus point with customer service, leadership and community. This of course is assuming we use the Social CRM for its intended purpose. Too many organizations fall in love with the tools but they should really be showing their customers and prospects that love. Here's a great blog post that defines social crm well: "What is Social CRM?"
Monitoring conversations is great – but getting involved in the conversation and being a thought leader is where the true opportunity is. Having a Social CRM strategy is vital, we need to help our sales team understand how to socialize online. Today's podcast talks about some of the pro-active components that should be included in that strategy.
Podcast: Play in new window | Download | Embed
(Download today's social media podcast directly here)
Today I had the great opportunity to once again have Bruce Philp author of the Consumer Republic on my social media podcast. I was so inspired by our conversation I actually reworked my Socialized! Lunch presentation today to include some very important thoughts that Bruce shared about the future of brands and the true power consumers now hold in their hands.
The idea for this podcast discussion really came from a couple of tweets I posted about Groupon's recent off-color marketing tactics and my disappointment that their response and handling of comments and complaints seemed to be more about sanitizing and denying versus engagement and authentic apologies. (Still not happy with Groupon's Super Bowl Ads this was the icing on the cake) Bruce's question to me at that point was; "what if consumers become discouraged and no longer engage?" (because of this type of corporate response online.) I invited Bruce back on the show to talk about the "Consumer Republic" and answer this important question.
During the podcast the conversation quickly turned toward so-called social media experts bloggers etc. who are often the first to criticize a brand, but personally don't walk their talk in regards to engagement or even responding to blog comments and tweets.  (I've been personally guilty more than once of not returning an email or a phone call due to huge volumes of in-bound tweets and inquiries.)
Have a listen to the podcast and let me know what your thoughts are on the subject. A huge thanks to Bruce Philp for logging on and having the conversation as well.
Podcast: Play in new window | Download | Embed
Today's podcast is with sales technology thought leader John Cousineau who is President of Innovative Information the creators of Amacus.  John and I have had a number of coffee chats and debates around why and how to use technology and social media to improve sales performance and customer experience. The nexus of sales and social media seems to be happening in the CRM and Social CRM space.  The question is it happening fast enough and making things more efficient or is it just giving sales people more buttons and buzzwords to worry about.
Podcast: Play in new window | Download | Embed
Today's podcast is on developing a prospecting discipline and why you need to plan it out and make it part of your sales and marketing strategy. Bullet points on the podcast:
Four Types of Prospecting:
Face to Face
Extended Personal
Community and Network Prospecting
Media Marketing/Prospecting
Make a Plan:
Have the intent to meet people wherever you go, be aware and focus on rapport
Book time everyday for e-mail and phone calls
Book time everyday for prospecting on Linkedin and listening/monitoring the web
Attend two target rich events per month and one major conference per quarter
Budget a percentage of your projected income or revenues and spend it every month on media and press releases etc.
What's your prospecting plan look like?
Subscribe in iTunes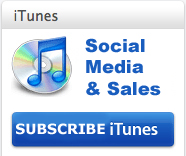 I had a number of people (close to 300) complete the 28 Days to Better Selling Program I put on in May and June.  Many of you were asking when I was going to do it again? My next one will be in the fall but it will be marketing focused. With that said, you can do the 28 Days to Better Selling Program at your own pace by following the links below.
Here's how 28 Days to Better Selling Works:
1)    A daily task that you can easily implement to improve your sales and business
2)    A succinct daily lesson to help you make the improvement
By the end of the 28 days you will have looked at 28 ways to fine tune and improve your sales process and business.  The daily lessons will be in written, video or audio format and will take less than 10 minutes each to review.
Day 2 Targeting the Right Referral Sources
Day 3 Prospecting in Person
Day 4 Networking Strategy
Day 5 LinkedIn Prospecting
Day 6 Investigative Prospecting
Day 7 Lead Nurturing
Day 8 Don't Be A Boring Salesperson
Day 9 Listening in Sales
Day 10 Needs Analysis in Sales Part 1
Day 11 Needs Analysis In Sales Part 2
Day 12 Twitter for Sales Part 1
Day 13 Twitter for Sales Part 2
Day 14 Keeping Commitments
Day 15 Selling Benefits and Results
Day 16 Preemptive Objection Handling
Day 17 Sell the Price Different Not The Total Cost
Day 18 Vital Signs
Day 19 Preparing For a Sales Call
Day 20 Team Selling
Day 21 Just Thinking About You
Day 22 Team Players Make Efficient Sellers
Day 23 Day of Rest, Chill Out and Reflect

Day 24 Influencing Top Level Decision Makers
Day 25 Key Skills and Strengths for Selling Intangibles
Day 26 Reducing Anxiety and Worry
Day 27 15 Ways to Close A Sale
Day 28 Operationalizing Your Sales Process
Want to Close Bigger Deals? Buy the Book: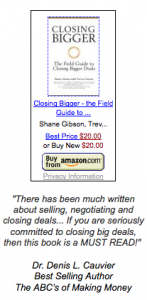 Podcast: Play in new window | Download | Embed
The last podcast I did was about "Getting Real in Social Media" and this is an extension of that. I'm a big proponent of the use of social media marketing and social networking in business. With that said, often social media helps us start a relationship, it can also help us nurture a relationship, but there are core sales skills needed to turn those relationships into revenues. There are dozens of core sales competencies but for this podcast I want to focus on three that social media marketers need to master:
#1) They need to master the art of Rapport Building
#2) They need to get good at Needs Analysis Selling
#3) They need to understand how to sell what people buy, and it's not features, price or technology
To Donate the the Vancouver Food Bank Click here or the image below. Every bit helps!
Podcast: Play in new window | Download | Embed
This podcast is in response to the following question (via twitter):From @jaypiddy @shanegibson should front line sales staff blog? If so what should they blog about?
Have a listen to this podcast to hear my thoughts on the subject.
To Donate the the Vancouver Food Bank Click here or the image below. Every bit helps!
Podcast: Play in new window | Download | Embed
Following are the five key elements of Operationalizing sales (Full explanation in text is here):
1.    Tools
2.    Measurement
3.    Processes and Knowledge
4.    Maximize Selling Time
5.    Support and Accountability Structure
After you listen to today's podcast your assignment is to:
List the 5 headings for operationalizing sales discussed
Fill in under each heading what actions or steps you are going to take
Once mapped out make sure you assign a specific time to implement the steps
Find someone you can be accountable to in the process.
Podcast: Play in new window | Download | Embed
Today for day 27 of the 28 Days to Better Selling we are covering 15 ways to close a sale. After you listen to the podcast identify how many of the closes listed below that you could apply to your sales process.
The Alternative Close
The Assumed Close
The Minor Decision Close
The Courtesy Close – "silent principle"
The Direct Close
The Urgency Close
The "Shut-up Principle" Close
The "Bonus" Close –
The Objection Close
The "Use of Terms" Close
The Third Party Close
The Summary Close
The Similar Situation Close
The Empathy Close
The Consultant Close
Podcast: Play in new window | Download | Embed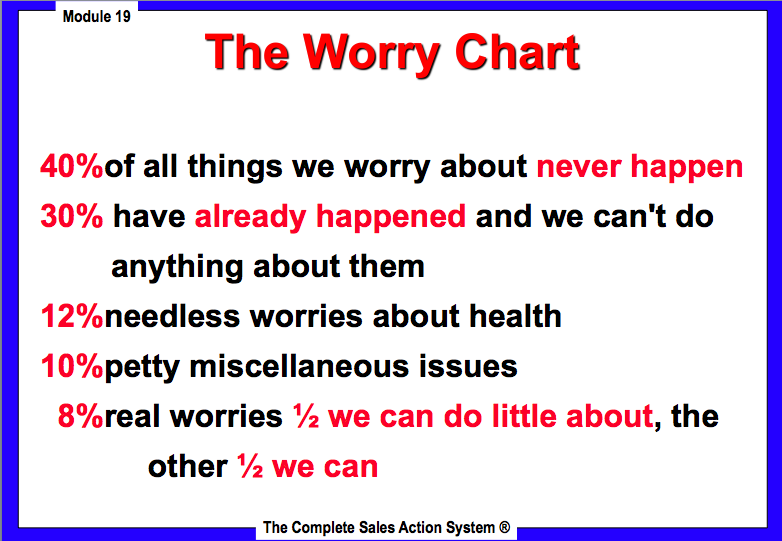 Energy management in sales is just as important as time management. Worry and anxiety can be big energy drainers.  Your assignment today is to implement as many of the strategies outlined in today's podcast as possible.
The following are some ideas, strategies, and tips to proactively help reduce your worry and anxiety:
Set a Specific Time for Worry
Move to Action
Try Exercise
Get Out of Bed Quickly
Post Good News
Surround Yourself with Positive People
Make Meetings Productive with the Worry Chart
Time Limit on Hard Work
Know the Value of the Present
Laugh at Yourself
Give Yourself Special Treatment