Podcast: Play in new window | Download | Embed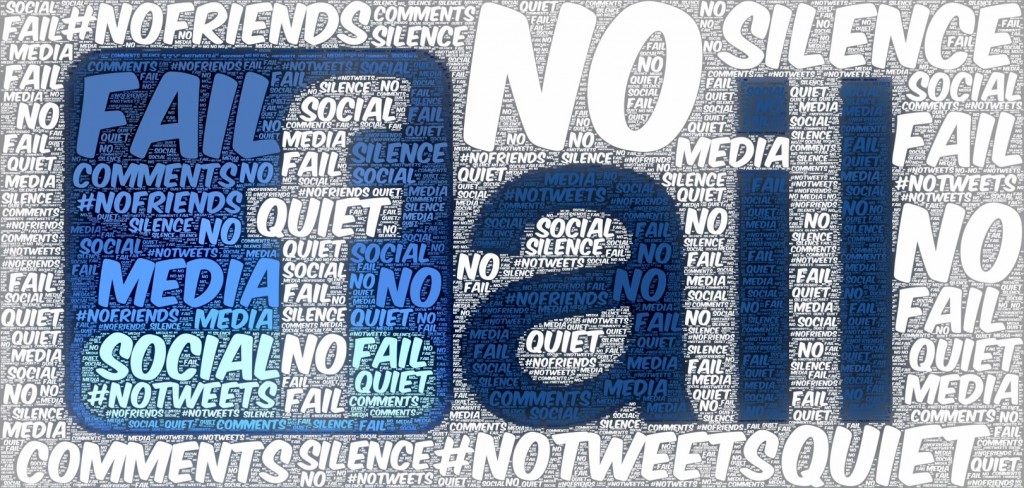 Most social media failures aren't big public train-wrecks on the internet. They're silent failures, people and brands that never rise above the noise and get noticed. Today's podcast focuses on 6 reasons you may be silently failing and what you can do to turn things around.
The 6 Reasons You're Silently Failing in Social Media:
1)  Your content strategy is too safe
2)  Your reach is minimal
3)  Your conversation strategy is weak
4)  The right people don't know who you are or they don't care
5)  You have no social media plan
6)  You're not integrating social media
Podcast: Play in new window | Download | Embed
Today's blog post and social media podcast is a collection of 36 Tweets I have posted online over the past two weeks relating to social media, leadership and marketing. I have recorded an in-depth explanation (beyond the 140 characters) in my podcast. Have a listen, have a read and add your own in the comments below.
Social Media Fact: @Banff_Squirrel has more Twitter followers than most marketing experts.
Social Media Tip: Content is not King [or Queen ] Connection rapport and trust are today's currencies.
Social Media Tip: build the community, contribute to others success, be authentic and people will line up to help you as well.
Social Media Tip: treat likes, followers, and connections on any network like gold. Those are votes of trust and confidence.
Social Media Tip: Contrast keeps the conversation fresh. Vary your update and blog formats. Use multiple media to engage.
Any social media activity that involves deception, trademark or copyright infringement isn't guerrilla marketing. It's lazy marketing.
Social Media Tip: it's not old versus new media — it's about integrating the right media for the right market.
Social Media Tip: In the "Thank-you Economy" don't outsource or automate your thank-you's.
Social Media Tip: People will read your Tweets and blog posts in the context of their goals and needs. See through their eyes.
Social Media Tip: Social media marketing is not a fad. BUT social media consultants now need deeper business knowledge.
Social Media Tip: Blogging is not dead, but recycling content and cut-and-paste mentalities are getting old.
Social Media Tip: social media strategy needs to be in-line with your business culture and integrated with your business processes.
Social Media Tip: Having a Twitter account is like having a telephone. It's just a tool. How are you going to use it to win?
Social Media Tip: Being an early adopter is not enough. You need to evolve with your market and the tools to stay relevant.
Social Media Tip: Your rules of engagement will be in context with your goals and your target market's culture/etiquette.
Social Media Tip: Activity doesn't equal profitability. Activity that builds relationships = mindshare = walletshare. Build relationships.
Want to increase the number of people that follow you back on Twitter? Try taking an interest in them. Marketing is a conversation.
Social Media Tip: All of the engagement and trust you have built evaporates when your community finds out you outsource your conversations.
Social Media Tip: You can go it alone, brave the storms and reach great heights by yourself. BUT half the joy is in bringing people with you
Social Media Tip: hiring the wrong social media help can be worse than not doing it. Be prepared. Assess them & where you are starting from
Leadership Tip: You don't need to make someone else irrelevant to raise your profile. In fact you're usually only hurting your brand.
Remember it's not a about blogging, Twitter, Facebook or the next great thing. It's how you use it. Wisdom comes from mistakes. Experiment.
Social Media Tip: You are never too popular to be humble. In fact no matter who you are eventually the web will humble you
Being on a path of integrity isn't a one time choice. It's a lifetime of commitment and daily decisions.
Social Media Tip: Use hootsuite to flag DM's from other people in Twitter for future follow-up. They can often get buried.
Social Media Tip: Subscribe to your twitter searches as RSS feeds in your feed reader so that you only have to do the search once…ever.
Social Media Trend: Community building skills are becoming more important than pitching or selling.
Good things come to those wait — but they're usually the things left behind by those who hustle. Giddy up!
Social media monitoring is vital. The opportunity is in engaging at the right time with the right person on the right topic.
Leadership Tip: You can never lose by investing in good people. Err on the side of generosity. It will pay in efficiency and loyalty.
Social Media Tip: Educate and equip all staff to be social… it provides less headache and greater ROI than policing them.
Social Media Tip: The longer you try to contain social media use to one department the further behind you will be from the marketplace.
Good publicity is about doing the right thing and getting the word out. Integrity is about doing the right thing when no one is looking.
Social Media Tip: If you are more aware of the community gossip than you are of the community needs then you're going the wrong direction.
Social Media Tip: Stop seeking recognition from the cool kids… instead strive to be significant to the/your community
Social Media Tip: The more open we are with other people the more willing they are to share with us.
Shane Gibson (@ShaneGibson) is a sales and social media speaker who has addressed over 100,000 people on stages on three continents over the past 15 years.  He is also co-author of Guerrilla Social Media Marketing and Sociable! How Social Media is Turning Sales and Marketing Upside-down.  When he's not speaking or Tweeting he is in the social media trenches working with his clients as Chief Social Officer for Socialized! Ltd. a social media agency and training organization.
Here's a selection of tweets, tips and insights I have posted to Twitter over the past month. If you have any of your own — add them in the comments below. Have a great weekend.
Social media tip: life is an experiment. Be willing to make mistakes, challenge your own assumptions and break the mold to win.
Social Media Tip: It's not social if the result isn't about building relationships, trust or community.
Social Media Steps: 1: Have a goal. 2: Know your market. 3: Monitor & Listen. 4: Identify Needs 5: Create Focused Content & Conversation.
Social Media Tip: You can't buy trust and you can't outsource authenticity.
Social Media Tip: the customer is operating in real-time. Socialize your whole team so you can too!
Social Media Tip: Always go back to the basics. If you're no longer getting the results you want, look at what you stopped doing.
Social Media Tip: The numbers mean very little. A small group of passionate people is and always has been a majority.
Leadership Tip: The quest for knowledge for the sake of empowering those around us is one of the most powerful intents in leadership.
Leadership Tip: Don't let your Ego separate you from other people. We are more alike than we are different.
Sales Tip: treat mid-month with as much urgency as month end and your year end will look a lot better.
Social Media Tip: it's okay to make mistakes — but remedy them quickly — apologize and then move on
Social Media Tip: it's never too late to say thank-you. Reach out a acknowledge those in your community who make a difference.
Social Media Tip: People don't care about your marketing tweets until they know how much you care about them.
Podcast: Play in new window | Download | Embed
Today's social media podcast (direct download here) and blog post is on how to increase your Twitter following. These strategies aren't just about the numbers but are proven strategies to attract the right followers. Here are 52 (non-automated) Ways to Increase Your Twitter Followers:
Have a custom background that tells what you do and who you are
Have a complete bio with keywords that people search for
When you follow people, find something to comment on or ask a relevant question to let them know you're there and are conversational and community focused
Make sure your Twitter profile is recognizable and real. Photos of celebrities, cartoons or logos tend to get less follow-backs than a profile with a real smiling human face.
Follow people who recently followed your competitors
Follow people who are complaining about your competitors
Follow-back those that follow you. Many will un-follow after a period of time if you do not follow-back. Avoid following spammers, pornbots or anything that doesn't resonate with your values or personal brand of course.
Look at your competitors public lists and follow those that are relevant
If you're a local business use Twitter local search to find people talking about your business, industry or community and follow them (remember to interact)
Search for relevant industry #hash tags ( ie #scrm #rechat #bieber or whatever your target market talks about) follow those people, then as per #3 – reach out and communicate.
Use relevant #hash tags on topics, conferences, and issues and attract more followers
Search Twellow.com for regional influencers and follow them
Search Twellow.com for industry specific or topic specific people and follow them
Register for Twellow.com and fill in the expanded profile and bio section, you will show up in more searches.
Change your Twitter bio from time to time to attract new markets through search
Put your Twitter address on your business card, brochures and any other printed material you give out
Have a decal designed and put your Twitter address on the back of your laptop (I have had a number of new and interesting followers and it's a good ice-breaker at coffee shops and airports)
Finish all of your blog posts with a short bio that suggests people follow you in Twitter
When making comments on blogs, many ask for a web address – give your Twitter address instead
Have a prominent Twitter badge displayed on every page of your site and/or blog that links to your profile
Let your Facebook and Linkedin connections know you're on Twitter and ask them to connect.
In Linkedin Groups (relevant ones) ask members as a topic discussion to share Twitter profiles with each other and suggest you also connect on Twitter.
In a tasteful non-spam format let anyone on email lists, meetup groups YOU operate and other online groups that you're on Twitter and would love to connect. This is often done best as a side-note or footnote in a regular Meetup update or email newsletter blast. Emails and updates titled "Follow me on Twitter" are generally considered bad form.
Target regional (all regions your market to) influencers (not necessarily Twitter superstars) on Twitter and put them on a private list. Monitor their discussions and updates and pro-actively have relevant discussions, RT (Re-Tweet or Share) their updates and promote things they are promoting. After a period of time they will take notice, often following you and even sharing your content with their network.
Follow anyone who retweets your content and thank them (except of course spambots)
Use backtweets.com to find out who is linking to sites of interest or competitor sites. Follow those people and apply #3 again.
Host a #Tweetup in your community or at a conference.
Attend #Tweetups in your community (What is a Tweetup? Watch Here)
If you can type fast and well offer to Liveblog and live tweet an event
Guest blog on key sites
Write for magazines, newspapers (online or print) and get your Twitter ID into the footer.
Start a Twitter Tribe. A group of non-competing people who Tweet each others content. This can be formal or informal but all members usually benefit from increased Klout, reach and followers. (not to mention blog traffic)
Make sure your Twitter handle is on all relevant Keynote or PowerPoint presentations.
At the beginning of any public presentation let everyone know it's okay to get out their smartphones and Tweet to the world.
If you sell packaged goods or products get your Twitter handle on those packages!
Have contests rewarding those who Tweet about you, keep it simple and don't make following mandatory
If you have a physical business location or retail store/restaurant/lounge/pub etc. have a "We are social" poster that shares your social site URLS (Don't just use the logos)
Use QR codes in print materials and on presentations that Link to your Twitter account or a page with all of your social ID's [This one will take you to my Google Profile]

Put your Twitter handle on your nametag at Meetups and conferences
Put your Twitter handle on your contact info for your VCard, Bump application (for Iphone) etc.
Link to your Twitter account at the beginning of any video descriptions on YouTube, Vimeo Etc.
If you do a podcast or produce video put it on your splash page or mention it in your intro and extro.
Create public Twitter lists of great people in specific industry or interest segments. They will often follow you back as a result
Tweet to different time zones. I typically Tweet between 7:00 am and 7:00 pm on weekdays. That means I miss showing up in a lot of searches on Twitter during my off hours. To appeal to markets like India or Europe I schedule Tweets in Hootsuite to be posted while I'm sleeping. I also devote a night a month to staying up late and chatting with my buddies in India, South Africa and Europe. This conversation also increases followers.
Using local search start conversations with people in your immediate area who share things of interest. It doesn't have to be about business, it could be a common interest in art, hiking, food etc. This will often result in a follow-back.
Reply quickly. Often people will follow us, then ask a question or make a comment. To build rapport and maintain momentum respond and interact as soon as possible. These means checking Twitter more than once a day and taking time to respond in a personal authentic way. When we ignore people's questions or take too long to reply they may unfollow or never follow us in protest.
"Follow me on Twitter" with a link in your email signature
You can custom program "Tweet-this" buttons to include your Twitter address in the title of the Tweet (when people click on the button). This makes it easier to find your fans and gets your Twitter handle more exposure online.
Follow the 90/10 rule. Twitter is about engagement, people who might follow you and only see marketing links and no-conversation will most likely think you're not watching or don't care about what they say. Keep your stream about community, conversation and connection 90% of the time and Tweet about business, blogs, marketing etc. 10% of the time.
Follow people who retweet your competitors or content similar to the content you produce and once again apply step 3.
Create and share awesome, unique content via Twitter tips,  links to blogs, videos etc. This will get retweeted, shared and increase your following
Pay it forward. Get your friends, clients, staff and associates on Twitter and coach on how to use Twitter. They can become your biggest allies and fans.
Shane Gibson (@ShaneGibson) is a sales and social media speaker who has addressed over 100,000 people on stages on three continents over the past 15 years.  He is also co-author of Guerrilla Social Media Marketing and Sociable! How Social Media is Turning Sales and Marketing Upside-down.  When he's not speaking or Tweeting he is in the social media trenches working with his clients as Chief Social Officer for Socialized! Ltd. a social media agency and training organization.
Following are my most engaging blog posts according to Post Rank Analytics. They measure on-site and off site responses, votes, comments and links to each post and then rank the post. Having the Post Rank plugin installed into this blog made finding the posts that my readers have found most engaging easy. Thanks to everyone who has dropped by the blog, commented and shared my tips, strategies and podcasts. Here are the top 12 posts:
Thanks for all of your support in 2010. I'm looking forward to what 2011 has in store for the social media space.
PostRank Topblogs 2009 – #101 in Social Media

I tweet social media tips on a regular basis. For those of you who don't follow me on Twitter or for those who missed some of my tips this week, here are 11 tips on social media (if you have any to share please post them below):
Social Media Tip: Focus on what you love and those who love the content you create.
Social Media Tip: A single tweet may not create a best friend but it's a doorway to many new relationships.
Guerrilla Social Media Tip: Nano-marketing is not just about hyper-segmentation – it's the process of developing intimacy with people.
Social Media Tip: Social media monitoring isn't for keeping score it's for deepening engagement. #scrm
Social Media Tip: Social media monitoring allows you to have the right conversation with the right person at the right time. #scrm
Social Media Tip: Engagement is great BUT sustained engagement will maximize ROI.
Social Media Tip: Being the signal not the noise also means with more attention you will have more critics. It's a sign of success.
Social Media Tip: Your blog is for both creating and aggregating content and conversations. It's part of an ecosystem.
Social Media Tip: While marketing online creates profits, leadership can create legacy. Think short and long-term.
Social Media Tip: Mobile and location based tools are growing in importance and effectiveness. Invest in learning about them.
Social Media Tip: When writing your 2011 business plan see social media as part of the mix – there are applications in most departments.
Consistent – Guerrilla Social Media Marketing Secret is today's topic. Shane Gibson talks about how consistency is one of the major reasons Gary Vaynerchuck experienced his high level of success.
Keep giving and contributing more than the competition. Pay back will be huge.
Every tweet, blog entry, comment and status update will be saved forever and is permanently part of your brand.
Before permission to market comes permission to connect. There's a lot of trust building in between.
Make it easy for people to find you. While you're out looking for business there is an entire market looking for you.
"It's not about B2B or B2C it's about person to person marketing in social media" – @jeffbooth.
Use the back links function in Google to see who is linking to your competitors. Reach out to those connectors.
Go wide with social media then build strong deep networks by going deep with the phone, Skype, webinars or in-person.
Twitter search and tools like Twellow.com can dampen the noise down from millions on voices to the exact ones you're targeting.
Picking a fight publicly stays on record long after the battle is done. Rarely is it worth it.
Not getting the results you want? Are you asking for help often enough? It's about community. Reach out.
Share and give more than you think is practical… then do it again. It will build positive momentum for your brand.
When partnering with other social media influencers start by making sure your values and principles are aligned.
If you follow me on Twitter you know that I like to tweet social media tips. This is a collection of social media tips under 140 characters that I tweeted out in 2009. It's not all of them, just the ones I personally archived. They are chronologically organized from most recent to oldest. You will notice a consistent theme but also somewhat of a change in thought process as well. The reality is social media and our attitude toward it has changed a lot in 12 months. Here's my 159 Social Media Tips in Under 140 Characters for 2009:
Improve the way you use 5 tools 10% each. Cumulatively it will have a big effect.

Easy access to tools like blogging raises the bar for those who want to lead, lots of competition.

Take massive action when you see a trend that may have large growth potential. You won't win them all… but one will do.

The best medium is the one your customer likes, use multiple media.

There will be platforms you visit and platforms you call home. Make sure you own your home.

Be open to feedback, be open to being wrong. Defensiveness isn't all that social.

Hone in on and focus on engaging people. Help multiply each other's vision.

When teaching people talk in variable rules and principles not universal ones. Nothing is forever…things move fast.
Many people will quit, shun and criticize social media marketing when they realize it's actually about leadership.
Dear Agency/Marketer/Sales Guy, if we wanted marketing and pitching we'd watch TV.
If you keep changing your message you will keep starting over. Experimenting with your strategic brand is not good.
Social media works better when it's incorporated holistically with your entire set of marketing tools.
Before listening to someone's social media tips or advice use social search to verify their credibility.
Leadership is influence (John Maxwell) and influence is measured based upon the change and action we create.
Use Twitter lists to let people know you're listening.
Consistency, conviction, passion and focus are needed to see a social media plan succeed.
Best short-cut for results: focus on people, relationships, & psychology not gimmicks and clicks.
Not listening to your customer = Brandicide (Brand Homicide) do you have a social media listening strategy?
Once you find a conversation about your brand encourage it to spread by creating and hosting places for dialogue.
Social listening strategy comes before social media content strategy.
Most social media efforts are abandoned long before their results can be measured.
Integrate your tools in your marketing but also measure the effectiveness of each tool individually.
Social Media Trend: More people realizing that social media success is about leadership not technology.
Social Media Trend: Simultaneous translation in mirco-blogging and collaboration platforms.
Social Media Trend: Mobile social apps aggregating multiple social networks and media into one place.
Aggregate your client and prospect list and develop nano-casts for each nano-segment.
Social media can be used for retaining, developing and prospecting clients, all aspects of the sales cycle.
Get out of your industry vacuum when building strategy. Look for SMM concepts that can be adapted.
Want to make good connections? Make value added, thoughtful comments on their blog.
Teach your clients about social media, help them get online. It creates more dialogue opportunities.
Make it real at least twice a week. Meet offline in person with contacts.
Research and test the latest platforms but don't go down the rabbit hole.
Teach people the principles of leadership before teaching them how to use Twitter or blogs.
Meetup.com is best used for community events. Using it just to promote your product or company will have minimal results.
Your great idea or blog post, is being written in 10 different languages by other people right now.
Any system or company bent on being exclusive versus inclusive will fail.
nstead of writing headlines write engagement lines.
As a leader, make the journey look fun & share your joy. People will want to follow the path.
"Nothing happens until someone tweets something."
Being a thought leader is just as much about selfless contribution as it is about unique dialogue.
You don't have to like or use every tool to be successful.
Social Media Trend: Brands now need to think global social etiquette when planning their social media strategy.
Unique, brief sound bytes produced consistently can yield great results.
Once in a while ask your FB and Twitter friends for help. See who steps up. This will tell you a lot.
Make a list of people who support you online. Develop a strategy to reciprocate.
Use your experience in social media to predict areas of growth in new regions and niches. Then pay it forward.
You may be awesome blogger but does the world know? SEO, social networks, offline promotions are needed.
Make your events that you promote about the community. Education and collaboration trump pitches.
"Think what's in it for me?" from your target market's perspective.
Using more than one channel / stream shortens your brand engagement curve.
Defining your target market and goals is easy, engaging them is the challenge.
The numbers are exciting but they're just numbers until you make it real and build good relationships.
Engagement is not just about listening; it's about empathy, rapport, and making people feel heard.
Engagement is the goal, social media are the tools.
Thank people who comment on your blog via e-mail or twitter. Let them know you're listening.
Search engine optimization can help you rapidly grow your network and connections. Get good at it.
Develop a list of your top connections/influencers and make sure you're connected on multiple networks.
There is a Trend: Condensed writing, short videos all getting shorter.
Blogging tip. Pick a theme or topic for the month. Plan 7-10 blog entries that build up to 1 core message, event, or action.
Have a series of steps planned and measured to track and develop relationships.
One of your final steps in the social media sales process is to connect offline, on the phone, or at least one on one virtually.
Use http://www.backtype.com/ to search blog comments about you, your blog or a topic.
Social media is too new for Gurus. We're all amateurs! That's what makes it fun and open.
Social Media Phases: Adoption, Population, Pollination, Aggregation, Splintering, Commercializing, and Globalizing.
Social media is here to stay and has more relevance and power everyday.
Embracing and understanding how to use social media is a core life skill, leadership skill and career building skill.
Social media is social. It's about helping people connect to people using technology, it embodies truly what the internet was intended for.
Social media is not just about technology, it's a new way of leading, thinking, and connecting with other people.
Social media belongs to all of us. An ordinary consumer, a front line employee, a political activist in Iran all have access and a voice.
You need different messaging for client retention than you do for attraction.
Statistics tend to be a history lesson. Growth and human behavior are rarely linear. Listen to customers and staff.
Use social listening tools: http://www.collecta.com/ http://www.twitority.com/ http://socialmention.com/ http://www.twazzup.com/
Develop a social media policy and set of guidelines to keep your team on track and on message.
You can force someone to be social, you can only give them the tools and training.
Worry less about selling and more about connecting and rapport.
Read Free the Future of a Radical Price before launching your next marketing campaign.
Read "Ignore Everybody" by Hugh Macleod if you want to tap into your social media creativity.
Spend time each day promoting and contributing to another blogger's success.
What works for you now will only keep working until it is no longer unique. Keep innovating.
Polish your work too long and someone will move first with a less perfect work but they'll get the credit. Publish first.
One day we will look back at "social media" as a buzz word. But the best practices will still be in use.
Seeing someone as a competitor is old economy, seeing them as a peer and a fusion partner is key.
Talk and listen to small nodes or groups of people in your larger niche network. Niche broadcasting is not enough.
Contribution, help and kindness are your social currencies which can get you access to great people and great networks.
Want to implement your social media plan fast? Think collaboration not committee
All the details, plans and tools don't mean much unless you understand people.
A sense of curiosity and willingness to experiment can lead to some positive serendipitous discoveries.
Stop focusing on being a social media rock star, focus on building a community and a list.
Develop an understanding of the Long Tail http://longtail.com Think variable not universal when building strategy. Nano-casting and the "Long Tail" are key."
Types of social media ROI include: improved staff engagement, quicker response to business challenges, increased frequency contact with clients.
Social Media results could also be: increased revenue, more customer data, increased store (real world) traffic, press, improved customer service.
Looking to hire a social media expert? Look for proof that they have done more than just build traffic and followers.
Words to use in a social media job posting: track record, business experience, well networked, project management experience.
There is a lot of hype. Look for truth, verify information and execute with dependable tools and strategies.
Use give away's that have real value with a variety of paid options to upgrade to. Think customization and options.
Permission to connect has put the power in the consumers' hands. Seek and then treat that permission like gold.
When I join your facebook page, give you my e-mail or follow you on twitter those are examples of "permission to connect"
Some people like lengthy whitepapers, others learn best through video, audio or text updates. Use variety.
Measure engagement levels, revenues, value added interactions. Big numbers in views and traffic can lie.
Bad customer feedback is a branding opportunity if you handle it right.
If you can't be relevant, at least be entertaining!
Visit sites outside of your industry and interest areas for new ideas.
Constantly look for ways to contribute and you will never run out of marketing leverage.
Social Media should be integrated or synced with other marketing activities.
Social media is not rocket science. Forget the big words and focus on listening and connecting intimately.
It's kind of like dating. Don't ask someone to marry you on the first date.
Your goal is to become referable; to become credible, and to build a following through value added interactions.
It is not about getting referrals; it is about becoming referable.
There are many ways to get followers. A good question to ask is: "How do I create quality connections on Twitter?"
Ning.com is a great social networking tool. What it enables you to do is create your own private network for anything.
Pay it forward. Teach people about social media and they'll tell other people about you.
Resist the temptation to fill your Facebook friends inboxes with daily marketing. They will tune you out.
Break long blog posts into a series of short-posts, it will increase your page views and be more engaging (except this one of course)
It's personal reputation and brand building that makes us approachable, people want the real deal.
When you're reaching out to thought leaders in the social space you need to tap into their motivations.
Pre-scheduled tweets and blog posts can help you reach audiences in different time zones.
Use http://www.tubemogul.com to distribute video to Youtube, Viddler, Vimeo etc. all at once.
Use http://hootsuite.com to manage multiple twitter accounts and schedule tweets into the future.
It feels great to know people are listening to us and that they care. Let your customers know you're listening.
If done right social media will become a part of your business process not a separate addition.
Spend at least as much time listening as you do broadcasting.
It's called "social media" for a reason. Be prepared to interact consistently.
You can't win the game focusing on the scoreboard. Focus on the game of engagement and the traffic will come.
Losing followers is okay, measure the engagement level of who is still here to see how you are doing.
Have a goal, measure results, measurement provides feedback and improvement.
The internet has always been about helping people connect to people (@nickusborne)
Pay it forward. Help, teach. guide and be patient with people new to the scene. [Tweet This Tip]
Study people who are credible with the type of clients you want to attract. Model their strategy.
Marketers aren't always synonymous with community builders, traffic and followers isn't always equal to credibility.
If you're an old school e-mail marketer or pitch artist, there's some habits you will need to unlearn.
Before you start your campaign define your market and their pains.
Everyone and every company gets off message once in a while. Refocus and learn from it.
Leaders of large "Tribes" need to have thick skin and a tolerance for noise.
Continually tweak and update your Linkedin profile, your network will be notified.
Social media is changing so quickly that if you stop too long to smell the roses you'll be out of touch.
Try a new platform each month, video blogging, FaceBook, tumblr etc. Curiosity can lead to great discoveries.
You can't make a robot network for you at a party, why do you think they can do it for you on the web?
Some un-follows are strategic. People want to know if you're really listening.
You can't please everyone. But know who you are trying to connect with. Get in sync with your audience.
http://www.ping.fm updates FaceBook, Brightkite, Twitter, tumblr and Linkedin statuses all at once
Focus on a specific theme in your social media for extended periods of time
Your blog is your home base, all social media should feed your home base
Social media is 90 % contribution and connection 10 % marketing and sales
Social media belongs to the people, they get to make the rules not the marketer
Have a social media policy for your company. Help your people be effective and on message
Promote other people's dreams. It builds community, loyalty and brand for you
"Marketing is a process not an event"- @jaylevinson Blog, tweet and talk about solutions to people's pains and challenges
Social media tools like twitter are listening tools more than they are broadcasting tools.
Nano-cast to many small niches instead of broadcasting to everyone.
Learn to break up large blog entries into many smaller entries. It's more user friendly
Take time each month to update your major social media profiles, use key words that your prospects would search for
Use social search like http://search.twitter.com and http://blogsearch.google.com to listen to your customers
Each social network has it's own etiquette FaceBook type behavior doesn't work on  LinkedIn
Answer people's comments on your blog, or @ replies in Twitter. Social media leadership is about bi-directional communication.
Think twice, click once.
Take it off-line, book in person meetings or hold events for your online social media contacts
Use an assortment of tools, it geometrically multiplies efforts
Always be asking where are we going? What is the next Twitter or FaceBook going to be?
Use a mixture of content on your blogs, top 10 lists, photos, video, audio, guest bloggers, and polls…
I'm excited about what this year has to hold. While the big talk and focus is on Social Media ROI the real trend in my opinion is the realization that social media is a leadership tool. I'm looking forward to seeing many leaders amplify the good things they are doing in 2010 using social media. Happy New Year!
Download a free Chapter of Shane's new book in PDF or MP3 Format.
Here's a summary of social media tips I have posted on Twitter over the past week. They're usually inspired by conversations, client questions or things I have observed that work well or don't work at all. I like to archive them for those of you who don't want to sift through my very noisy Twitter stream to find the gems.  Here they are:
10 Social Media Tips Under 140 Characters
When teaching people talk in variable rules and principles not universal ones. Nothing is forever…things move fast.
Many people will quit, shun and criticize social media marketing when they realize it's actually about leadership.
Dear Agency/Marketer/Sales Guy, if we wanted marketing and pitching we'd watch TV.
If you keep changing your message you will keep starting over. Experimenting with your strategic brand is not good.
Social media works better when it's incorporated holistically with your entire set of marketing tools.
Before listening to someone's social media tips or advice use social search to verify their credibility.
Leadership is influence (John Maxwell) and influence is measured based upon the change and action we create.
Use Twitter lists to let people know you're listening.
Consistency, conviction, passion and focus are needed to see a social media plan succeed.
Best short-cut for results: focus on people, relationships, & psychology not gimmicks and clicks.
Podcast: Play in new window | Download | Embed
Today's podcast is about 10 Things That Will Not Change About Social Media in 2010.  There have been 1000′s of bloggers who have put fingers to keyboard and pounded out their predictions for social media in 2010. While there's many predictions about future technology advancements, new demographics and debatable Twitter growth there are many things that are not going to change. So here is a summary of my thoughts that are on the podcast:
10 Things That Will Not Change About Social Media in 2010
It's about the conversation
It belongs to everyone
It can't be controlled only lead
It works best integrated
It doesn't fit in the marketing ROI box
It's an investment
It's never been about the tools but those who wield them
It's not going away, it's not a fad
Experimenting with your clients money is a bad idea
Success belongs to the storytellers