Podcast: Play in new window | Download | Embed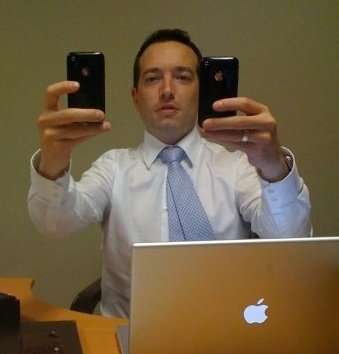 Hiring a social media manager, social media coordinator, chief tweeter or whatever you might call it is a challenging endeavor. There are many brands which have experienced great success and many who have also shot the foot off of their brand on the internet. Social media is not a department or a cubicle, it represents the most powerful word of mouth (or word of mouse) channels that have ever existed. Too many organizations aren't strategic about who they hire internally or how they intend on implementing social media and integrating it into their business processes. Today's podcast covers four major areas you need to look at (there are many more) before hiring.
Podcast: Play in new window | Download | Embed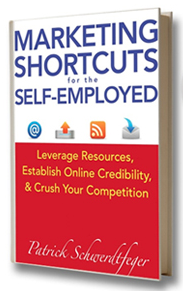 Today's podcast is an interview with Patrick Schwerdtfeger author of the new book "Marketing Shortcuts for the Self-Employed" (2011, Wiley) and a regular speaker for Bloomberg TV.
We talked about how you can take one blog post and repurpose it in at least seven different ways.  Patrick shared with us a few simple tips, that can build a MASSIVE online identity while working less than most of our competitors competitors.
We also covered some important social media how-to's:
1. Five places to get great content ideas.
2. Seven ways to repurpose your content online.
3. The reality behind blogs, content and getting found online.
4. The three-part "winning formula" for social media success.
For more information on Patrick's book and a free gift visit http://www.80shortcuts.com/gifts
Podcast: Play in new window | Download | Embed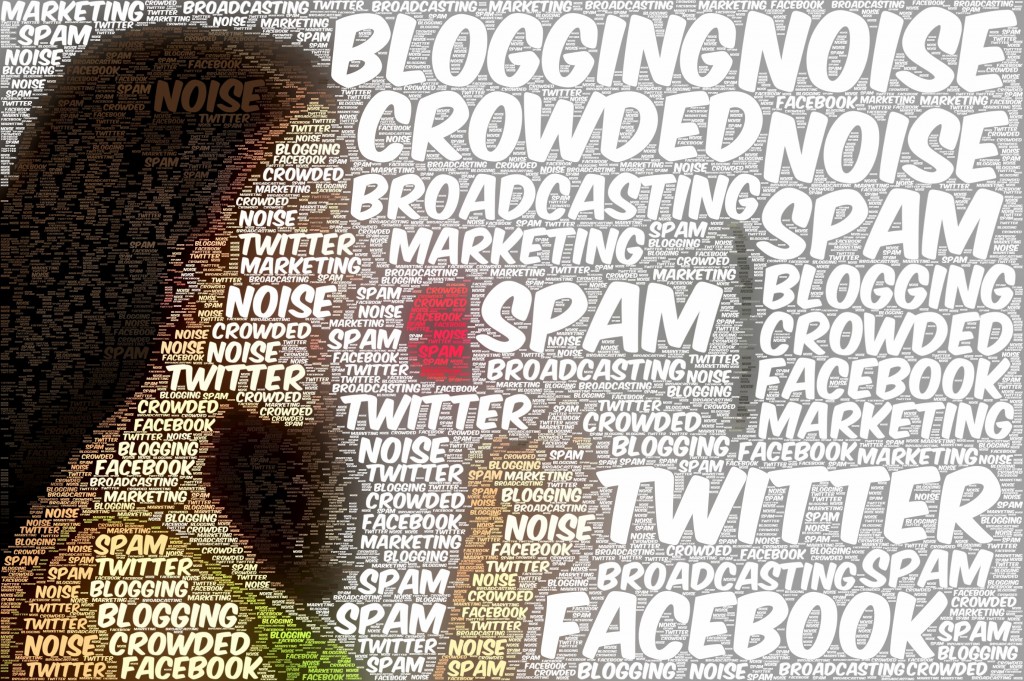 Today's social media podcast is on "How to get above the noise." With over a billion people Tweeting, posting to Facebook and blogging about everything imaginable you have a lot of competition for mind share within your target market.
Today I will talk about three things that will help you rise above the crowd:
Consistency
Niche and Nano-marketing
Connecting (Connection is King. Content is secondary)
This is day 5 of my 30 day podcasting challenge. I will be posting a new podcast everyday for the next 30 days. If you would like to contribute as a guest on the show e-mail me shane@socialized.me. Otherwise a comment, tweet or Facebook share would be greatly appreciated.
Here's a selection of tweets, tips and insights I have posted to Twitter over the past month. If you have any of your own — add them in the comments below. Have a great weekend.
Social media tip: life is an experiment. Be willing to make mistakes, challenge your own assumptions and break the mold to win.
Social Media Tip: It's not social if the result isn't about building relationships, trust or community.
Social Media Steps: 1: Have a goal. 2: Know your market. 3: Monitor & Listen. 4: Identify Needs 5: Create Focused Content & Conversation.
Social Media Tip: You can't buy trust and you can't outsource authenticity.
Social Media Tip: the customer is operating in real-time. Socialize your whole team so you can too!
Social Media Tip: Always go back to the basics. If you're no longer getting the results you want, look at what you stopped doing.
Social Media Tip: The numbers mean very little. A small group of passionate people is and always has been a majority.
Leadership Tip: The quest for knowledge for the sake of empowering those around us is one of the most powerful intents in leadership.
Leadership Tip: Don't let your Ego separate you from other people. We are more alike than we are different.
Sales Tip: treat mid-month with as much urgency as month end and your year end will look a lot better.
Social Media Tip: it's okay to make mistakes — but remedy them quickly — apologize and then move on
Social Media Tip: it's never too late to say thank-you. Reach out a acknowledge those in your community who make a difference.
Social Media Tip: People don't care about your marketing tweets until they know how much you care about them.
Podcast: Play in new window | Download | Embed
As organizations push into the social media space many will start with a social media position, others will have a social media department within their company. This is a great initial step but there are pitfalls and down-sides to seeing social as separate from other business activities. Today's podcast (direct download here) talks about the whether or not we should have dedicated social media silos or fully social companies.
In my opinion your end goal must be to fully socialize most of your departments from HR to sales, marketing and even the senior executives in the company. What are your thoughts?
Podcast: Play in new window | Download | Embed
I talk a lot about thought leadership in social media. In fact in our Social Media Matrix Stephen Jagger and I label our 5th and highest level engagement "Thought Leadership." When I talk about social media and thought leadership on my blog, Twitter or live at an event/seminar there's always a couple of people that moan or whine. They say the word is overused in social media. Funny thing is the term has been around a lot longer than the term "blog" or social media (1994 According to Wikipedia) — it is an integral part of any marketing, community building, or leadership endeavor.
Thought leaders create community, build other leaders, and create unique content that speaks to and helps specific markets. Today's podcast (direct download here or via iTunes here) discusses thought leadership and it's importance to marketing, leadership and even your career.
Here's a SlideShare embed of the model:
As for those that don't like the term "Thought Leadership" here's my challenge to you: find me an easy to understand, non-geek or non-tech speak definition that has global appeal and I will gladly use it.
As for the rest of us. Thought leadership is a process of becoming, not an event or clever blog post.  Here are a few of my favorite modern day business thought leaders:
Let me know who your favorite thought leaders are.
Podcast: Play in new window | Download | Embed
(Download today's social media podcast directly here)
Today I had the great opportunity to once again have Bruce Philp author of the Consumer Republic on my social media podcast. I was so inspired by our conversation I actually reworked my Socialized! Lunch presentation today to include some very important thoughts that Bruce shared about the future of brands and the true power consumers now hold in their hands.
The idea for this podcast discussion really came from a couple of tweets I posted about Groupon's recent off-color marketing tactics and my disappointment that their response and handling of comments and complaints seemed to be more about sanitizing and denying versus engagement and authentic apologies. (Still not happy with Groupon's Super Bowl Ads this was the icing on the cake) Bruce's question to me at that point was; "what if consumers become discouraged and no longer engage?" (because of this type of corporate response online.) I invited Bruce back on the show to talk about the "Consumer Republic" and answer this important question.
During the podcast the conversation quickly turned toward so-called social media experts bloggers etc. who are often the first to criticize a brand, but personally don't walk their talk in regards to engagement or even responding to blog comments and tweets.  (I've been personally guilty more than once of not returning an email or a phone call due to huge volumes of in-bound tweets and inquiries.)
Have a listen to the podcast and let me know what your thoughts are on the subject. A huge thanks to Bruce Philp for logging on and having the conversation as well.
Podcast: Play in new window | Download | Embed
There are many aspects to success in social media. Having a solid goal, knowing your core target market and of course monitoring social media conversations and your brand. Producing great content and engaging community are also vital. All of this has to be grounded in a solid implementation plan in order to work over the long term. A goal, great content, and community engagement are not enough to succeed using social media as a marketer, sales person or entrepreneur. We also need to ensure that we are consistent in our approach, message and community involvement.
Today's podcast is about the importance of a social media calendar for individuals and organizations. I have also provides a social media calendar template that Jay Levinson and I developed for Guerrilla Social Media Marketing.
Have a listen, download the sample social media calendar and then let me know how it works for you.
Download the sample Social Media Calendar (WORD) and Social Media Calendar (PDF)
I saw this great example of how a customer owns your brand in social media. While some Realtors may blog and tweet the links, or others build Facebook page shrines in their likeness, Jack Bernard has been branded by his customers online. You obviously want both, but this creative list as to why he's the best Realtor in the world is a great example of how a raving fan can use their social influence to promote your business.
Jack recently helped Michael Tedham find and buy a new house. Mike is a successful marketing and promotions manager for the Granville Entertainment Group. Mike also has 1957 Facebook friends. So when Jack delivered great service, Mike didn't just tell a couple people… he told 2000.
From a note on Mike's Facebook page here's his tongue-in-cheek tribute to Jack Bernard:
Wednesday, July 21, 2010 at 6:46pm

Why Jack Bernard is the best realtor in the world.

1.) He is a ginger, but somehow has a sole intact.

2.) He doesn't drive a BMW convertible.

3.) He doesn't use spray tan.

4.) He stops at Starbucks before he picks you up.

5.) It's really fun to say 'JACK ATTACK!'

6.) He is EXTREMELY knowledgable.

7.) He is an EXTREMELY good teacher.

8.) He takes about a second to understand what you are looking for, and finds it.

9.) He doesn't care if you are hung over, and keeps the stereo down if you are.

10.) DId I mention he somehow retained his soul?

Thats 10 reasons, and I could name about a million other. Tina and my experience purchasing our first home has had several set backs, but NONE were by fault of Jack, and he helped us through every single one of them. Anybody out there looking to buy, be it your first place, or 50th, Jack is amazing, and I will never buy another place without him.

Kudos Jack…. Kudos
What do you think of the customers ability to brand you? Should Realtors who haven't retained their soul be concerned about the power of the crowd?
-
-
-
Here's a screen capture of the original post: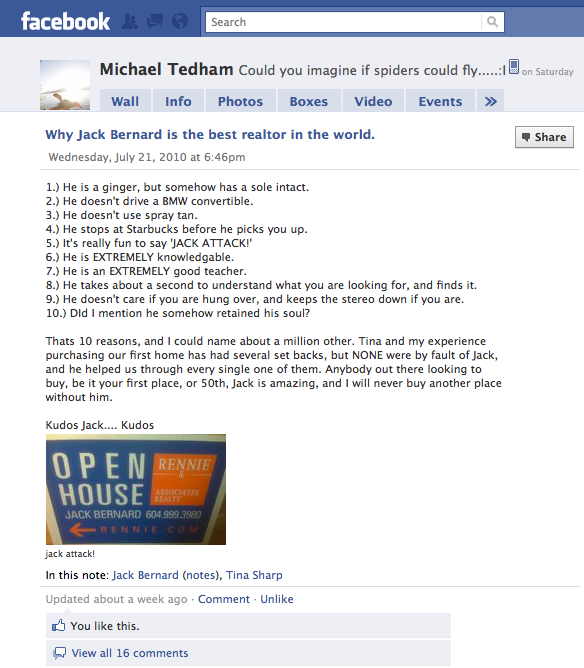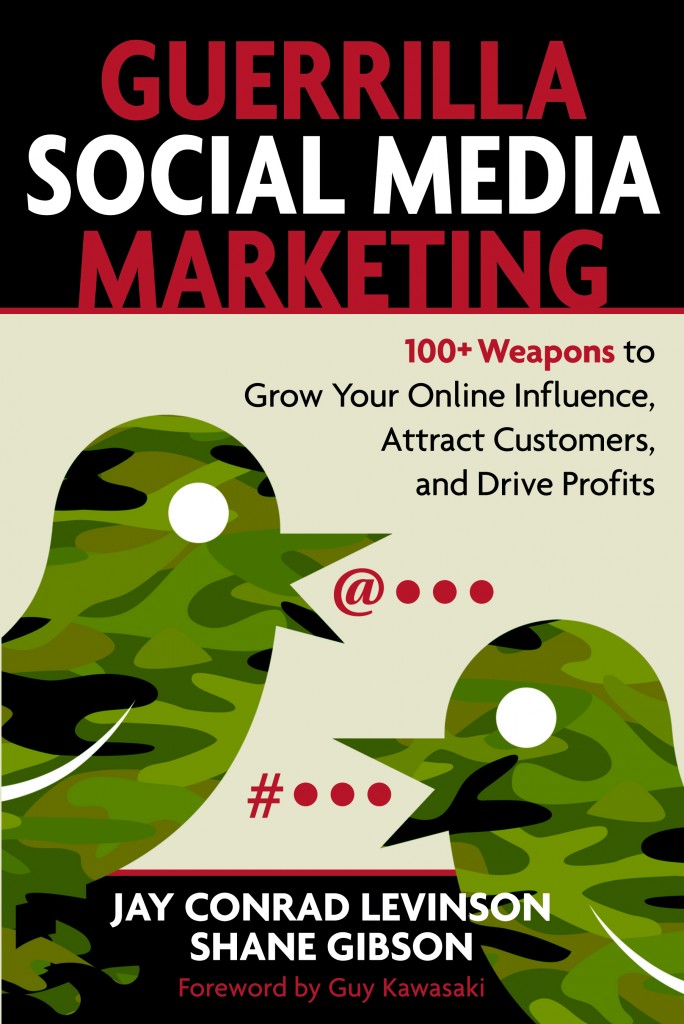 Since late 2009 Jay Conrad Levinson and I have been working on our new book Guerrilla Social Media Marketing. It's the latest in the Guerrilla Marketing series of books, the top selling marketing series of books of all time (20 million copies sold). I know Jay personally and when the opportunity came up to write the book I jumped at it. It wasn't until 1/2 way through the book did I realize the magnitude of the opportunity (and the work entailed in living up to the Guerrilla Marketing brand).
You can order it here or join the Facebook page here.
In the meantime I thought I would share the foreword written by Guy Kawasaki of Alltop.com:
How to Become a Social Media Guerrilla
I first met Jay Conrad Levinson, the father of guerrilla marketing, when I interviewed him in early 90s. I met Shane Gibson at an Olympic Hockey Tweetup in Vancouver, Canada. When Shane told me that he and Jay were working in this latest volume of the Guerrilla Marketing series about social media, he captivated my interest because the two are a match made in heaven.
Alltop owes its success to social-media guerrilla marketing. We used Twitter and Facebook to create Alltop evangelists, galvanize our supporters and critics, and generate page views and brand awareness. We also tapped community and built multiple nano-casts of content for the nano-markets that Jay and Shane talk about in this book.
The combination of the social media and guerrilla marketing enables entrepreneurs to level the playing field in their industry. Capitalizing on social media is not just about using them as tools but taking matters beyond this and making them guerrilla-marketing weapons.
Jay and Shane have crafted a comprehensive guide for the marketer, entrepreneur, or executive that is serious about profiting from social media. The challenges that people face in social media are:
• What tools to use and how to use them profitably.
• Finding and engaging profitable target markets.
• How to build community and then raving fans.
• What and how to measure ROI.
This book answers all these issues. It's not an easy path; it will take discipline, tenacity, and creativity. For those who are willing to pay this price, Jay and Shane have provided the ultimate roadmap needed to achieve your goal.
Guy Kawasaki
Guy Kawasaki is a founding partner and entrepreneur-in-residence at Garage Technology Ventures. He is also the co-founder of Alltop.com, an "online magazine rack" of popular topics on the web. Previously, he was an Apple Fellow at Apple Computer, Inc. Guy is the author of nine books including Reality Check, The Art of the Start, Rules for Revolutionaries, How to Drive Your Competition Crazy, Selling the Dream, and The Macintosh Way. He has a BA from Stanford University and an MBA from UCLA as well as an honorary doctorate from Babson College.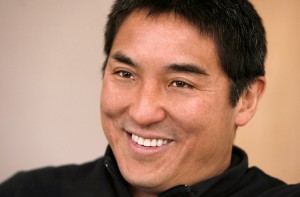 Enough. With the advent of Twitter there's the follow Friday or #followfriday or #ff. People post lists of people they endorse or want to thank for their impact on them via Twitter.  It may be the trend du jour but I feel for us hyper wired social media and web geeks People Friday is a much greater cause. We spend so much time behind our monitors or squinting at our iPhones and Blackberry's that we have forgotten the purpose; PEOPLE. Instead of posting on Twitter how much you like someone and why everyone else should follow them online — why not meet them in person or pick up the phone and let them know how much you appreciate their efforts. It's great to promote and connect with a broad base of people and expand our network. Intimacy and trust however is built by deepening key relationships. When you know each other better, and deep trust is built we can than truly and endorse someone as credible.
So I have my People Friday booked up. I'm visiting with my co-author Stephen Jagger, then meeting with a long time client, and then I will be meeting with George Moen of Blenz Coffee. Most of these conversations and interactions could be handled online via a wiki / chat collaboration BUT there's huge value to looking someone in the eye and taking the time to let them know how they have impacted you. If at all possible today… get offline in person with someone you have rapport with online and see if you can add depth to that relationship.
Have a great Friday,
Shane