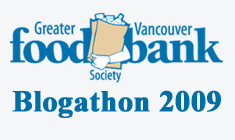 Last year I blogged for 24 hours (49 blog entries) for the MSMF foundation and raised over $1400.00 to help build school in a destitute part of rural India.
Presently there are over 140 bloggers already registered to blog for 24 hours (one blog post every 30 minutes) to raise money for the charity of their choice. We will be blogging from 6 am July 25th 2009 until 6:00 am July 26th 2009.
This year I have decided to blog for something more local. The Greater Vancouver Food bank Society.
With belts tightening due to the economic down turn globally even within affluent regions like Vancouver, BC organizations like the Food Bank are receiving significantly lower cash and food donations this year. With increased unemployment and underemployment there is actually an increased need for their services.
Here's how you can help:
#1 A donation of any amount would be great and can be made through CanadaHelps.org
#2 A donation of $100 or more to sponsor a blog post simply donate the amount and then send me a quick e-mail or comment on my blog. I will either answer a question about social media, sales or leadership that you have, or I can write a 150 word profile of your company. In both instances there will be links back to your site or blog and your photo or logo included. (See Vancouver Board of Trade example from last year here)
#3 Drop off non-perishable goods directly at the Greater Vancouver Food Bank [map] and let me know what was dropped off.
You can see a recent article about the Blogathon here.
Thanks in advance for all of your help and support!
Shane Gibson (Follow my updates on Twitter)
Another great tip from Darcy, Gayle and Judy. I like this one. I don't know how many times I've been at a function and someone has interrupted a great conversation. All three people can lose. Here's what they have to say:
Networking Interruptus. Here is a very typical networking situation: Sam and Salima are talking and someone comes over, interrupts, and proceeds to talk only to Sam. You can picture Salima's expression! What should have happened? Let's start by saying that sometimes you do have to squeeze into the conversation. But barging in and completely ignoring the other person is not how to do it. Instead, the person should have entered the conversation by saying "Sorry to interrupt, but do you mind if I just have a quick word with Sam?" The interrupter should then remember to keep the circle open so Salima is not left hovering. Most conversations aren't 'spy-worthy' so everyone can be included. Besides, if it is highly personal it really shouldn't be discussed at a networking event.

– Darcy, Gayle and Judy

Got a great networking tip? Share it with us at: info@workthepond.com We are giving away a copy of the audio version of Work The Pond! for the best one!
I was interviewed by Tom Everitt of ThinkTom.com on my upcoming seminar at the Vancouver Board of Trade next Tuesday November 25th.  Take a look at the video ( details of the event are below the video )
Tuesday, November 25, 2008


Managers' Toolbox
Speaker:

Shane Gibson, President (North America), Knowledge Brokers International Systems Ltd.

Topic:

SELLING AND SUCCEEDING IN TURBULENT ECONOMIC TIMES

Many sales professionals and entrepreneurs are concerned about how they are going to weather today's global financial storm. The rules of the game have changed with the meltdown in the banking sector, along with globalization and the introduction of disruptive technologies to almost every industry.

Succeeding in turbulent economic times is about proactively taking control of our own personal economy. Shane Gibson, president of Knowledge Brokers International, will share with you strategies to succeed in any economic condition. Fortunes have been made during times of change and economic downturn; sales people and entrepreneurs must develop a tool kit to help us adapt to and succeed in this ever-changing environment.

It's not what happens that defines an event; it's how we respond to it that matters. This fast-paced session will give attendees the tools, insight and strategies needed to respond to today's marketplace conditions. You will also learn:

How to develop and fine-tune your sales process for any environment;
Why the best time to gain market share is in turbulent times;
The power of community and connecting;
How to use technology to reduce your marketing and sales costs;
How and why to swim against economic tides and trends;
Tips and steps to maintaining sanity and focus in tough times.

About the speaker
Shane Gibson is a Vancouver-based international speaker, author of Closing Bigger: The Field Guide to Closing Bigger Deals, and a global entrepreneur who has addressed several thousand people over the past thirteen years. As a trainer, coach and motivational speaker he combines a diverse background in sales force leadership, new entrepreneur development and extensive sales and leadership coaching.

Who should attend
Business owners, executives in the areas of sales, marketing, business development, sales staff, entrepreneurs and anyone responsible for or part of a team that needs to generate revenues.

Presented by The Board's Small Business Council

MAKE IT COUNT
The Vancouver Board of Trade's 2008 Managers' Toolbox Series qualifies for The Company of Young Professionals Engaged Leadership Certificate Credits. One session = 2 credits.
Please refer to http://www.tcyp.ca for further details.

Event#

090722

Date:

Tuesday, November 25, 2008

Time:

Registration: 7:30 a.m.
Program: 7:45 – 9:45 a.m.

Location:

The Coast Plaza Hotel & Suites, Stanley Park – Comox Ballroom
1763 Comox Street

Sponsors:

Certified Management Accountants
Presented in co-operation with:
Small Business BC


Tickets:

Members


Individuals

$64.00 + GST

Table of 6

$462.00 + GST


Members save at least 30% !

Future Members


Individuals

$96.00 + GST

Table of 6

$750.00 + GST


Not a member yet? Click here for Membership Benefits!
The guys over at Reachd shot some video of Stephen Jagger and I during a panel discussion we participated in at the Vancouver Board of Trade called Big Impact for Your Small Business.  The video is pretty shaky (it was done on someone's hand held but the content was good). Have a listen.
Quick Links:
Sales Training Courses
Shane Gibson's Bio
By Shane Gibson and Fiona Douglas-Crampton (this article originally appeared in the Vancouver Board of Trade Sounding Board).
How can you make the most of your membership in a Board of Trade or community based operation? If you expand your social network and build bridges to other industries, opportunity is everywhere.
One of the first questions we ask when considering getting involved in any association or venture is "What is our return on investment?" It's all about ROI; unfortunately, most organizations have a narrow definition and limited strategy to maximize their ROI.
If an organization is "money-in money-out" focused with their return on investment measurement, they are simply missing out on long-term business growth. The 360-degree ROI model as seen below takes into account a full spectrum of revenue, brand and relationship multipliers that progressive organizations are using to fully engage the marketplace and maximize their true return on investment, as well as what Darcy Rezac calls "Return on Relationships."
When an enterprise is involved in their community or a professional association like The Vancouver Board of Trade, they need to measure ROI in many ways to truly see the full impact of their contribution, networking and branding activities. Following are the fundamental areas we should consider.
Reputation and trust-building
"Business moves at the speed of trust," says best-selling author Stephen Covey. By making a commitment to be involved, engaged and visible in our business community, we make it easier for our clients to trust us and be exposed to positive word-of-mouth within the community. As more people get to know us and the work we do it takes the fear out saying "yes" to doing business with us.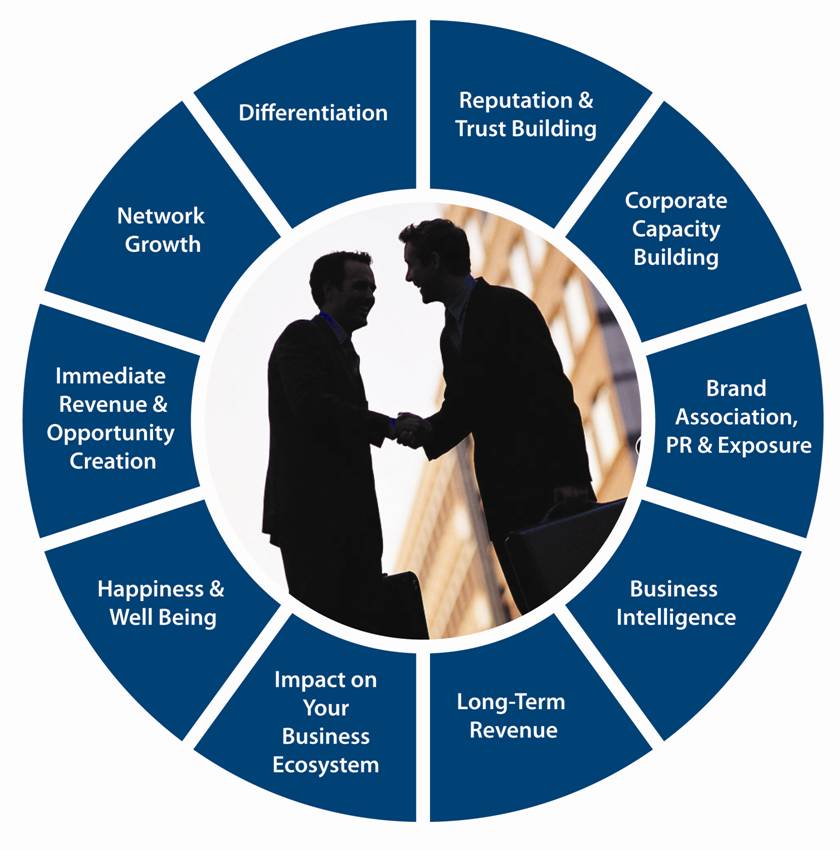 Corporate capacity building
Our ability to build relationships, communicate, sell, market, and lead is critical to our success as an organization. Through educational programs, networking opportunities, and exposure to your communities business leaders you are growing your individual team members' capacity and in turn your overall organization competitiveness.
Brand association, PR and exposure
Your people are your brand. With every interaction with the community they have the opportunity to promote your brand, and tell your unique story. People buy from people, and face to face is your best currency.
Business intelligence
You have to have your finger on the pulse of what's going on in your industry, your clients' industries and the economy in general. Usually by the time it's reported in the news, it has already happened. Getting involved allows you to see the trends as they are…Read the rest at BoardofTrade.com

This is blogathon entry number 37 for the MSMF Blogathon. Visit this page to learn how you can support this cause.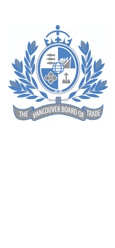 This blogathon entry has been sponsored by Fiona Douglas-Crampton (604-641-1207) with the Vancouver Board of Trade.  Before I get into Fiona's question I must personally first let my readers know that the Vancouver Board of Trade has been the single best investment I have made in my business in the past 10 years.
The Board has helped me grow my personal network, increase my personal leadership capacity and even after several years as a  member I now see an endless flow of new business coming in from referrals and opportunities at the Board.
Fiona's question is: "What qualities of a successful leader are also shared by successful sales people?"
Answer: Due to 18 hours of typing (my hands are a bit stiff) I will be answering this in audio or podcasting format! But here's the coles notes version:
Vision

Influence

Networking Skills

Coaching and Mentoring Skills

Teaching and Training Skills
Podcast: Play in new window | Download | Embed

This is blogathon entry number 31 for the MSMF Blogathon. Visit this page to learn how you can support this cause.
"When mission is clear abundance will appear"
- Fred Shadian
In helping people set effective goals we need to be to answer yes to the following questions:
• Is the goal S.M.A.R.T?
• Does the goal inspire them?
• Have you connected or aligned it with their values?
S.M.A.R.T Goals
The S.M.A.R.T acronym for goal setting has been used for decades and it's still one of the best formulas I have seen. S.M.A.R.T goals are as follows:
Specific – the goal is focused
Measurable – there are benchmarks and metrics in place to measure progress and confirm success
Achievable – based upon the individual's assets, skills, attitudes and behviours the goal is achievable
Realistic – Considering all of the factors influencing the goal is it plausible it will be achieved or are we setting this person up for failure?
Timely – set a specific time for completion (there are no unrealistic goals only unrealistictimelines)
Inspiring
"Have a goal so big that it scares your neighbours"
When helping people set goals try not to make them too safe. We don't want goals that far outpace someones self-concept but we also want goals that make them stretch and keep them up at night (or more importantly out of bed early and excited).
The word inspiring actually comes from the Latin word Inspiro which means to breath upon. to breath into… to put the spirit within. As mentors if we are to inspire others and pit the spirit within them we must first be inspired ourselves. Be passionate and excited when helping people set goals.
Values Alignment
When developing goals it is important to put them through the "values test" to make sure that the goals were are helping them set will help them feel on purpose while striving toward them.
One approach to doing this is to simply list all of the core activities, people, and daily disciplines associated with the goal and then compare them with the mentee's values. If 70% or more of the activities and disciplines fulfill their core values then chances are the goal will be an energizing, pleasurable thing for them to work toward. If it is less than 70% it is suggested you help them build a new path to the goal or find a new goal that satiate their core values and drivers.
This is blogathon entry number 20 for the MSMF Blogathon. Visit this page to learn how you can support this cause. Also if you live in Vancouver please check out the Vancouver Board of Trade's Leaders of Tomorrow Mentorship Program.
Mentoring tomorrow's leaders today is high value, high impact strategic investment in the longevity and success of our community and economy as a whole. In most western cultures we tend to think in quarterly terms or at best annually when it comes to business and leadership success. And when it comes to creating a succession plan for ourselves and our organization that will reap results in 5 or 10 years from now, it might all seem like a warm and fuzzy idea. More and more we are becoming more insular and less connected to our communities and even our own corporate team. People send e-mails to the guy in the cubicle beside them instead of popping their head around the corner and saying hi.
This may not seem like a big deal but what we're losing is the tradition of connection between our elders or mentors and the next generation. What's lost here are the high impact tidbits of tacit knowledge, the street smart lessons, insights learned in the school of life, values, access to the mentors resources and networks, and opportunity to learn the often untold principles of success that aren't taught in University or found online. In all of it's glory it's too easy to hop onto the web and get an answer (who writes that stuff anyway?). But it's about using the information and sifting through what is relevant and what is not. The very personal exchange that occurs through mentorship and even connecting with our peers is lost. The information age has spawned the disinformation age. Try weeding through and verifying the facts you find on one of the 9 billion WebPages indexed by Google and MSN.
As mentors and leaders this knowledge and ability we have comes with a responsibility. We believe strongly that if members of our community can share the roadmaps they have discovered and experienced, along with their insights from these journeys be it for business, personal, marital or spiritual success and through sharing this insight by investing as little as a couple hours a month the difference that can be made in many lives will be massive. Doing this within our community, including the chance to increase our shared prosperity will build the kind of high impact legacy we can all be proud of.
This is blogathon entry number 18 for the MSMF Blogathon. Visit this page to learn how you can support this cause.  Also if you live in Vancouver please check out the Vancouver Board of Trade's Leaders of Tomorrow Mentorship Program.

On Monday I will be on a panel for the Vancouver Board of Trade speaking on "Big Impact for Your Small Business."  It will be moderated by Paul Harris, Publisher of Business in Vancouver and Editorial Director for BC Operations, Glacier Media Group and my fellow panelists are Stephen Jagger of Reachd.com / Ubertor.com and Norman Stowe, Managing Partner, Pace Group.
Stephen Jagger will be talking about using the web and technology to amplify your small business and help you move into the big leagues.
Norman Stowe will be talking about how to effectively work with the media using PR and other tools.
I will be talking about how to build personal relationships that develop depth and credibility and in turn create an endless stream of referals for sales people and entrepreneurs.
Here's the Board's description of the event:
In today's business climate, a small business can position themselves strategically to compete with some of the fastest growing companies in the world.

These experts offer clear guidelines and a wealth of information on how to make a big impact with your clients, raise your company's profile, and use the power of technology to move your business ahead.

Focus your brand, communicate effectively, fine tune your online presence and your small business will not only succeed, but make a big impact.
It will be interesting to see how we contrast and overlap with our approaches.  I know both Steve and I are big believers in using technology and the web but both of us use the tools a little differently.  Norman Stowe's events have involved people like the Dalai Lama and Bill Clinton and will have a very global view of branding and networking.
I have a couple of extra tickets for people who are not already members of the Vancouver Board of Trade.  Drop me an e-mail (shane@kbitraining.com) this weekend with your name, telephone number and company info and I'll hook you up (first come first serve).
This week's sales podcast is titled "Selling Beyond the Bottom Line" and is also the title of my upcoming seminar with the Vancouver Board of Trade on September 27th 2007. (This is a repost of a August 31 2007 podcast that had technical problems with the file, if you downloaded that show please delete it… this one's better anyway!)
Podcast: Play in new window | Download | Embed
Click Here to Download the MP3 Now

Subscribe in iTunes to this Sales Podcast
Our intentions impact the sale more than our attention!
Shane Gibson
This sales podcast is presented by Shane Gibson.
Shane Gibson is the author of Closing Bigger the Field Guide to Closing Bigger Deals and President of Knowledge Brokers International Systems Ltd. a leading sales performance and leadership development organization. Shane divides his time between his entrepreneurial projects, speaking at major conferences and mentoring salespeople and entrepreneurs.
Quick Links:
Sales Training Canada
Sales
Training South Africa
Sales Training Boot Camps Vancouver
Complete Sales Action System
Managing Complex Business
Relationships System